Zaxby's Is Heating Up The Chicken Sandwich Wars Again
Back in October, we covered Zaxby's announcement to revive the perhaps forgotten chicken sandwich wars with a whole military themed PR strategy. The focal point of their campaign was, as Chew Boom noted, Zaxby's new Signature Sandwich, which consists of a breaded chicken breast, three pickles, a bun, and your choice between Zax sauce and the chain's newly released Spicy Zax Sauce. The new sauce, as PR Newswire shared, gains its kick from "flavorful jalapeno and zesty red cayenne." The menu item debuted in nine locations, three of which were in Kentucky, another three in Tennessee, two in Indiana, and one in Virginia.
Now, Zaxby's has issued a follow up "Bulletin from the War Room," sent in a press release to Mashed. Besides displaying their commitment to the bit, they have declared that the spicy chicken sandwich will officially receive a national rollout in 2021. Furthermore, the chain released information concerning customer's preference between the two Zax sauces. Namely, 60 percent of orders for the Signature Sandwich requested traditional Zax sauce while 40 percent chose the spicy variety.
Zax Attacks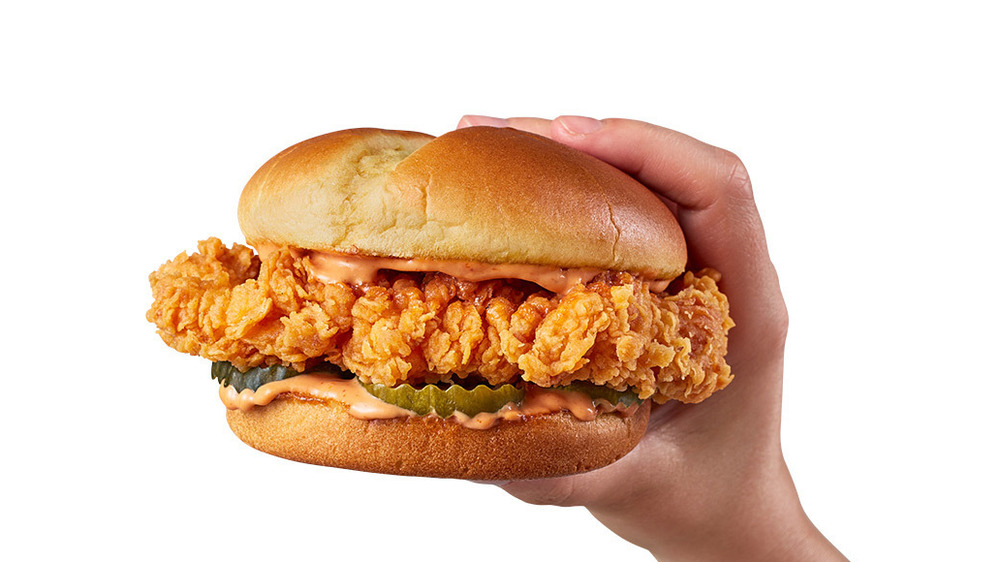 Zaxby's
Everything above is mostly PR noise, which a regional chain like Zaxby's understandably needs to compete with major fried chicken brands like Popeye's and Chick-fil-A, who fired the first shots in the social media chicken sandwich wars. We should, however, try to get a sense of how good Zaxby's chicken sandwiches actually taste. Unfortunately, because of the regional nature of the sandwich's release and the... eccentricities of Zaxby's marketing campaign which features their employees in pseudo-camo uniforms and a chicken war soldier name generator on Twitter, reviews of the sandwiches are scarce.
However, we were able to find two YouTube channels that did review the menu item. The first, a channel called EricEatsEverything, produced two videos – one reviewing the Signature Sandwich without sauce and then another with spicy Zax sauce. After initially considering the Zaxby's chicken sandwich a Chick-Fil-A ripoff, the reviewer grows surprised by the thickness of the chicken and ultimately says its really good, both with spicy sauce and without. Lewis Family Adventures also released a video on the sandwich. In this one, the comparison is to Popeyes chicken sandwich, though the surprise over Zaxby's massive size remains. In the end, however, they only grant the sandwich a six out of 10, taking points off for too little of the spicy Zax sauce.