Here's How You Can Watch Every Season Of Iron Chef
We may receive a commission on purchases made from links.
Classic television cooking competition show Iron Chef America was adapted from a popular Japanese program. Since its U.S. inception, the show has built a loyal audience who have tuned in for the past (on again, off again) 15 years to cheer on the chef who dares to challenge the resident Iron Chefs. Over the course of many hour long episodes, Iron Chef has provided its fans with eyebrow raising secret ingredients and many moments of culinary suspense that have brought the likes of Bobby Flay, Masaharu Morimoto, Cat Cora, and many other cooking experts into our homes (via IMDb). 
Whether you are new to the world of Iron Chef America and curious about the show's concept or a long time viewer who loves to sharpen your own kitchen skills by watching the expertise of those who have the chutzpah to enter what is affectionately called the "Kitchen Stadium" (via Food Network), on demand streaming services have made it easier than ever to become immersed in the fandom of this hit cooking series. And the great news is there are several options that allow you to watch or re-watch some of the best square-offs we've seen in a cooking environment. Here's how to watch.
How to watch Iron Chef America online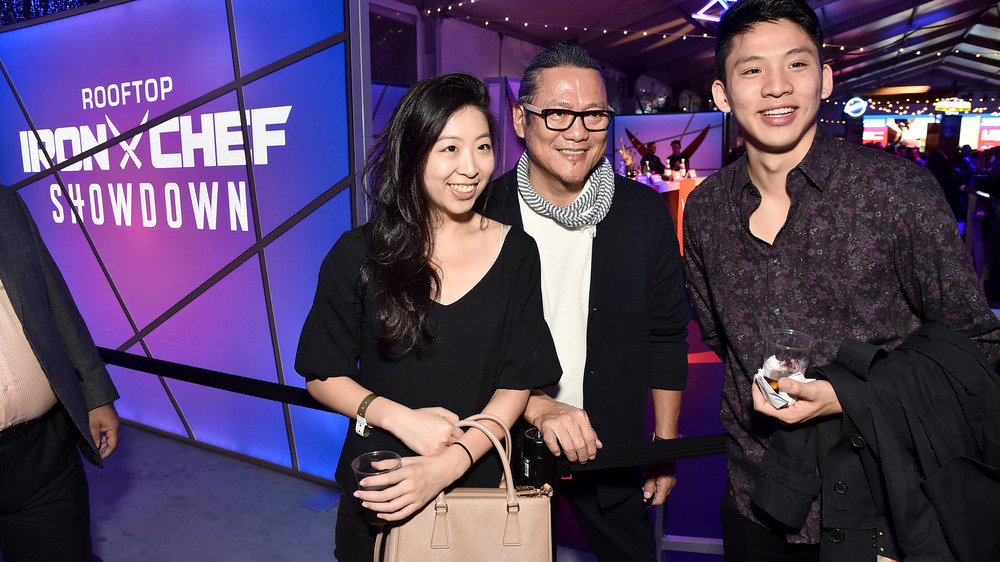 Theo Wargo/Getty Images
According to Decider, there are four different streaming services where you can view some or all of the episodes of Iron Chef America: Hulu, fuboTV, Food Network, and Philo. Of these, Philo offers a free trial and can start you off with season one, episode one — where chef Bobby Flay had his legendary face off with challenger Rick Bayless. You can watch all 13 seasons on Philo, but if that's not your streaming platform of choice you can also watch them all on demand on the Food Network website – that is, as long as you are a subscriber to one of the many cable companies who carry the channel including DirecTV, fios, and Xfinity.  
If none of those are appealing options, you can always try watching on Hulu, which has four seasons, or fuboTV, which Decider notes only offers one. Of course, Amazon Prime is always there for you as well, and they do offer all 13 seasons. However, each episode is $1.99, which isn't all that bad if you just want to watch one or two episodes. That said, if you plan on watching the whole series we'll let you do the math, but it seems a little pricey to us. In the words of the chairman, Allez cuisine!