The Surprising Shape Martha Stewart Added To Her Holiday Cookies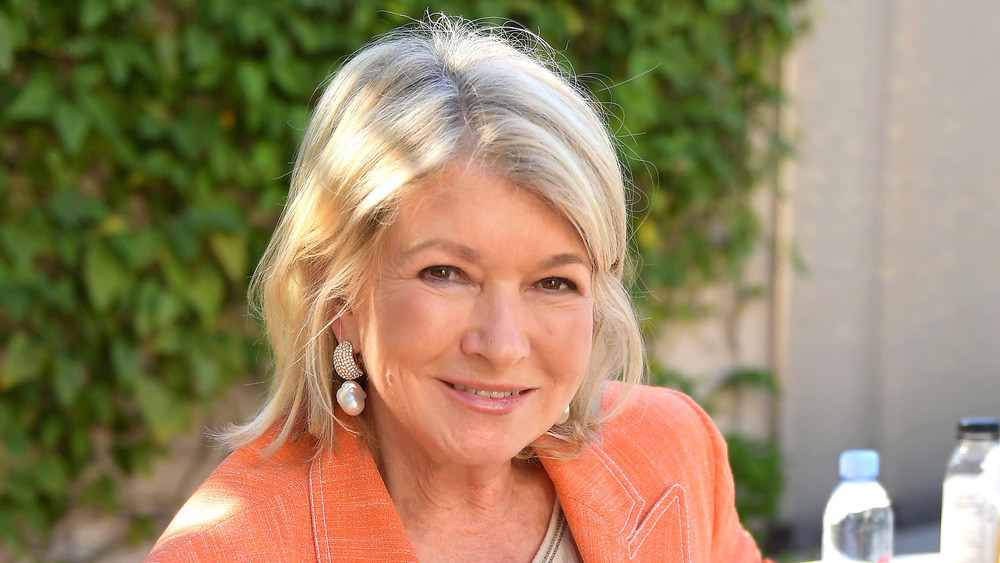 Matt Winkelmeyer/Getty Images
There are people who are great at cooking. There are folks who excel at other aspects of homekeeping. There are individuals who are good at business. However, when you roll all of those qualities together, there's a fair chance that only one name springs to your mind: Martha Stewart. What's particularly cool about her is that despite her cordially affable charisma and her seemingly prim and proper lifestyle empire, you can never quite know what she will do next. From her modeling past to her stint in prison and her self-admitted affinity for younger men, Stewart's "good housekeeper" façade hides all sorts of wild things — while still being so utterly and irrevocably true that it made her America's first self-made female billionaire.
At this stage of her life, Stewart is pretty much free to do what she pleases, and knowing what she's capable of means there's no telling what that will be. As such, when it comes to her, the simple act of casually baking holiday cookies can be an adventure. That's by no means an exaggeration, by the way. In fact, she just decided to bake some, and while at it, she introduced a cookie shape that you most definitely wouldn't expect. Let's take a look at the surprising shape Martha Stewart added to her holiday cookies.
Martha Stewart just introduced the world to a marijuana leaf-shaped holiday cookie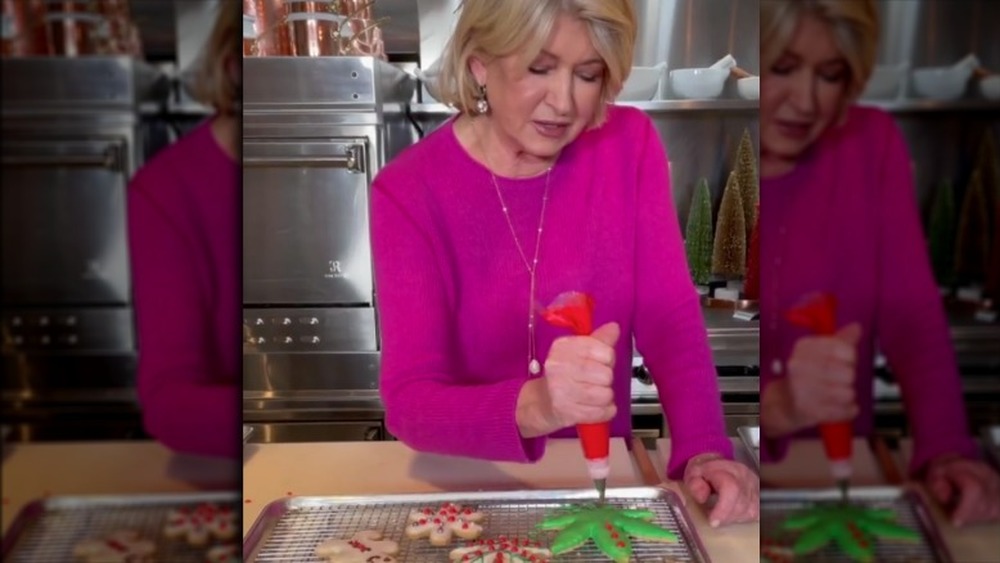 Martha Stewart just introduced a holiday cookie that's shaped like a marijuana leaf. On her excellent Instagram account, the homekeeping queen shared a video of her making the cookies, and even noted at one point that her icing piping bag unfortunately got a leak just as she was about to "put a little bit of red on this cannabis leaf." To make them more festive, you know.
You wouldn't necessarily have expected to read something like that a handful of years ago, but let's face it, anyone who's kept tabs on Stewart or a certain classic hip hop artist in recent years knows where this is coming from. Martha Stewart's friendship with rap legend Snoop Dogg is a thing of some renown, and their heartwarming and genuine sense of companionship has led to numerous collaborations, largely on the cooking front. (Unfortunately, we've yet to see MC M-Stew spit fire on a chart-topping single.)
Snoop, of course, is famously fond of a certain herb, and as Stewart notes, the addition to her holiday cookie shape repertoire was indeed inspired by her friend. "We've done cannabis [shapes] because I've just done a big demo with Snoop Dogg," Stewart says on the video. "And this is for him, these cannabis leaf cookies."  She also introduced some "Dogg bone" cookies, and a highly detailed cookie with Snoop's face on it. Aww.