Basic Chicken Salad Recipe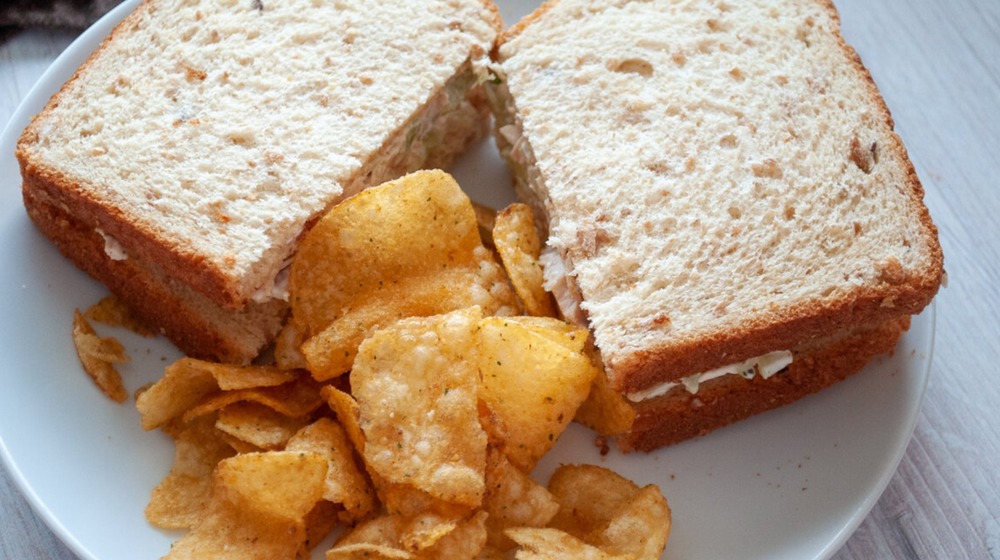 Laura Sampson/Mashed
Mayonnaise-based salads are an American classic. Served on sandwiches, crackers, and atop beds of lettuce, tuna salad, pasta salad, and potato salad are synonymous with picnic foods. And for Alaskan recipe developer, blogger, and Mashed contributor Laura Sampson of Little House Big Alaska, the crown jewel of these salads is chicken salad.
Mashed talked to Sampson about her classic chicken salad recipe, which fits in alongside other traditional American recipes. Sampson aims to "make old-fashioned foods new again," and with classic ingredients like fresh green vegetables, mayonnaise, and chicken, this salad is certainly a classic.
This chicken salad recipe may be simple, but it's also delicious. In fact, this recipe's simplicity is exactly what will make it a staple in your own household, at summer barbecues, and at neighborhood potlucks. With many substitution and serving options, it's versatile and delicious. Read on for more information.
Gather the ingredients for your classic chicken salad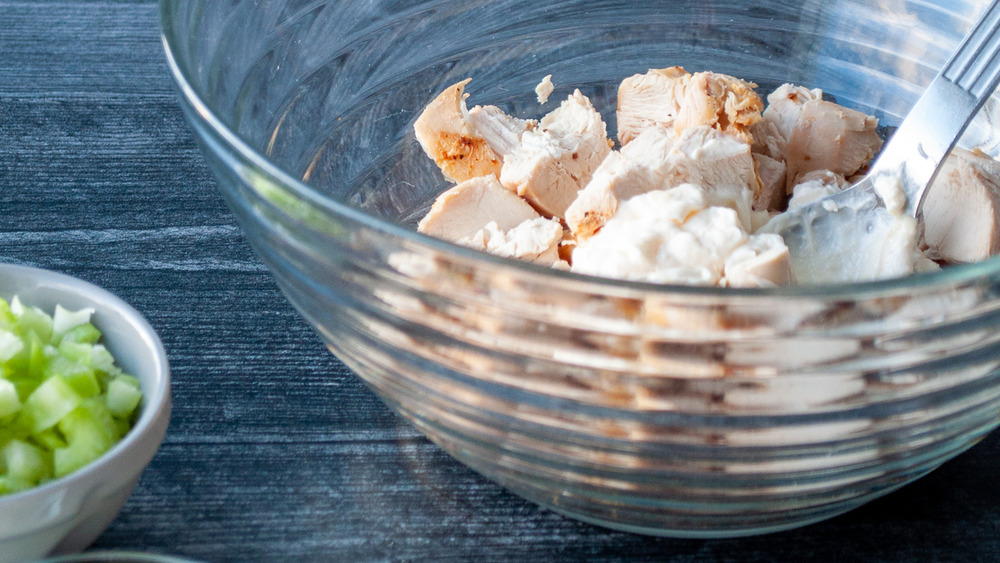 Laura Sampson/Mashed
This chicken salad recipe consists of just a few simple ingredients. You'll need chicken, celery, green onion, mayonnaise, and some salt and pepper. That's it!
Sampson tells us it's the perfect recipe for leftover chicken from a family meal. "I buy rotisserie chickens and use the leftovers," she says. "But you could also poach or roast your own chicken."
Additionally, for Sampson the chicken meat is very versatile. "For this recipe, I like white meat," says Sampson, "but really any chicken meat will work!"
If mayonnaise makes you want to run in the other direction, no worries. This recipe can still be for you. Sampson suggests potentially using Greek yogurt as a substitute for the salad's base.  "I personally think mayonnaise is creamier," says Sampson, "but I know people like to sub in greek yogurt and it works really well in this recipe. It's very fresh-tasting!"
Mix your chicken salad, making sure you have the right ratio of ingredients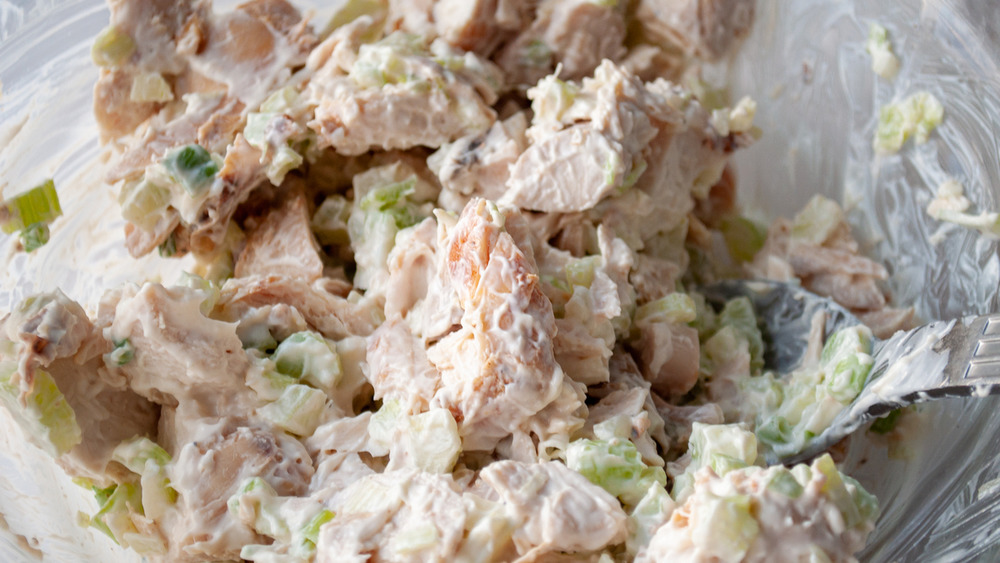 Laura Sampson/Mashed
There's not too much to this chicken salad recipe, in terms of process, so there's really very little that can go wrong. But when mixing all the ingredients, you should keep a few things in mind.
This recipe calls for one cup of chicken. Sampson suggests to "chop it before hand and then measure it loosely in the cup." After that, you'll want to adjust the amount of mayonnaise or yogurt depending on how much chicken you have.
Sampson says, "The great thing about this recipe is that you can just add a little extra mayo or a little less mayo depending on how much chicken you actually have."
Sampson also notes that green onion and celery are not requirements for this recipe. "You could absolutely sub in chopped red onion or sweet onion or even chives for the green onions," she notes.
The potential add-ins for this chicken salad are endless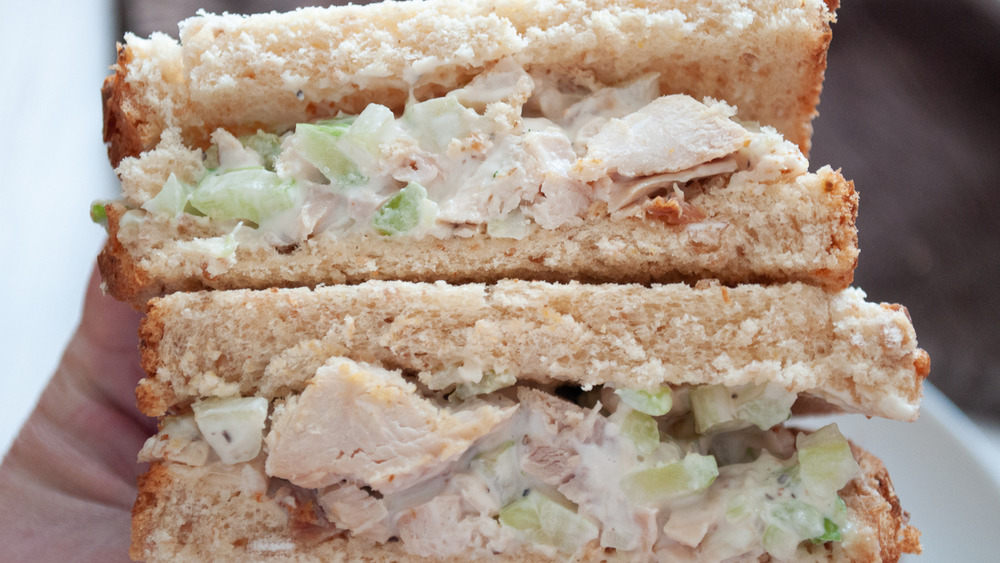 Laura Sampson/Mashed
This simple chicken salad recipe is exactly that. It's simple! And that's good news because it means the recipe is easy to make and easy to adjust. For Sampson, the potential modifications on this recipe are endless. It all totally depends on what you and your family's desired tastes are.
A few she suggests include walnuts, pecans, almond slivers, dried cranberry, grapes, and sliced radish. The added nuts will create an even more intense crunch factor than the celery has to offer. On the other side, adding fruit or berries into the chicken salad will make it sweet, as expected, but it will also add a distinct tanginess. Finally, sliced radish offers a vegetal freshness to the chicken salad. Modify your own chicken salad based on what you prefer, what you have in the kitchen, or what you think will go best with your serving method of choice.
There are so many ways to serve chicken salad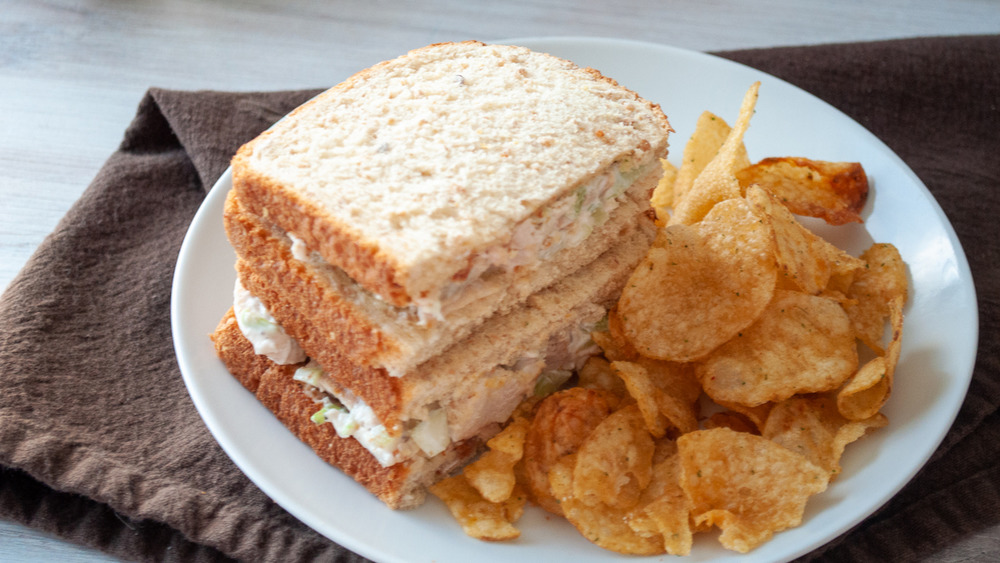 Laura Sampson/Mashed
Speaking of serving your chicken salad, the possibilities are, once again, endless. Sampson's go-to for this classic chicken salad recipe is an equally classic chicken salad sandwich. She clued us in on what her perfect chicken salad sandwich includes. "I personally love butter lettuce," said Sampson, but any lettuce works. And the same goes for bread.  Sampson said, "I like a good seed-filled bread, lightly toasted."
The seedy bread certainly offers a rustic heartiness to the sandwich, which is consistent with Sampson's trademark cooking style. Additionally, toasting the bread will bring out its flavor and make the sandwich just a bit crunchier.
Sampson assures us this salad is for more than just sandwiches though. "When it comes down to it, I'd eat this on crackers too," she said.
For Sampson, chicken salad makes the perfect "cool and refreshing summer lunch." That said, for Sampson and her family, chicken salad is not just a summer affair. "We enjoy it all year long," she added.
Basic Chicken Salad Recipe
Sampson aims to "make old-fashioned foods new again," and with classic ingredients like fresh green vegetables, this chicken salad is certainly a classic.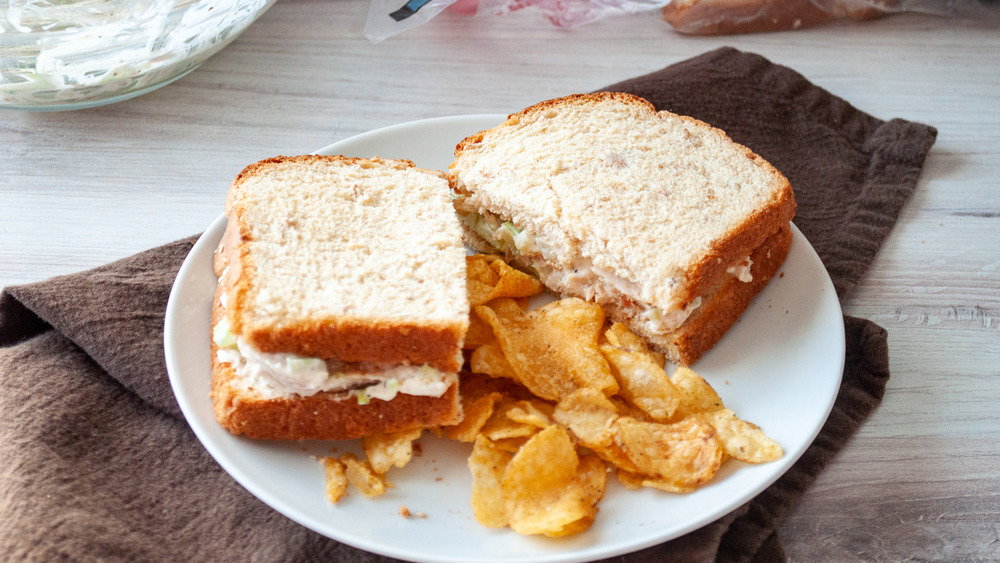 Ingredients
2 cups cooked chicken
½ cup finely chopped celery
1 tablespoon chopped green onion
½ cup mayonnaise, can sub with plain greek yogurt
salt and pepper to taste
Directions
Chop the chicken into bite-sized pieces and place it in a mixing bowl.
Add the celery and green onion.
Stir in the mayonnaise.
Taste for salt and pepper, add as desired.
Chill for 30 minutes before serving.
Serve in sandwiches or on a bed of lettuce for a salad.
Nutrition
| | |
| --- | --- |
| Calories per Serving | 152 |
| Total Fat | 6.6 g |
| Saturated Fat | 2.5 g |
| Trans Fat | 0.0 g |
| Cholesterol | 57.3 mg |
| | |
| --- | --- |
| Total Carbohydrates | 1.9 g |
| Dietary Fiber | 0.3 g |
| Total Sugars | 1.4 g |
| Sodium | 280.2 mg |
| Protein | 20.3 g |