Everything You Need To Know About Carl's Jr.'s Newest Sandwich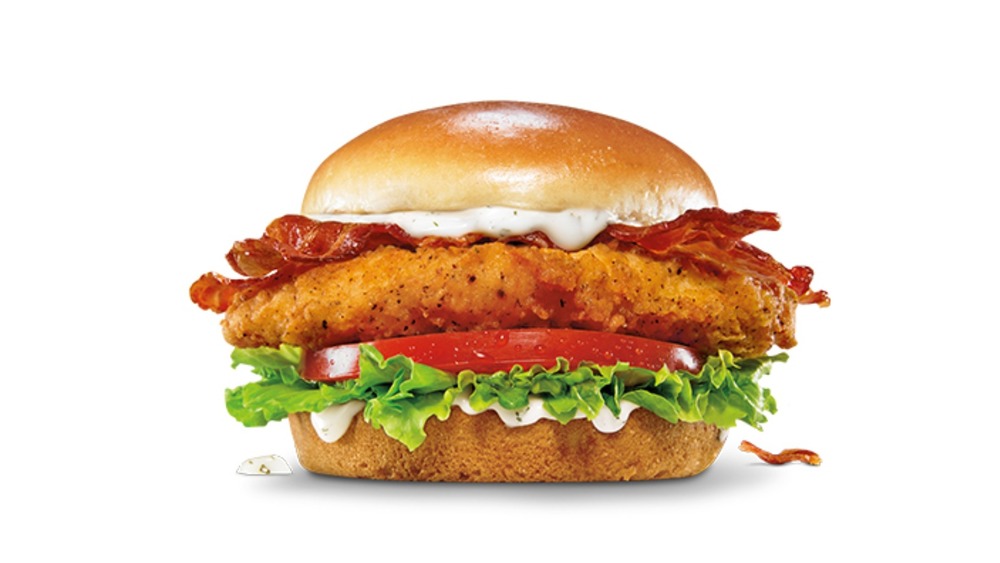 Carl's Jr.
Are you ready for another chicken sandwich in your life? Carl's Jr. just introduced the limited-time-only BLT Ranch Big Chicken Sandwich. According to the Carl's Jr. website, this new sandwich combines a tender, crispy chicken fillet, bacon, lettuce, and tomato, all topped with creamy herb ranch dressing on a toasted premium bun.
YouTube food reviewer Ian K. at Peep this Out, tried the new sandwich on camera, describing what he called a hefty chicken sandwich, and a hefty price tag, at $7.99. His sandwich featured thick, crispy chicken, two slices of quality bacon, lettuce, tomato, and ranch on the top and bottom of the brioche bun. Overall, Ian's review was positive, noting the chicken's nice seasoning, solid white meat chicken, and the addition of ranch. The overall rating was 7.9 out of 10, losing some points because of the high price. Does the new Carl's Jr. sandwich have what it takes to stand out in a massive field of chicken sandwiches? Let's compare.
How is Carl's Jr.'s new chicken sandwich different from the competition?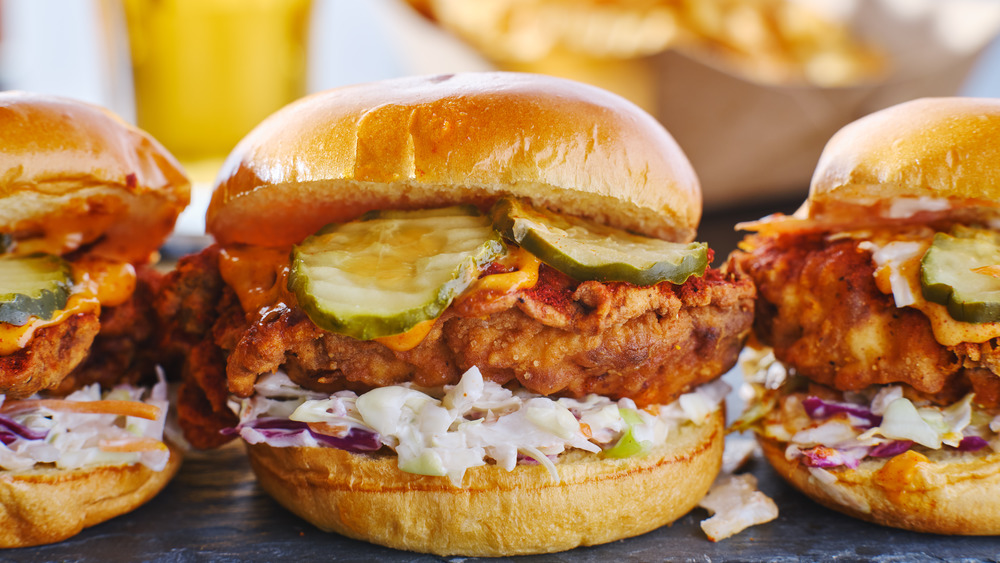 Shutterstock
Nearly every fast food restaurant now offers its own version of the spicy fried chicken sandwich that consumers flipped for at Popeyes. For instance, Arby's takes chicken tenders and tops them with a slice of cheddar cheese, shredded lettuce, tomato, and Parmesan peppercorn ranch sauce. KFC's chicken sandwich has double-breaded chicken, thick-cut pickles, and a brioche bun. And Church's Chicken ups the ante by brushing the brioche buns of its chicken sandwich with honey butter. These are just a few examples.
Now, Carl's Jr. is adding bacon and ranch to a big, tender, juicy fried chicken filet. We can't argue with that thinking. Whether you choose your chicken sandwich based on the crispiness of the fried chicken, the seasoning of the batter, the type of bun, or the choice of sauce or pickles, there is truly something for everyone in the battle of the great American fried chicken sandwich wars. Resistance is futile. Saddle up and enjoy the fight!