Church's Chicken Just Joined The Chicken Sandwich War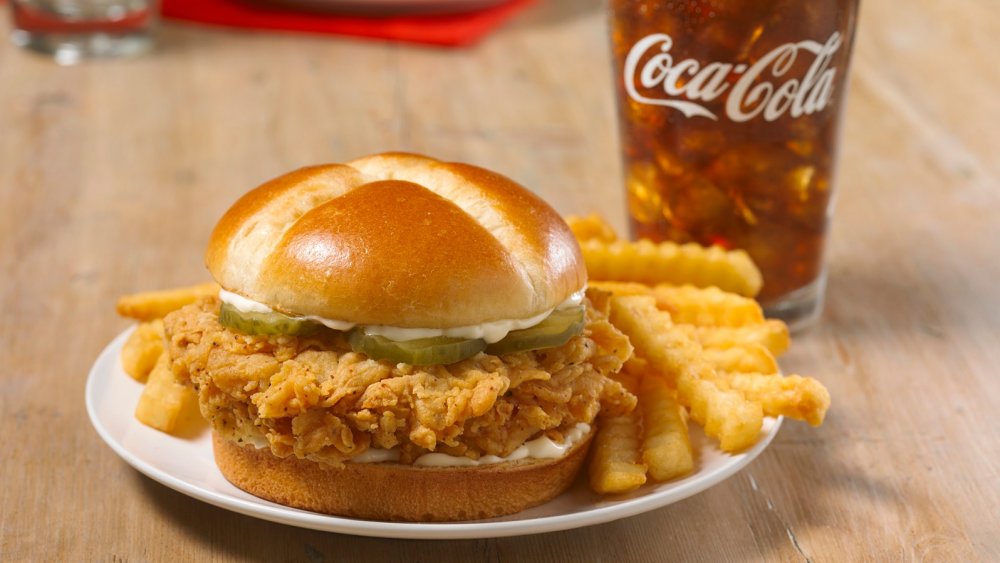 Church's Chicken
Wendy's, Popeyes, KFC, and Chick-fil-A were busy going head-to-head on the Twitterverse as if no other chicken sandwiches existed — until Church's Chicken stepped into the ring. Their stab at the chicken sandwich title is an all-white chicken breast nestled lovingly between two honey-butter brushed brioche buns and garnished with mayo and pickles. Yes, just like what you can find with KFC, Popeyes, Wendy's, and Chick-Fil-A's chicken sandwiches, and of course, you can get this one spicy as well — just ask for spicy mayo and a side of jalapeño pepper. 
 "Our culinary team truly outdid themselves on this masterpiece, which combines everything great about Church's, between two buns. It's a culmination of 70 years of Down Home Flavor and fried chicken expertise brought into every bite," Church's Chicken Global Chief Marketing Officer Brian Gies assured us in a press release. That's a hard bar to live up to, Mr. Gies. Are your sure you're ready for the reviews? Because they're rolling in. 
This is what social media thinks about the Church's Chicken Sandwich
"Guys let me just say this is some competition," says Peep This Out Reviews via YouTube. "I'm really digging the breading ... right as I went into this one that instant Church's flavor was coming through loud and clear," he continued, pointing to a perfect ratio between the chicken and the breading. "The saltiness is perfect with this, on top of the honey butter... this is pretty banging," he summed up.
The rest of social media seems to agree with Peep This Out Reviews. "Yo why does the @ChurchsChicken new chicken sandwich hit so good ?" tweeted one Church's fan. "Church's Chicken sandwich is better than CFA's idc argue w your momma not me," claimed another one. And all of Instagram cried, "Finally" and " I can't wait to slam one of those in my face!" No word yet from Wendy's, KFC, Popeyes, or Chick-fil-A, although we're eagerly awaiting their snark.