This Legendary NYC Restaurant Might Soon Close Forever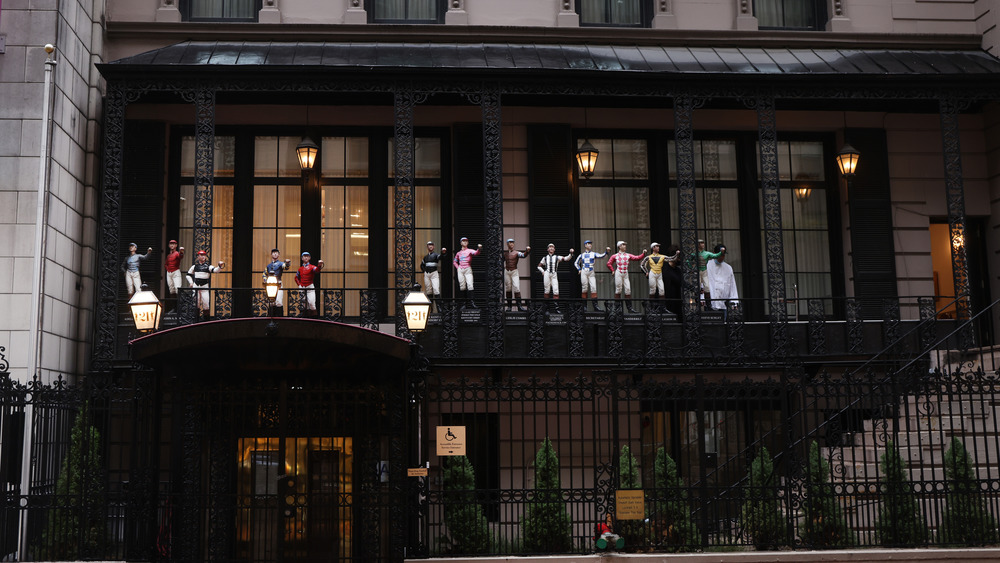 Spencer Platt/Getty Images
Once upon a time, in a far-off, fairy tale land they call New York, there was a very special restaurant. It hosted such legendary luminaries as Ernest Hemingway, Marilyn Monroe, Humphrey Bogart, Lauren Bacall, Frank Sinatra, Ava Gardner and Orson Welles and served as the location for several movies and TV shows, including Wall Street and Sex and the City. It even served as the site of a president-elect's victory celebration dinner — ok, so the celebrating president was Donald Trump, not JFK, but by 2016 even fairy tales were beginning to lose a little of their sparkle.
But then one dreadful day, along came a mean old witch called COVID, and with one twitch of her warty nose — ok, after several months of quarantine-prompted shutdowns — the lovely 21 Club, at the tender age of just 90 years, was sent into a deep, enchanted sleep. Using the mystical language of corporate-speak, the wizards who owned the restaurant issued a statement that "it will not be feasible to reopen this business in its current form for the foreseeable future" (via Deadline).
Will the 21 Club ever reawaken?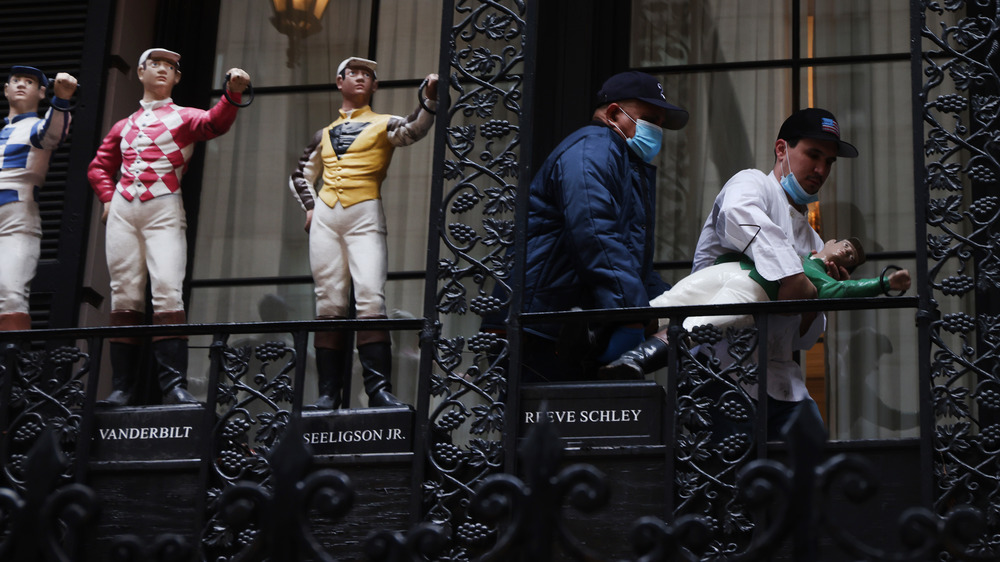 Spencer Platt/Getty Images
How could this be? The 21 Club survived two world wars and a Great Depression. How could it be closing? Sadly, its not the only legendary eatery done in by the past year's pandemic. This year also saw the end of the 99-year-old Pacific Dining Car in Santa Monica; K-Paul's Louisiana Kitchen in New Orleans; Threadgill's in Austin; and Louis' Restaurant in San Francisco, which had looked out over the Pacific Ocean for 83 years.
Gone, all gone...as is the 21 Club. But will this NYC icon ever reopen? The owners did leave the door open a crack — as the New York Post reports, a company spokesperson told them, "The company is exploring potential opportunities that will allow 21 Club to remain a viable operation in the long term, while retaining its distinctive character." While they couldn't offer any info as to when or how, they went on to say that "the vision is that 21 Club will always remain an important social and cultural hub and icon of New York." Also on board are the restaurant's loyal, royal servants, or rather servers, who rallied outside the restaurant (via AMNY) insisting that they, too, would be back once it was safe to re-open. 
Here's hoping that for the sake of all 100+ laid-off employees, not to mention the NYC culinary landscape, that someday soon their prince will come, bringing sufficient vaccine for all and an economic revival that will allow everyone to live happily ever after.