These Are The Best Meals Carla Hall Has Ever Had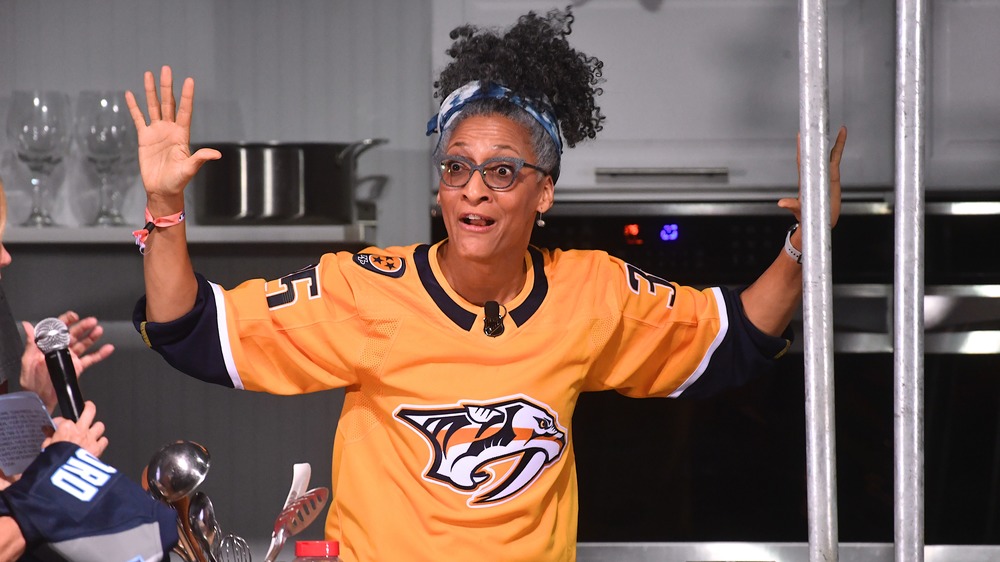 Jason Davis/Getty Images
Celebrity chef Carla Hall was one of Top Chef's all-time fan favorites, so much so that she managed to parlay her runner-up status into a successful career as a TV host and restaurateur. This makes her an inspiration to everyone who's ever harbored secret hopes of being able to fulfill a dream that's been somewhat deferred, as she started out as an accountant and then a model before going all-in on a culinary career. Oddly enough, it was while working as a model that Hall realized her true passion for food, telling iVillage (via BravoTV) that "Contrary to popular belief, models can probably eat you under the table." She said they'd all gather 'round the brunch table and swap tales of what their moms used to cook. Hall confessed that "my mother made Aunt Jemima box pancakes, so I wasn't really contributing," but all that foodie talk got her buying the cookbooks that led to her finding her true calling. 
As a food lover who's traveled all over the world, Hall has undoubtedly had some pretty memorable meals, and she did, in fact, dish on the best cuisine she's ever dined on in a 2017 interview with Bon Appetit. Although she may have had many more marvelous meals over the three years since that interview took place, at that time she was able to name five unforgettable occasions on which her taste buds reached gustatory nirvana.
Some of her best meals have been meatless
Although Hall's no vegetarian, some of the dishes that have been among her all-time favorites have been plant-based. In a small Scottish village she had an amazing risotto made with foraged mushrooms (luckily of the non-poisonous variety), and a visit to Mario Batali's summer home in Traverse, Michigan took her to a restaurant called Alliance where she dined on yogurt spread with roasted beets, nuts, and za'atar, as well as a dessert made from granola, nuts, seeds, fruit and sunchoke "milk."
One of Hall's favorite eateries is, or rather was, Nix, a New York City vegetarian restaurant that is, according to their website, "regrettably closed until further notice" (yet another sad casualty of New York's hard-hit restaurant industry). As she told Bon Appetit, "Even meat-eaters are obsessed if I bring them to Nix." She and her husband always ordered the house hummus with za'atar and the cauliflower tempura with steamed Chinese buns, and usually finished up with a dessert of tandoori pineapple with coconut ice cream.
Hall, like our current and future presidents, is an abstainer from alcohol, but she's not oblivious to the joys of a perfectly-paired food and beverage.
Fish and meat also made her 'most memorable' list
At another now-closed New York City restaurant, Colicchio & Sons, she discovered how well certain teas go with foods. The best pairings she had included green tea with seared salmon, and a smoky Lapsang souchong that she says "helped balance the acidity and richness" of a very rich braised pork with smoked ham. Hall explained that "Hot tea really clears your palate, and it helped clean the fat off of my tongue so I could go in for bite after bite."
The final meal Hall described to Bon Appetit was one she enjoyed at Cooks & Captains, a Brooklyn farm-to-table restaurant that Yelper say has also succumbed to the ups and downs of New York's restaurant scene. One dish they used to serve, however, was something that Hall said "amazed me so much that I almost don't want to talk about it": a miso and lemongrass-braised oxtail with kimchi-creamed spinach that was evidently a thing of true beauty. Alas, such beauty was fleeting, but dare we hope that Hall herself might recreate the recipe for us someday? In the meantime, however, we do have a recipe for a bold, flavorful soy-braised oxtail. You may well become just as enamored of this dish as Hall was of the long-lost Cooks & Captains oxtail, of which she once said, "I think of it all the time."