These Valentine's Day Hot Cocoa Bombs Have People Divided
Come Valentine's Day, there are plenty of ways to say "I love you" with food. A fancy four-course steak dinner. A heart-shaped box of indulgent chocolate truffles. Even a Strawberry Chocolate Cold Brew from Starbucks' Valentine's Day secret menu. And this year, you can add something else to your list of foodie-approved gifts to give your special someone on February 14th: a Valentine's Day hot cocoa bomb.
Hot cocoa bombs became popular over the holidays with many bloggers sharing recipes for homemade versions. Think of them like bath bombs but for hot chocolate: Drop it in a mug of steaming milk and watch it dissolve into a sinfully delicious drink. According to a recent social media post, Target is now selling a Valentine's Day hot cocoa bomb made by Maud Borup that's strawberries-and-cream-flavored. Does it live up to the hype? Here's what shoppers have to say about it.
They may not taste as good as they look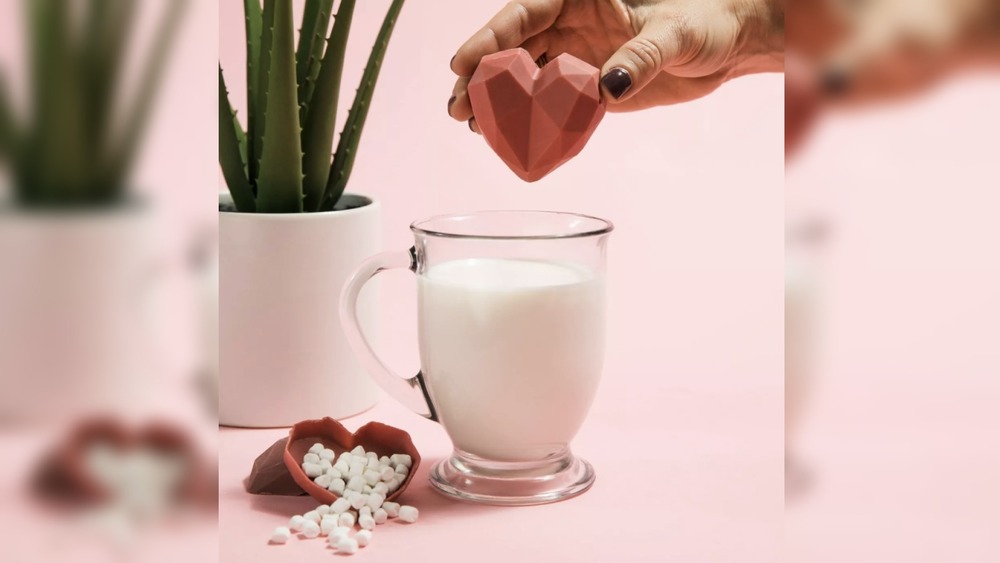 Target
Instagram user @candyhunting shared an image of the heart-shaped Valentine's Day hot cocoa bomb that's available at Target. The box describes it as "strawberries and cream chocolate filled with mini marshmallows." While it looks festive and delicious, with many people in the comments section excited to try it, those who already have tried the unique treat were pretty divided on whether or not it's actually worth buying.
Some people highly recommend the hot cocoa bomb, with a reviewer on Target.com raving, "Love the taste and the smell of the bomb!" But others argue that the flavor misses the mark. One Instagram commenter warns that it "taste[s] like the leftover milk from strawberry and cream oatmeal. And kinda artificial tasting." She wasn't the only one disappointed, either, with other reviewers dubbing it "awful" and "gross." One person added that they love strawberry everything yet hated this hot cocoa bomb. Moral of the story? Buy it at your own risk.