Burger King Just Unveiled A Totally New '70s Inspired Look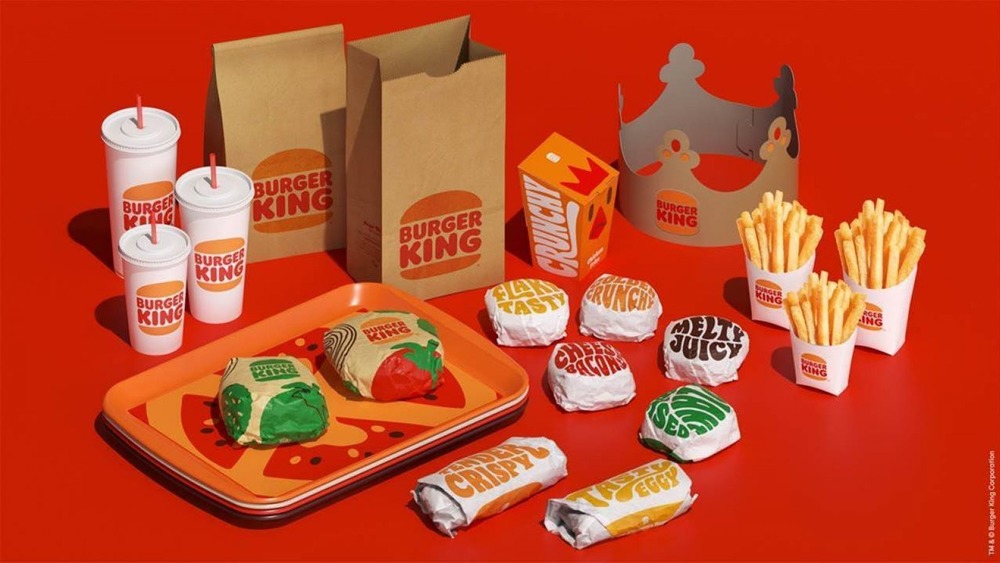 Burger King
Retro makeovers always stir up some interest when a restaurant wants to rebrand. According to this press release, KFC was hoping to spread some joy when they brought back their vintage fried chicken buckets for the holidays, while McDonald's grabbed some hearty press when they brought back classic Happy Meal toys back in 2019 (via CNN). Burger King now joins the trend with their latest makeover, channeling some serious '70s vibes that can open the floodgates for a wave of nostalgia.
According to a statement sent to Mashed, Burger King plans to revamp their entire look, down to employee uniforms and packaging. According to the statement, the brand plans to roll out a new modern and more digital-friendly logo, a rounded proprietary font called "Flame" inspired by the chain's "round, bold, yummy" food, new crew uniforms that mix comfortable and contemporary style, brand-new bright packaging featuring bold illustrations of the food contained inside, and a rich color palette inspired by the flame-grilling process and fresh ingredients.
The design choice boiled down to representing what Burger King stands for. According to the statement, the changes reflect the company's core business characteristics of "Mouthwatering, Big & Bold, Playfully Irreverent and Proudly True." While you might think a brand makeover this big won't come to your area for a long time, you could see some changes sooner than you'd expect.
Burger King's new look is meant to represent sustainability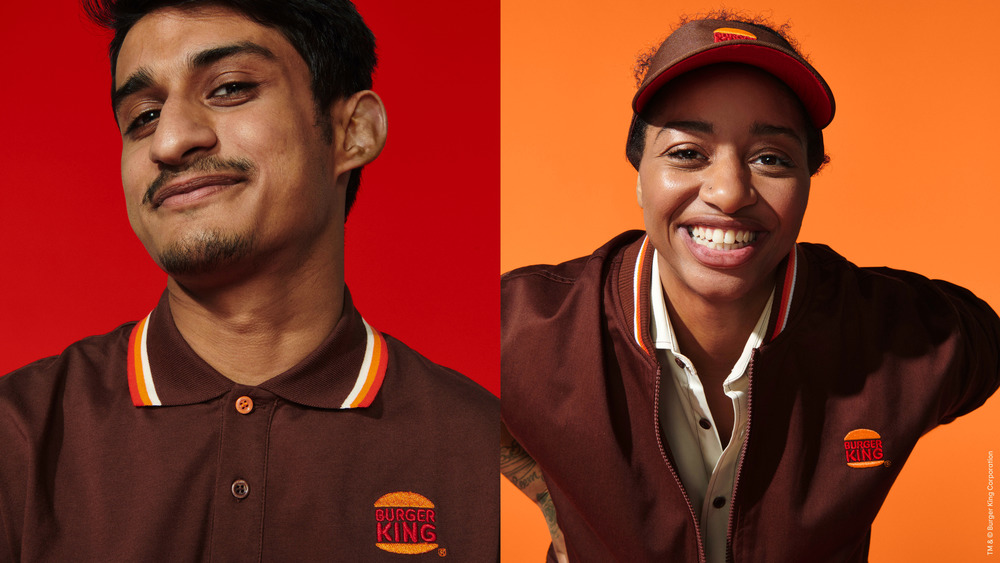 Burger King
If you can't wait to see the new Burger King look in person, you don't have to wait long. According to the statement sent to Mashed, the design rollout starts at the beginning of 2021, and over the next few years, Burger King intends to implement the rebrand worldwide. The new design revamp comes as the first change that Burger King has made to their branding in more than 20 years. In addition to signaling Burger King's ethos to customers, the design change is intended to symbolize the chain's commitment to helping promote environmental sustainability, in part by removing artificial flavors, colors, and preservatives from their food. 
If you love the idea of an ecologically-friendly Burger King with a style that harkens back to a classic fashion period, you will get a major kick out of the company's new look. Make sure to keep an eye out for this change in your area. The plans didn't specify which areas might see the brand makeover first, but with any luck, your local Burger King might be one of the first to see the new image of this fast food empire. The change helps make Burger King that much more fun, and the vintage vibe can make anyone excited to grab a (more sustainable) Whopper.