The Untold Truth Of Ferrero Rocher Chocolate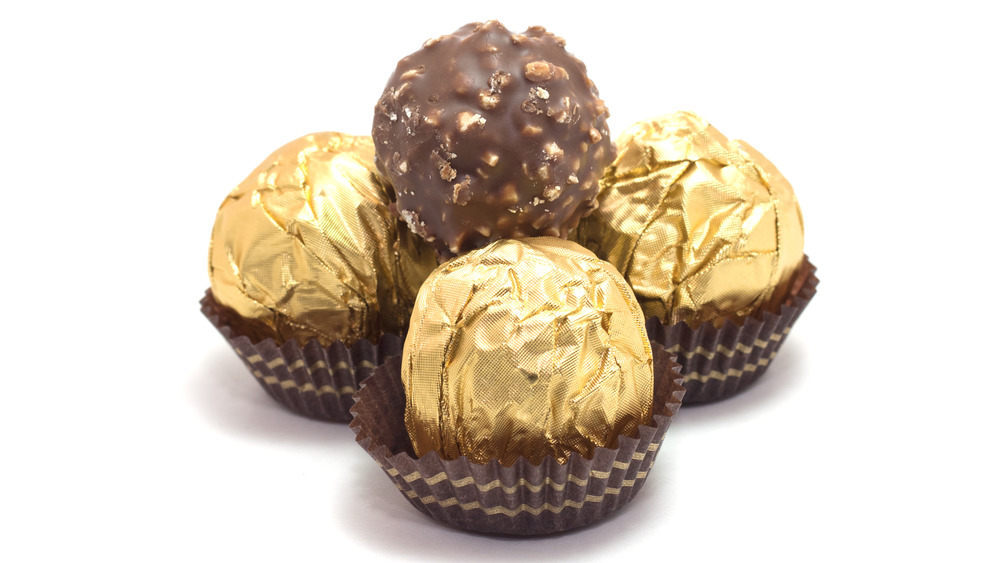 Shutterstock
If you share our love of chocolate, hazelnut, and all things swathed in gold, then you know exactly how thrilling it can be to unwrap a delicate Ferrero Rocher Chocolate before popping the entire (no judgment) crunchy ball into your mouth and devouring it. According to Ferrero Rocher, the story that brought this sweet dream to life started in 1942 when Pietro Ferrero began selling his chocolates in Alba, a town in Piedmont, Italy. Just four years later, Ferrero started its first industrial-scale production. But, it wasn't until 1982, according to Thrillist, that Ferrero Rocher chocolates made their gilded debut, just one more great thing to come out of the 1980s!
The fancy-schmancy chocolates made such an impact with their ornamental wrapping that they even become a status symbol among immigrant communities, becoming the go-to gift that was sure to impress your guest at get-togethers of the '80s and '90s. To make the dreamy chocolates, Ferrero Rocher explains (via YouTube), "We take a whole hazelnut, dip it in smooth chocolatey cream, wrap it in crispy wafer, coat it in milk chocolate, and cover it in hazelnut pieces to give you an irresistible taste experience." No argument here.
Ferrero excels in sweet variety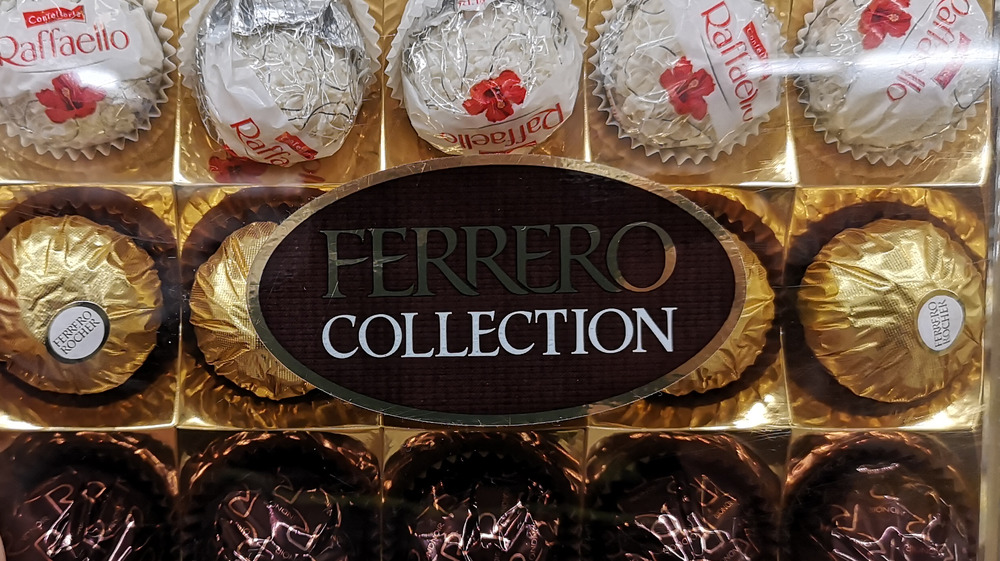 Shutterstock
The Ferreros have had a lot of successes along the way. After all, sweet tooths worldwide can thank the family for Nutella and Tic Tacs. In 1990, according to Thrillist, Ferrero introduced Raffaello, the white version of Ferrero Rocher confections made with coconut and almonds and often sold side-by-side with the original chocolates. 
The variety didn't stop there. Ferrero later introduced Rondnoir as part of a Ferrero Collection. Rondnoir hits similar ultra-fancy notes as Ferrero Rocher chocolate: a decorative foil wrapping and a pleated paper cup, but might make a better fit for someone looking to scratch that dark chocolate itch. Ferrero describes Rondnoir as a "crisp wafer surrounding a creamy, chocolatey filling with a dark chocolate pearl at the center" (via Chew Boom).
Interestingly enough, Raffaellos and Rondnoirs haven't been the only Ferrero Rocher chocolate spinoffs. In 2008, Chocablog reviewed the Ferrero Garden, which featured five distinct flavors: almond, pistachio, forest fruits, hazelnut, and coconut. Variety may be the spice of life, but, in our hearts (and stomachs), when it comes to gold-wrapped balls of chocolate goodness, it will always be the original, Ferrero Rocher Chocolates that reign supreme.