The Best Adult Advent Calendars Coming To Aldi In 2021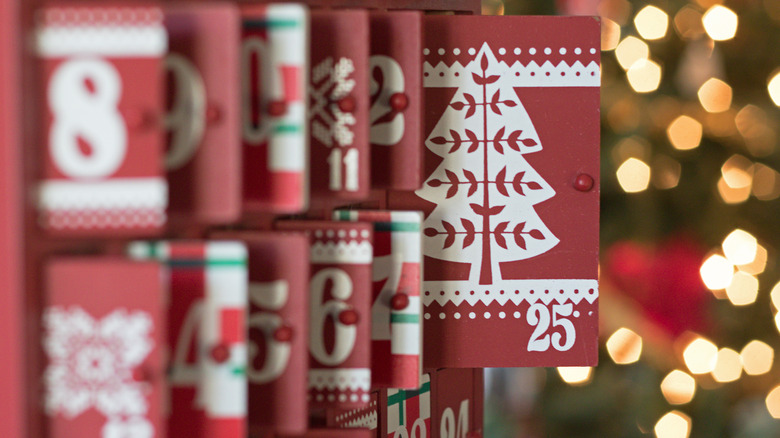 jan j. photography/Shutterstock
Growing up, did you eagerly look forward to the arrival of Christmas Day and its associated bounty of presents — and of course, time with family and delicious foods to boot? If so, you may have participated in another Christmas tradition: the advent calendar. Thought to have originated sometime in the 19th century with German Lutherans marking the days leading up to Christmas, advent calendars run from December 1 through Christmas Eve (via Vox). Over time, advent calendars became more and more geared toward children, helping them count down the days to the gift bonanza of the 25th with fun, interactive materials and colors.
Another feature of kids' advent calendars? Each day often hides a fun treat, like a chocolate or a toy. They're like the Happy Meal of the calendar world. But why should kids be the only ones getting a daily treat this December? If there are advent calendars for dogs and cats, then adults should be able to get in on the fun, too. That's where budget grocery chain Aldi comes in: This holiday season, the store will be selling a variety of grown-up advent calendars containing booze, beauty products, coffee, and more. Quantities are limited and will not be restocked, according to an announcement shared with Mashed, and alcohol calendars are limited to two per customer.
Moser Roth Luxury Chocolate Advent Calendar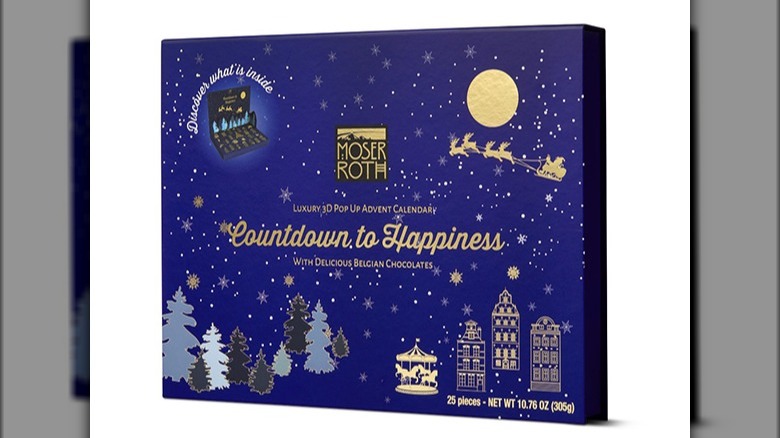 Aldi
Kids' advent calendars may often contain chocolates in the shape of ornaments or candy canes. For adults, whose palates are a bit more sophisticated, Moser Roth is offering this calendar stocked with 25 pieces of nothing but the finest Belgian chocolate. Look for it in Aldi stores for $14.99 per calendar.
Connellys 12 Days of Irish Cream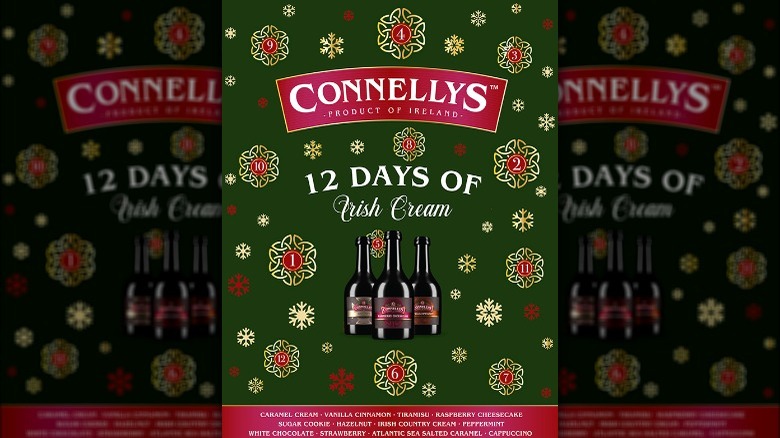 Aldi
Who doesn't love to partake in some booze over the holiday season? The winter months seem to call for a little warming libation here and there, making this advent calendar from Connellys — known for its sweet, luscious Irish cream liqueurs — a perfect choice for December. The calendar rewards with 12 little bottles in flavors including hazelnut and peppermint and retails for $29.99.
My Beauty Spot 12 Days of Bath Fizzers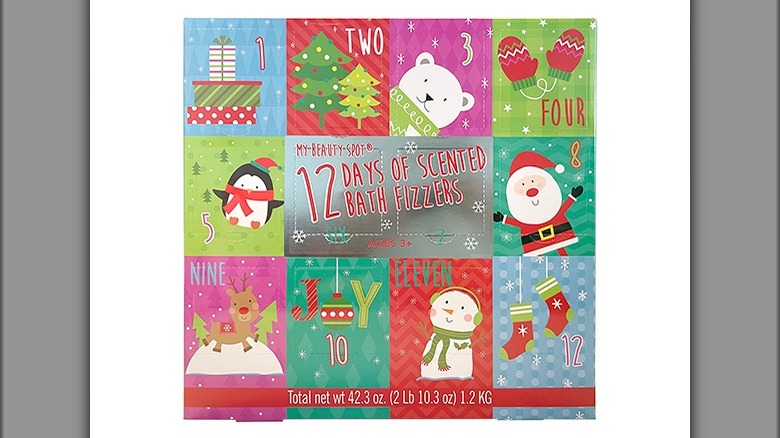 Aldi
Maybe you want to get in on the fun of an advent calendar without packing in all of the sugary holiday treats before Christmas Day. My Beauty Spot is there for you with its bath fizzers advent calendar, filled with a dozen scented bath bombs that provide the perfect opportunity to de-stress in anticipation of all that cooking (and all those relatives). It's available at Aldi stores for $12.99.
Moser Roth 24 Days of Christmas Nutcracker Advent Calendar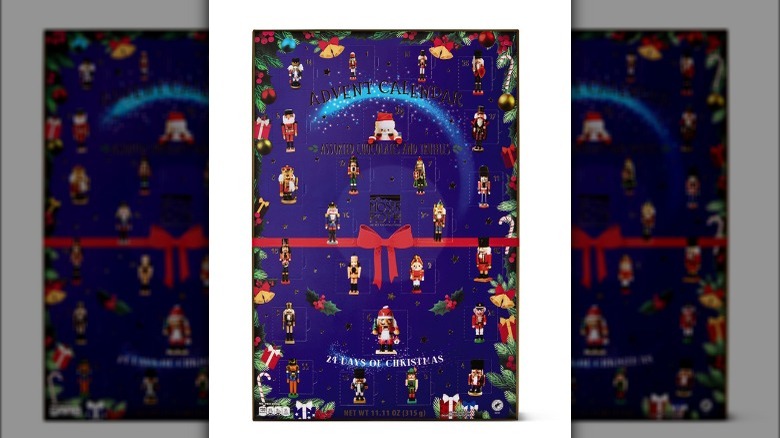 Aldi
Do you love rich Belgian chocolates? Then you'll want to treat yourself with more than three straight weeks of cocoa indulgence with this advent calendar from Moser Roth. From December 1 through Christmas Eve, chow down on a daily chocolate truffle that will satisfy your sweet tooth and get you pumped for even more desserts come Christmas Day. Find it at Aldi for $8.99.
Warner Brothers Christmas Story Advent Calendar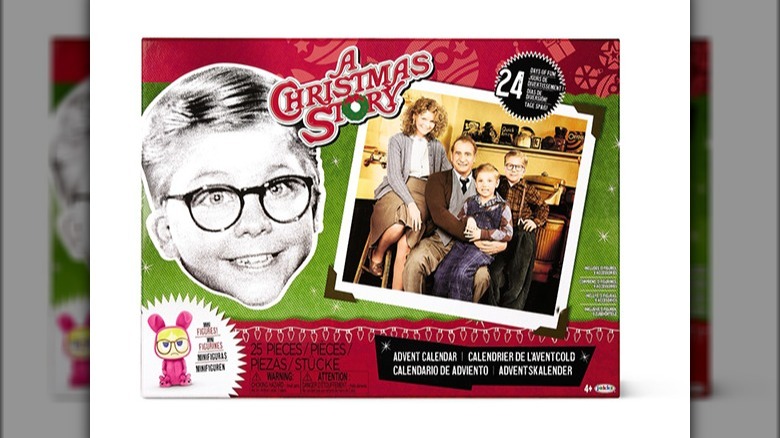 Aldi
If you're an adult over the age of, say, 35, you probably have fond memories of the 1983 film "A Christmas Story," the tale of young Ralphie Parker and his quirky family (via IMDB) that has consistently been ranked among the best Christmas movies of all time, per Town & Country. If you're a fan, you'll want to get your hands on this calendar, which features 24 fun little figurines representing the characters and key scenes from the movie. It retails for $29.99.
The 2021 Collection Wine Advent Calendar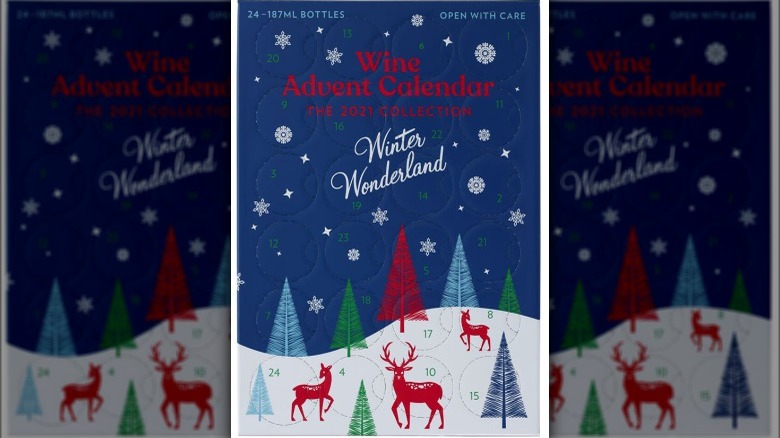 Aldi
Let's say you want an advent calendar this year, but chocolate and bath bombs aren't really your thing. If you're a wine lover, you'll want to grab this vino-themed selection, which will gift you with 24 tiny bottles of wine, including Sauvignon Blanc and Pinot Noir, to enjoy as you wait out the long days until Christmas. It's available at Aldi stores starting November 3 for $59.99.
Barissimo Coffee Advent Calendar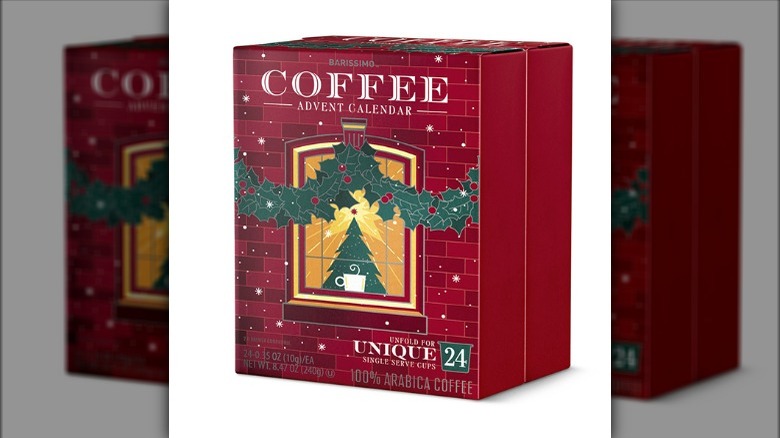 Aldi
Chances are, you start every morning with a hot cup of coffee. Do that with a little more festive flair with an advent calendar from Aldi's in-house coffee brand, Barrissimo. The product, available beginning November 3, includes two dozen individual K-cups for a variety of delicious coffees you can enjoy throughout the month of December, and it runs for $9.99.
Beer Advent Calendar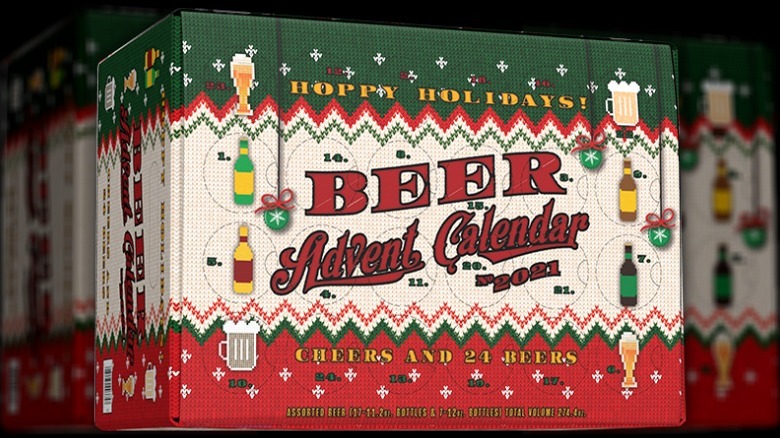 Aldi
Have a very "hoppy" holiday with this beer-filled advent calendar, which is basically a 24-pack of mini bottles that you can sip in anticipation of the holidays. The calendar includes German pilsner, Irish lager, and amber ale and can be purchased for $49.99 from November 3.
Emporium Selection Advent Cheese Calendar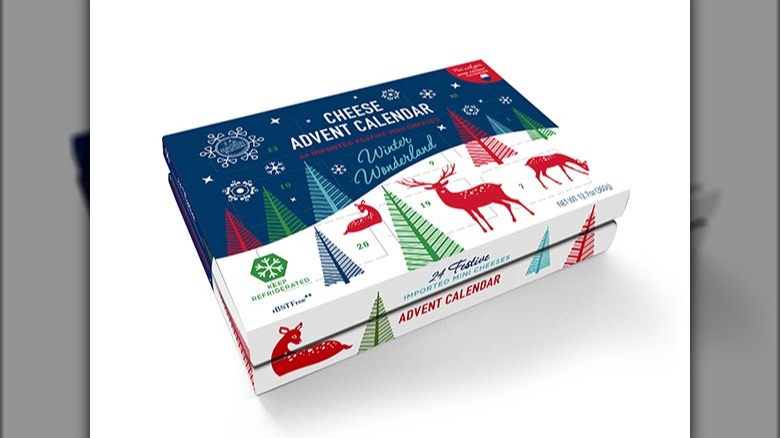 Aldi
We have a feeling that this advent calendar, stocked with 24 imported mini cheeses that you can savor any time of day, will go pretty fast. Run to Aldi after November 3 to find this $14.99 package of dairy goodness before it's gone.