Giada De Laurentiis Uses This Sauce To Take Her Pork Chops To The Next Level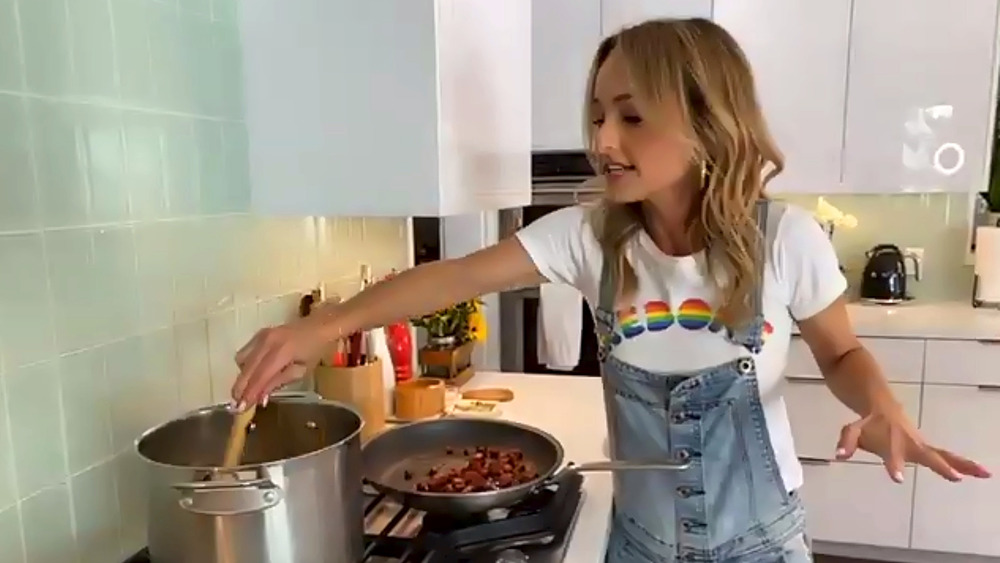 Getty Images/Getty Images
Giada De Laurentiis is the queen of simple but yummy Italian food served up California style. So, when she offers up recipes and tips on how to cook a weeknight dinner favorite like pork chops, we are all ears. This is especially true when you consider that pork chops can be a difficult cut of meat to cook. Kitchn chalks up the challenge of cooking chops to the fact that because they're a "lean" meat, they can be easily overcooked and turn out chewy. 
Well, De Laurentiis has created a sauce that will take your pork chops to the next level, adding flavor, texture, and color. This dish has some other added benefits, too. Firstly, the whole family will enjoy it because it is a play on another favorite food (hello, pizza). And, if we didn't have you licking your lips at pizza, we may ease your cooking stress when we say, it's quick and easy to prepare — meaning you don't need multiple pots and pans to make it. In fact, you only need one, which may have you feeling giddy about not scrubbing and scouring for hours.
Pizzaiola sauce is what your pork chops are begging for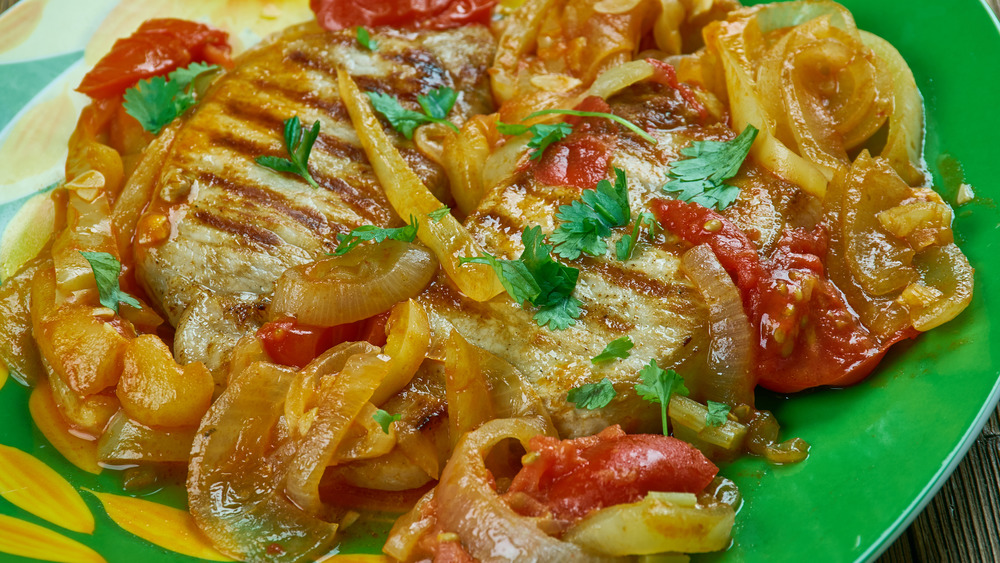 Shutterstock
De Laurentiis took to Instagram to share her secret sauce, and you will want to smother your pork chops in it. Heck, we would eat it without the meat. De Laurentiis wrote, "How to give pork chops a ton of flavor while keeping it light: pizzaiola sauce! The sauce of tomatoes, onion, and herbs comes together in 15 minutes and will take dinner to the next level." Fifteen minutes to make a sauce makes us happy, especially on a busy weeknight. And who doesn't love the taste of anything that is remotely pizza-like?
The chef says on her website that this is the perfect dinner for two, but you can always double the recipe to feed the kids. And another aspect of this sauce that has us excited is that De Laurentiis says you can use it for "chicken sliders, meatballs, and everything in between." While the whole meal will take just around 37 minutes to whip up, we are certain it will be inhaled in a much shorter amount of time.