Trader Joe's Fans Are Freaking Out About These New Everything But The Bagel Kettle Chips
If you can't get enough of Trader Joe's Everything But The Bagel seasoning, don't expect this spice blend to disappear anytime soon. The seasoning recently made some waves when it came in as a Trader Joe's crew favorite, cementing it as a product that truly won a fan following (via Trader Joe's). For those of use who love the flavor but have wanted even more snacks to pair with its iconic flavor, the wait has finally come to an end!
Instagram user @traderjoeslist created a new post showcasing their latest find — Trader Joe's new Everything But The Bagel seasoned kettle-cooked chips, alongside the caption, "NEW EVERYTHING BUT THE BAGEL SEASONED KETTLE COOKED ON POTATO CHIPS // @thesnacksoflife // The internet may break today. Also I'm glad I didn't do No Chip January. So excited to get these!! Will you be trying these new tater chips from #traderjoes?"
Fans have mirrored this same excitement, delivering over 58,000 likes to the post alongside comments ranging from "OMG.....now I need to stop by TJs this week," to "I wouldn't last No Chip January as is... but with these chips!? No chance." This ultimate snack should have you coming in to grab a bag soon, especially after checking out what nutrition lies inside.
The chips you never knew you always needed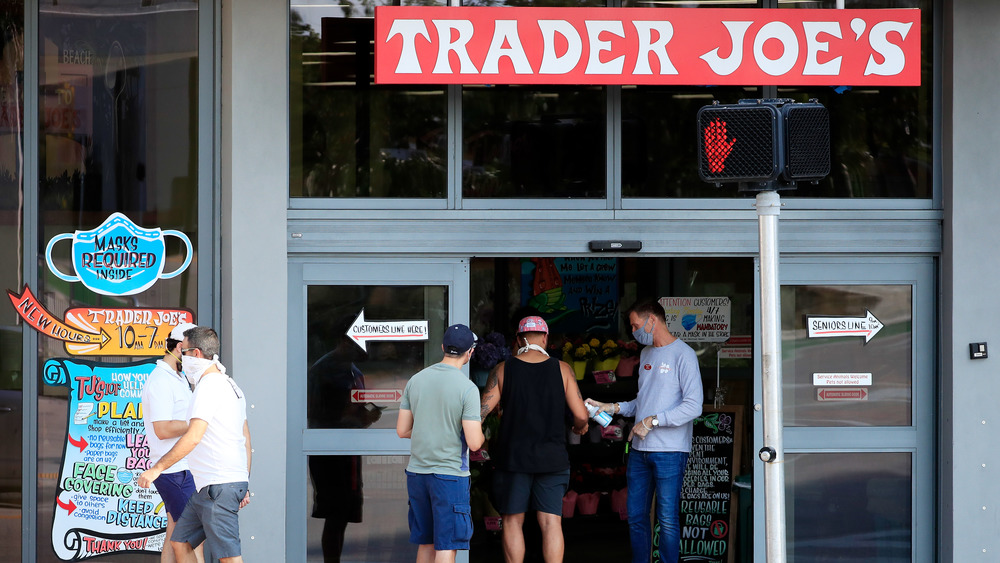 Cliff Hawkins/Getty Images
According to @traderjoeslist, a serving of the chips only contains 135 mg of sodium and 7 grams of fat. Compared to Kettle Brand's salt and pepper kettle chips' 160 mg of sodium and 9 grams of fat, these look like a more wholesome snack option if you love the crunch of these distinct kettle cooked potato chips (via Kettle Brand). With the massive popularity that Trader Joe's new chips have already received, we can only hope to see more products on the way that feature this very distinct blend of poppy seeds, black and white sesame seeds, dried garlic, dried onions, and sea salt (via The Edgy Veg).
Keep your eyes peeled for this brand-new product next time you make a Trader Joe's run. You don't want to get left in the dust on this deal and with so much attention, you need to snag a bag while you can. Try out this snack that has the internet ablaze and find out why it has drummed up so much love among chip aficionados.