These Simple Ingredient Swaps Make Creamed Spinach Even Better For You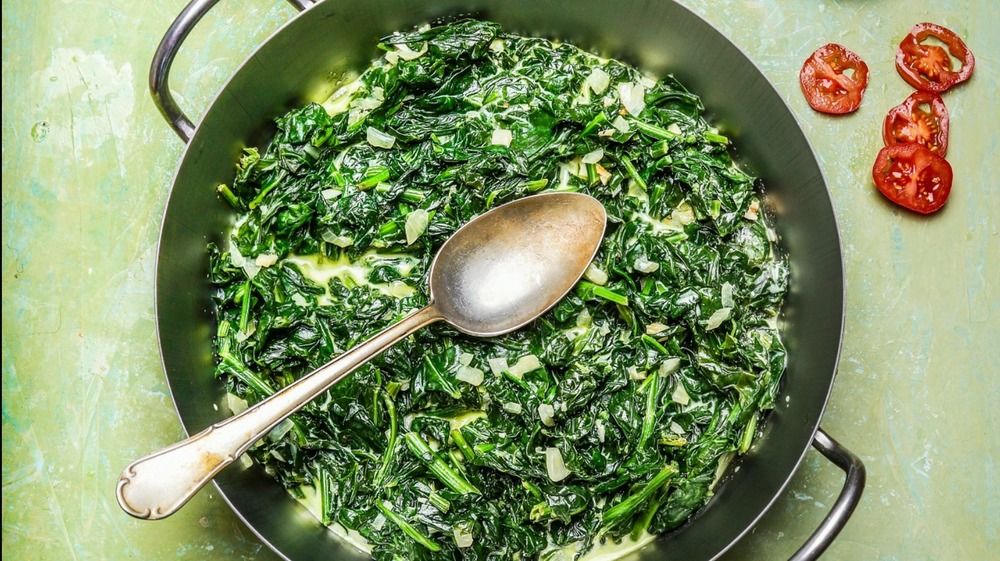 Shutterstock
A steakhouse favorite, creamed spinach is a rich and creamy blend of spinach, garlic, cream, and cheese (via Emeril Lagasse). And while some restaurants create cheese-free versions of the dish, their creamed spinach still delivers a gluttonous amount of butter and cream in every bite. Order one serving of Ruth's Chris creamed spinach, sans cheese, and you'll down a whopping 484 calories, 43 grams of fat, and 27 grams of saturated fat (via Sun Sentinel).
And it's not just fancy restaurants dishing up the fat-laden vegetable. One serving of Boston Market's creamed spinach has 280 calories, 23 grams of fat, and 15 grams of saturated fat (via Fitbit). Delicious? Yes. Healthy? Not exactly. Especially for a side dish.
The restaurant version of creamed spinach is fine on occasion, but if you want to enjoy healthier creamed spinach on a regular basis, employ a few culinary hacks for silky-smooth, creamy spinach, with a fraction of the calories and fat.
A few changes and creamed spinach becomes downright healthy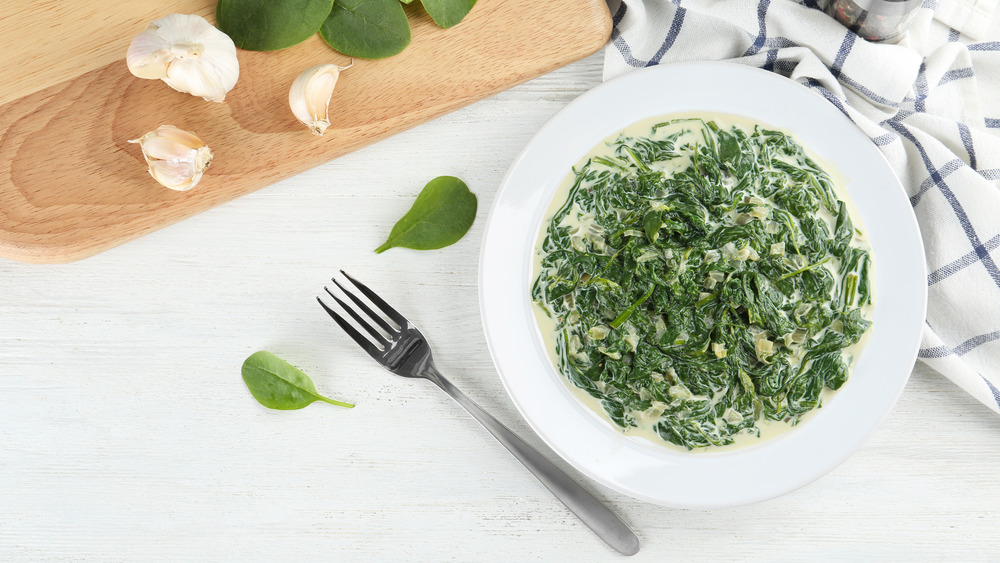 Shutterstock
Turns out, it's easy to slash calories and fat in creamed spinach while enjoying a velvety, satisfying bowl of comfort. For example, The New York Times shares a sultry, cheese-free version that boasts an olive oil-based béchamel, shallots, fresh spinach, and low-fat milk. Ditching the butter and cream changed the nutrition game entirely – one serving contains 176 calories, 8 grams of fat, and 2 grams of saturated fat.
Eating Well offers creamed spinach featuring fresh spinach, a blend of olive oil and butter, low-fat milk, and just enough parmesan cheese for flavor, not fat. One serving has 202 calories, 13 grams of fat, and 5 grams of saturated fat, showcasing that, even with cheese, calories and fat are greatly reduced.
If you're starting with frozen spinach, Liz's Healthy Table delivers a stellar creamed spinach featuring olive oil, sautéed onions, low-fat milk, and light cream cheese. One serving has 150 calories, 9 grams of fat, and 2.5 grams of saturated fat.
In a unique twist, The Skinny Taste adds herby Boursin Light cheese and fat-free milk to create their restaurant-quality, sinful-tasting creamed spinach. One serving contains 123 calories, 8 grams of fat, and 5 grams of saturated fat.
Mealthy shares a "skinny" creamed spinach that swaps grapeseed oil in for butter, and reduced-fat milk and Greek yogurt for cream. Simple substitutions that yield a rich creamed spinach with 134 calories, 7 grams of fat, and 2 grams of saturated fat per serving.