The Burger King Secret Menu Combo You Need To Try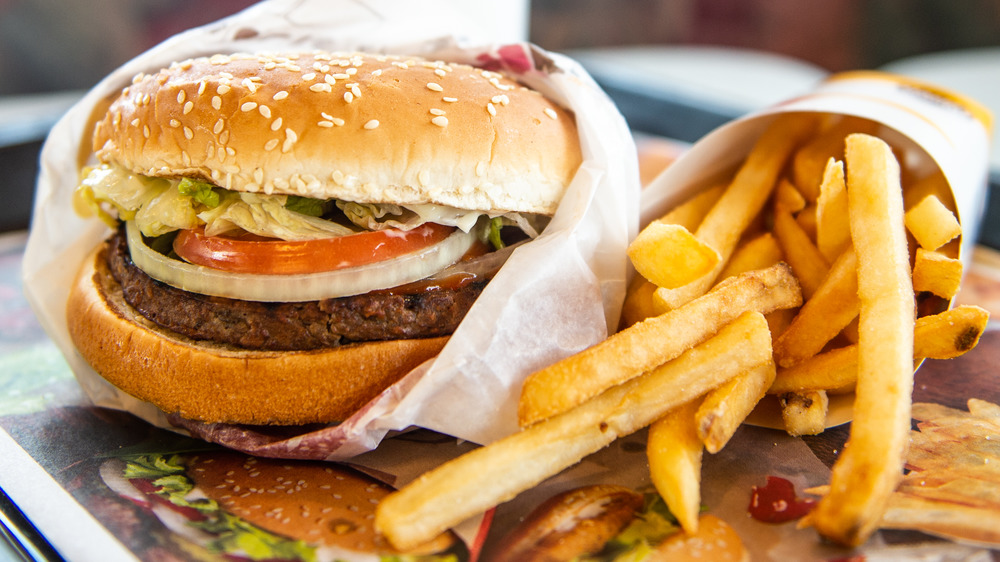 Michael Thomas/Getty Images
As you walk through the doors of Burger King, or pull-up to the drive-through, note that while the menu features some pretty tantalizing options, it's hiding some secret gems. There are a few undisclosed, delectable items that – for those in the know – will send your taste buds soaring.
The original "Home of the Whopper," Burger King has been serving up flame-grilled burgers since 1954 and currently serves over 11 million hungry fans every day (via Burger King). According to Fast Food Nutrition, the most popular BK menu item is their signature burger, the Whopper, followed by their fries. Since the Whopper boasts a 1/4-pound, flame-grilled beef patty, nestled on a sesame seed bun and piled high with tomatoes, lettuce, mayonnaise, ketchup, pickles, and white onions (via Meat + Poultry), it's no surprise it's number one.
When it comes to their French fries, Burger King has been tinkering with them for eons, and in 2011 they created a fry that's slightly thicker and less salty (via The Wall Street Journal). And, nutritionally, Very Well Fit claims that the value size portion of BK's fries is the most nutritious side on the menu, clocking in at 220 calories, 10 grams of fat, 1.5 grams of saturated fat, 330 milligrams of sodium,3 grams of protein, and zero sugar.
As delicious and tempting as those crispy spuds are, take note – they're frying up something special in the back. A commingling that's salty, savory, and satisfying, and you need to ask for it by name.
There are two ways to order this secret treat
Burger King's fries are clearly revered and Newsday explains that it's because the tender fried tubers are golden and crisp, and more flavorful than the spuds from McDonald's. Business Insider agrees and describes BK's fries as "savory, oily, and rich," with a crispy exterior, juicy interior, and ideal amount of crunchy salt.
There's another winning side dish at Burger King, and it's the crispy onion rings. Seems like the joint loves the taste and crunch of rings so much, it stacks them up on their burgers (via Delish).
Wouldn't it be great if you could combine those celebrated fries with the equally awesome rings? You can, and all you need to do is ask. HackTheMenu explains that if you order Frings, you'll get half fries and half rings. Burger King Fandom gushed that Frings are "the best of both worlds" in one happy place. Frings are available in  Value, Small, Medium, and Large sizes (via Fast Food Menu Price).
Secret Menus adds that Frings are ideal for those who can't decide between the two fried treats and claims that you don't even have to say "Frings;" you can simply request half of each. And since a large order of rings is considered the least nutritious side by Very Well Fit (with 500 calories, 25 grams of fat, 4.5 grams of saturated fat, 1310 milligrams of sodium, and 7 grams of sugar), a half order might be a smart move.
What should you serve with your secret combo?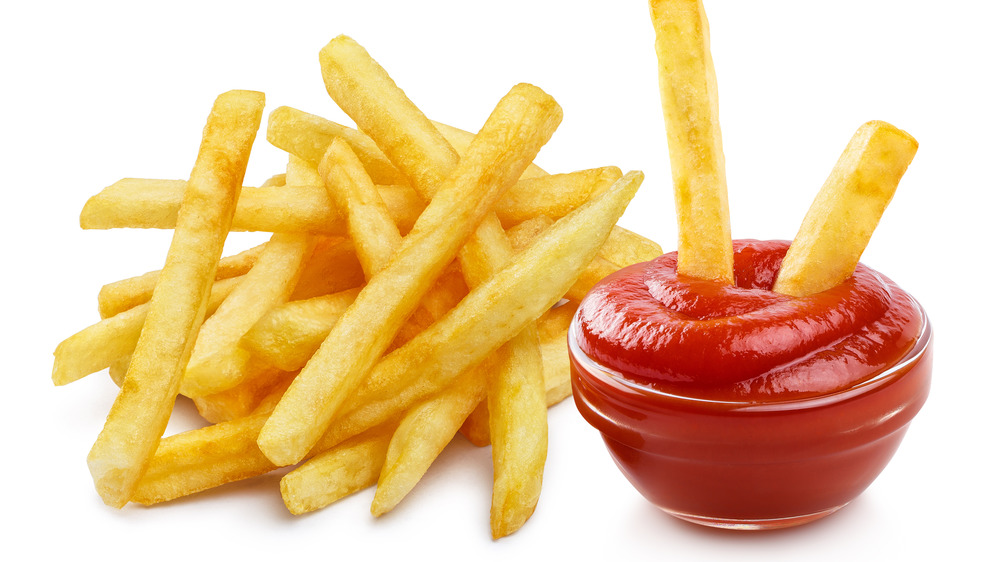 Shutterstock
Now that you have Frings in your hot little hands, consider dipping them in something other than ketchup. Spoon University suggests Burger King's Zesty sauce, which CopyKat says is a blend of mayonnaise, horseradish, ketchup, and mustard. Zesty sauce is similar to the blooming onion sauce (per Allrecipes) from Outback Steakhouse. Business Insider has two suggestions – the sweet, tangy, and peppery BBQ sauce because it actually tastes like authentic barbecue sauce, and BK's honey mustard sauce, which apparently tastes better on the rings than the chicken nuggets.
If you're more of a ranch dip fan, Thrillist claims that Burger King's rich and creamy ranch reigns supreme because it asserts distinct notes of buttermilk (which makes sense since buttermilk is the second ingredient). Plus, it's not watered-down, so it clings to every Fring. For those looking for a little heat, Thrillist recommends the Buffalo sauce, which boasts subtle, fiery notes of cayenne pepper. A Redditor remarks that, unlike other fast food Buffalo sauces, the BK version is delightfully creamy. ze adds that BK's bright orange Buffalo sauce boasts a variety of spices swirled into a creamy base and delivers the perfect balance of acidity and kick without an overpowering level of heat.
You've got the fries, you've got the rings, AKA Frings, and now you have endless ways to enjoy them. The Christian Science Monitor reminds us that, thanks to innovative secret menu combos, we really can "have it our way" at Burger King.