These Valentines At Aldi Are Perfect For Cheese Lovers
Is there someone in your life who can't get enough of cheesy puns? (Hint: if you look around and you can't find anyone, it might be you! That, or you need new friends.) Aldi has got you covered like fondue this Valentine's Day, with their cheese snack packs that come in pinks and reds, covered with kissy-lips, or boasting a heart-shaped window...you know what? It doesn't matter what they look like, really, because they're filled with cheese.
Aldi is that glorious German company that might remind you a little bit of Trader Joe's (it's complicated, as Kitchn explains) because of its low prices and in-house brands that you can't find in larger chain grocery stores. When it comes to seasonal, international, or pun-covered produce perks, Aldi's your guy. There are even Instagram accounts, like @aldi.mademedoit, dedicated to consumers' love of all things Aldi. And this is not the first time they've swooned over cheese.
Aldi's new Valentine's Day treat is cheesy in the best way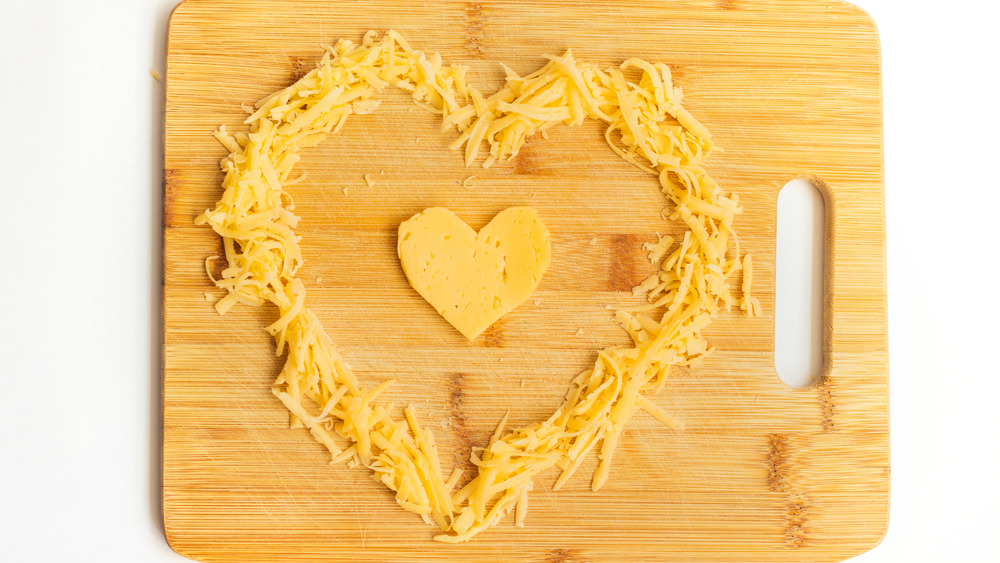 Shutterstock
According to Aldi Finds, the weekly specials that Aldi posts on its website each Wednesday, you might be able to snag an Emporium Selection Valentine's Day Cheese Box for just $4.99 this week, and it's the perfect cheese chaser to that heart-shaped box of cheddar you've already added to cart. Throw a heart-covered plush for $14.99 in the bag as well, and you've got yourself a squishy, cheesy Valentine for your favorite person come February.
If the best way to your partner's heart is through their stomach, cheese is kind of like that shortcut in Chutes and Ladders, the one where a giant ladder takes you from square two to square 99. The Emporium Selection Valentine's Day Cheese Box has eight little slices per pack, and customers can choose between White English Cheddar or Mature Gouda. Queso, don't Brie a Muenster, Gouda Aldi and get your Valentine some cheese!