Costco Shoppers Are Obsessed With These Gluten-Free Chicken Meatballs
In what can be a frustrating dietary hurdle for people who can't eat gluten, many meat products – including processed meats, pre-seasoned meat, and yes, even meatballs — can contain the hidden, dreaded, and very undesirable ingredient (via Celiac Disease Foundation). But in another win for people in the gluten-free world, Costco now has gluten-free chicken meatballs on its shelves, adding to its growing selection of gluten-free and other diet-conscious products that are sure to attract customers.
According to the Instagram account @costcobuys, you can snag a 2.5-pound bag of gluten-free chicken meatballs for $10.49 from the company Jones Dairy Farm. And Costco fans are excited to try them out, with comments like, "Oh how I wish they had samples right now!! 👍" and "OMG NEED TO TRY". And those that have actually tried them seem satisfied so far. One commented concluded, "My daughter served these at Christmas I was skeptical but omg delicious 😋" and another wrote, "These are very good and so are the chicken breakfast sausage links from the same brand."
What to do with a bag of Costco chicken meatballs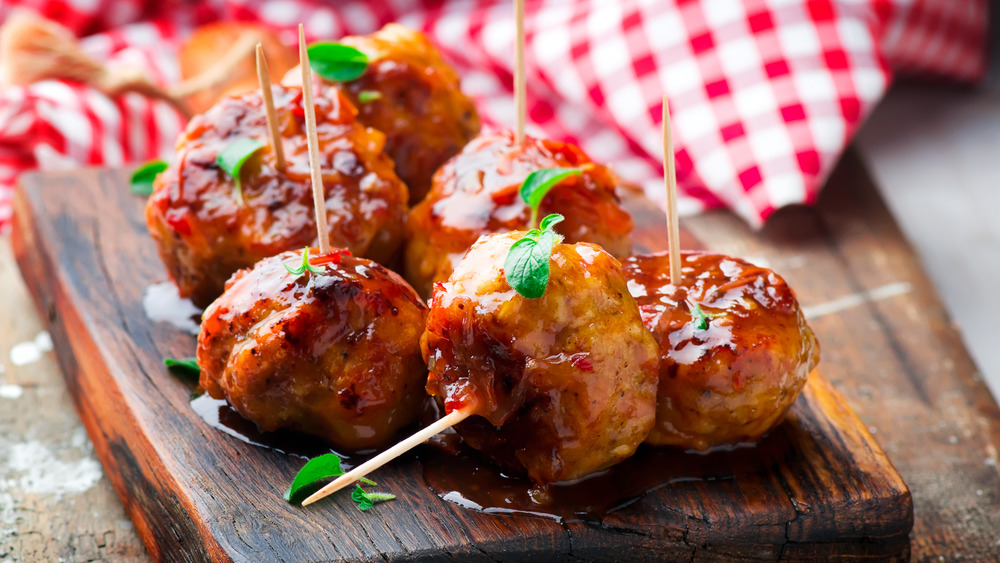 Shutterstock
Meatballs' best friend is, of course, spaghetti. But what's a gluten-free eater to do when they've got no pasta to go with these gluten-free, paleo-certified meatballs? Of course, there's always gluten-free pasta. Costco's offerings change up pretty frequently (via Costco), but, according to the blog Good For You Gluten Free, "There is always some sort of gluten-free pasta available at Costco." Keep an eye out while you're shopping, and chances are very good that you'll find a tasty gluten-free pasta to go along with these chicken meatballs.
And don't be afraid to get a little creative with your meatball accompaniments while you're at it. Indeed, there are so many more options out there beyond just regular old spaghetti and meatballs. You can serve chicken meatballs as an appetizer with some sort of delicious dipping sauce or with a soy glaze. Bonus points for serving them with toothpicks. Consider riffing on the rather famous delicious IKEA meatballs, too, maybe with some lingonberry jam on the side. You'll be through that massive bag in no time.