Costco Fans Are Obsessed With This Cauliflower Linguini
If you are one of the many Americans who avoids gluten for health reasons, or if you are simply trying to find easy ways to add more vegetables to your diet, Taste Republic's gluten-free Cauliflower Linguini is definitely worth checking out. Made from cauliflower, potato, and tapioca starch, the noodles contain no gluten or grains of any kind, are low on the glycemic index, and are completely Paleo friendly.
The best part is the cauliflower pasta is now available for purchase at Costco, where it is sold in 16-ounce two-packs for only $9.89, per Taste of Home. While right now the Cauliflower Linguini is only available at Costco's in the Pacific Northwest, many fans of the gluten-free brand are hopeful the offering will expand to other locations soon.
The popular account @costco_doesitagain posted the find on Instagram, saying, "Now at Costco in the Pacific Northwest! @tasterepublic Cauliflower Linguini! Cooks in just three minutes and has 2 1/2 servings of vegetables per serving of pasta! So delish!!" 
The post was quickly inundated with replies from Costco fans who were excited to give these gluten-free noodles a try. One user wrote, "Ohhhh that looks fun!" Another excitedly responded, "OMG!!! I need this now!!"
The cauliflower linguini packs extra nutrients and veggies onto your plate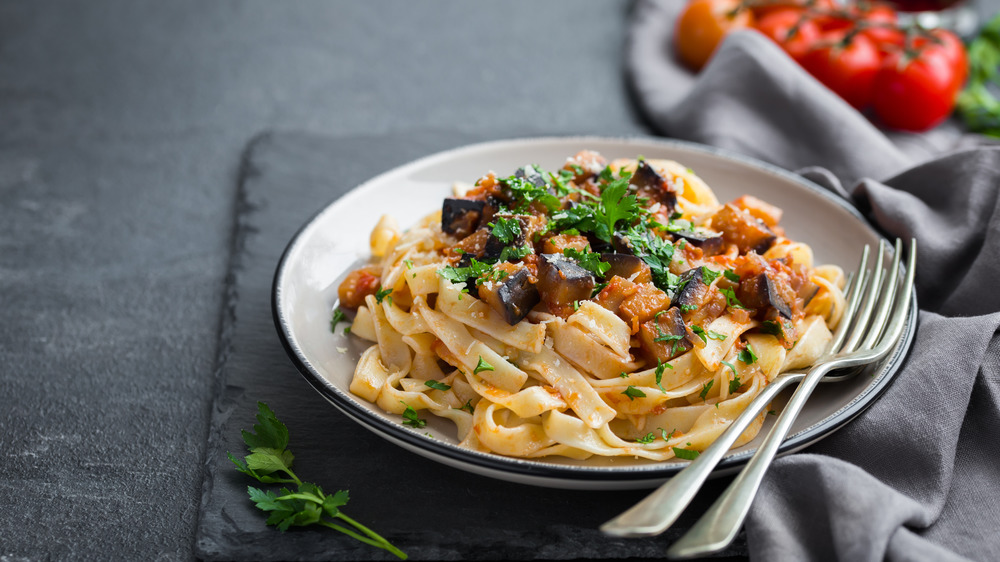 Shutterstock
However, Costco shoppers should be warned that while these are gluten- and grain-free, they are not necessarily low-calorie or low-carb. The noodles have 230 calories and 45 grams of carbs per serving, according to Taste Republic. This news did come as a disappointment to some shoppers, like @kristamista22, who warned, "Look up the carb count! I was so excited but they aren't keto friendly. I think they have 45g of carbs!" The noodles also contain eggs, so they are not vegan-friendly.
While it is not strictly vegan or keto, according to Taste of Home, the linguini does offer a substantial 2.5 servings of vegetables per serving, along with all the added nutritional benefits of cauliflower. The pasta packs extra fiber, vitamin K, vitamin C, vitamin B6, potassium, and antioxidants into each forkful.
Per Taste Republic, the "freshly made" Cauliflower Linguini also has another advantage over traditional pasta. It cooks "perfectly al dente in only 2-3 minutes," which means it can go from stovetop to plate to mouth in under five minutes.