What It's Like Being A Chopped Judge, According To Chef Marcus Samuelsson - Exclusive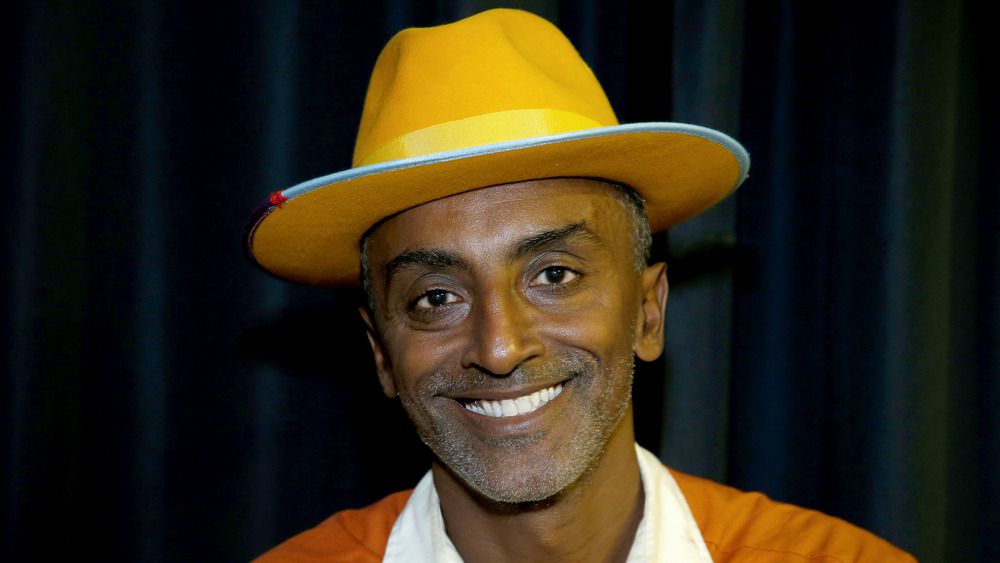 John Lamparski/Getty Images
There are very few cooking shows as long-standing and iconic as Food Network's Chopped. The show, which features chefs from around the country competing in front of a panel of celebrity judges — and not to mention baskets full of menacing mystery ingredients — has been around for more than a decade. Chopped is a huge success, and it's easy to see why. It's fast-paced, tense, and fun to watch. Honestly, it's also a little mind-boggling to imagine trying to come up with a winning dish off the top of your head using the wacky secret ingredients, plus navigating that intimidating pantry and fridge, all in under 30 minutes. And yet, the dishes put before the judges are more often than not unique, delicious, and well-plated. 
Chopped has racked up a whopping 49 seasons since it launched in 2007 (via Food Network), and for many of those seasons acclaimed chef Marcus Samuelsson has served as one of the judges, tasting appetizer, entrée, and dessert rounds to decide "who will be chopped." Samuelsson, who's also a cookbook author, restaurateur, and philanthropist, spoke exclusively with Mashed, and shared some inside details on what it's like to sit at the judges' table on Chopped.
It's not an easy job to be a Chopped judge
On one hand, being a judge on Chopped kinda seems like the best job in the world; getting paid to hang out with fellow chef friends (plus Ted Allen!) and taste amazing plates of food. On the flip side, however, with great power comes responsibility — and Chopped judges know this firsthand. Chef Marcus Samuelsson told Mashed that many of the episodes he's judged have been real nail-biters, with filming going way beyond your average work day, as the judges take their time to decide each round. That's because they take their work very seriously. "It's a long day, and it's all because of a matter of taste. We take pride in keeping it just about the food and that experience," says Samuelsson, adding "I think there lies the success or part of the success of the show, that we're not just agreeing so we can get home."
Samuelsson emphasized that a big reason judging can be challenging is because of the hard-working, deserving contestants, who put a lot on the line when they compete. Samuelsson says "this is game changing for the person who wins, but we better also explain it for the person who got chopped." Viewers know that the competing chefs on the show are full of big dreams, and sometimes rough backstories. Apparently, things can get pretty emotional. Samuelsson told Mashed that oftentimes, despite "whatever stories you think you're walking into, the day always takes a turn and you always end up crying." He admitted, "after hundreds and hundreds of episodes I've done, I still end up weeping afterwards."
It's like being part of a big family... of amazing chefs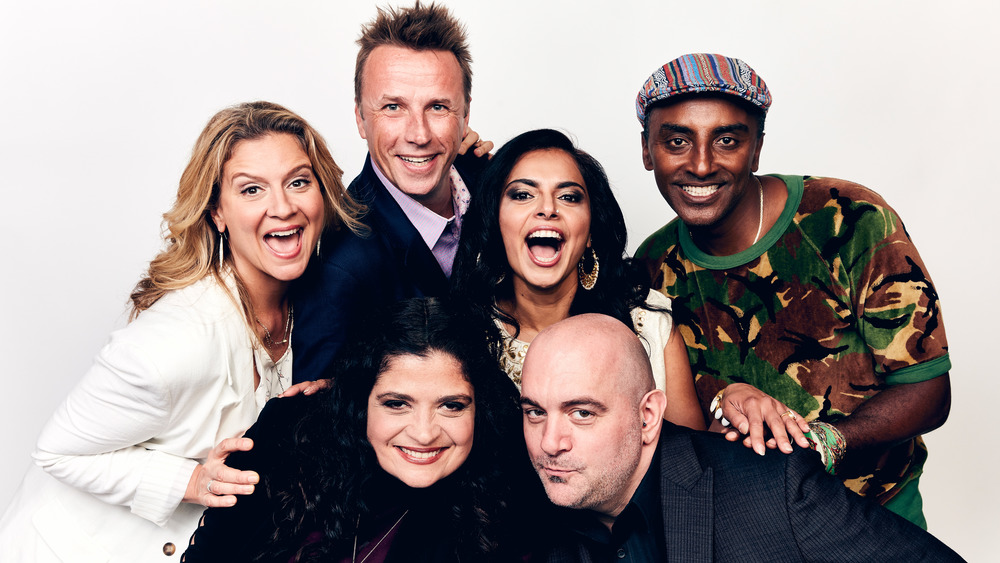 Robby Klein/Getty Images
After spending hours on end together filming hundreds of Chopped episodes, the panel of judges have understandably, formed a sort of family, and a well fed one at that. Chef Marcus Samuelsson told us that when it comes to his 23 seasons judging Chopped, "the best part is by far the camaraderie. Chopped is like family."
He said it would be impossible to even choose his favorite judges to work with, because they have all been friends for so long, and grew in their careers together. "We came up together," says Samuelsson. The chef mentioned that he and his fellow judges act like family too. "We are allowed to talk s*** about each other but no one else can. It's very protective. You know what I mean?"
Adding to that bond, is the shared sense of pride Samuelsson says he and his fellow judges feel comes with being a part of Chopped. He told Mashed "we're part of something very special and we are very privileged to be part of that journey. And we take a lot of pride in being in people's living room."
You can catch chef Marcus Samuelsson on episodes of Chopped, as well as season two of Selena + Chef, steaming on HBO Max now.