This Surprising Ingredient Will Change Your Baked Treats Forever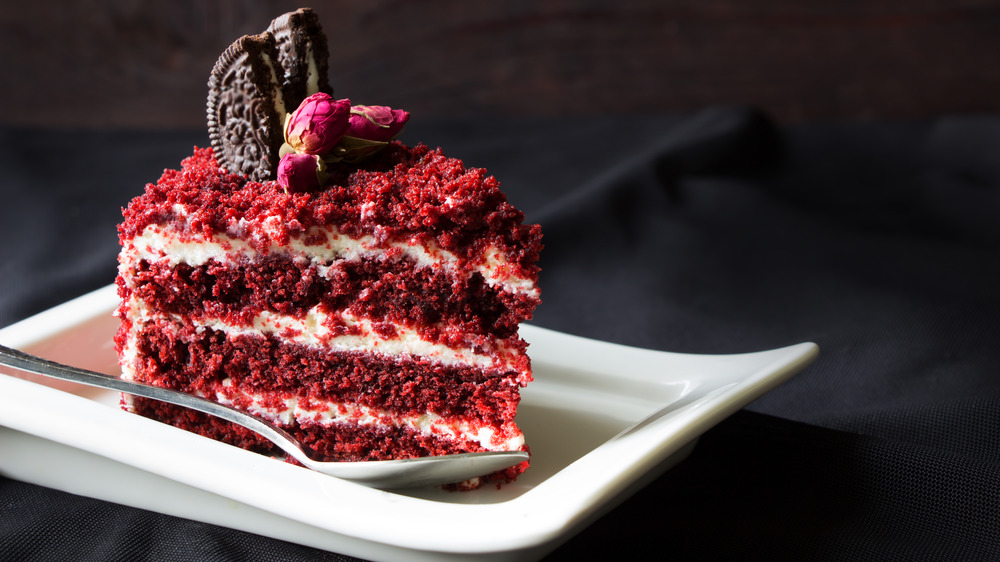 Shutterstock
When we feel like baking, usually it's fruits we turn to rather than veggies. Who doesn't love apple pie, or peach, or coconut cream, or strawberry/rhubarb? (OK, so rhubarb is actually a vegetable, but one with a tart, fruity flavor.) Plus there are blueberry muffins, raspberry Linzer cookies, cherry cheesecake, and, ok, even fruitcake has its fans. While it's perhaps not the most popular of desserts, even at holiday time, it sure beats the heck out of "vegetable cake," which is why the latter really isn't a thing.
The nutritionists and recipe developers at Bush's, however, would like you to consider the following secret ingredient that deserves to make the move from side dish to dessert table: beans, aka the musical fruit. While they may be the butt of many a joke (see what we did there?), beans have a lot to offer besides their, er, musical properties. Tiffany Stooksbury, senior food scientist and chef at Bush's, says "Beans are nutrient-dense," and suggests that sneaking beans into cookies, cakes, etc. may be a great way to get kids (and adults) to eat a bit healthier (whether or not they're aware of it). She says beans are high in protein and minerals and also offer a lot of fiber without much added fat. "For people who are looking for more fiber," she tells us, "beans are a great solution."
Beans are vegan and gluten-free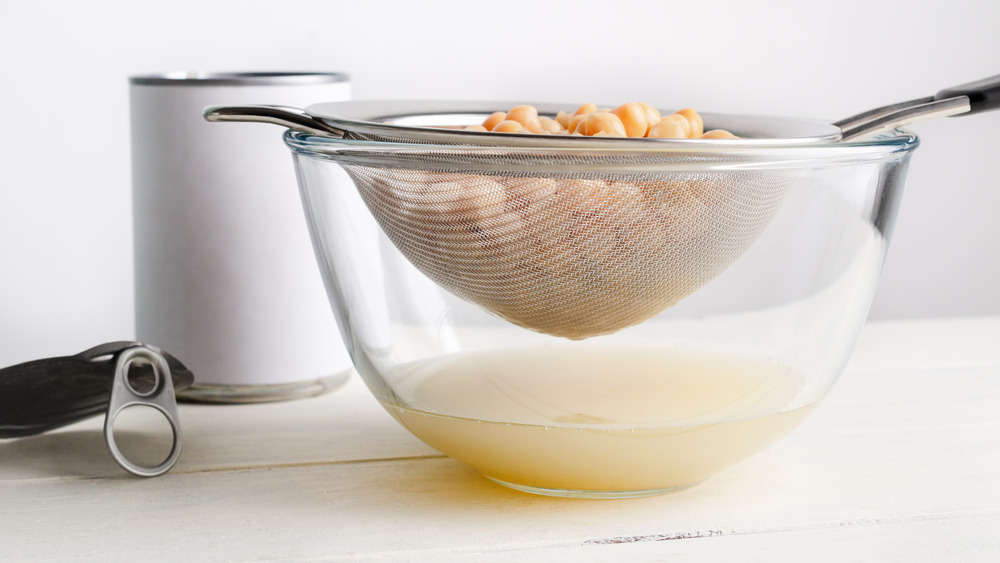 Shutterstock
Stooksbury is a big proponent of Aqaba, which is the liquid drained from a can of beans. While the ingredient itself is not specific to any type of beans, aquafaba from chickpeas may be the best-known type. Stooksbury previously told Mashed that the liquid from lighter-colored (and flavored) beans works well in any instance, but darker-colored bean liquid might be better suited to baked goods such as chocolate cakes or gingerbread that are meant to be darker in color and less delicate in taste.
Not only bean juice, but beans themselves, either whole or pureed, can also be incorporated into baked goods. This is often done either to replace eggs in vegan baking or to supplement items baked with gluten-free flour since beans supply that stick-together-ness that gluten-free goods would otherwise lack. Stooksbury points out that using beans and their liquid in baking can be "a little less intimidating" than something lab-created like xanthan gum. She thinks that when you're working with nothing more than "beans, salt and water...that just sounds better for someone who doesn't know what all of those other ingredients are."
Black bean brownies are surprisingly delicious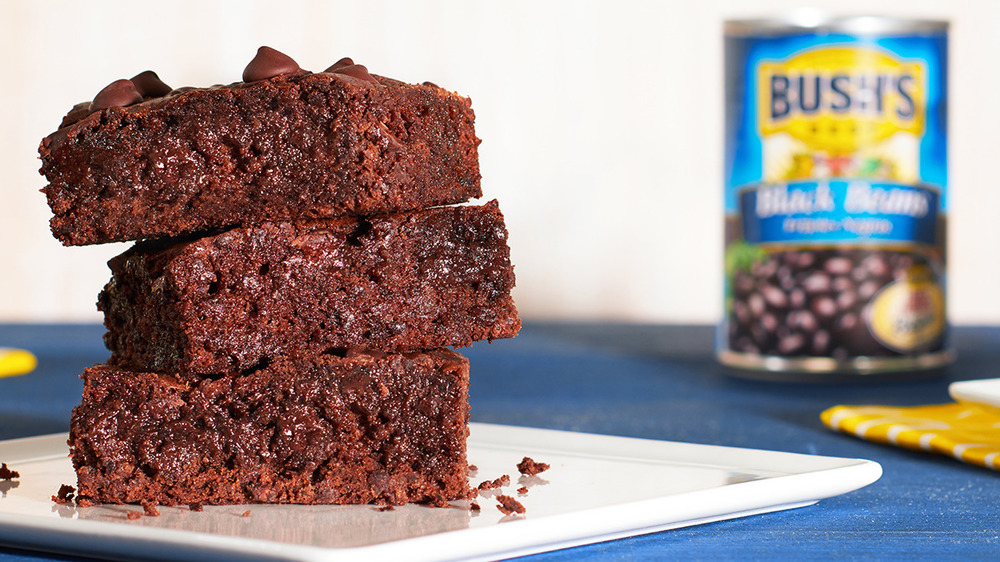 Bush's
Stooksbury tells us that one of the ways she likes to use beans is to bake up a yummy batch of black bean brownies. She says that if you incorporate black beans into your brownie batter, "the biggest things you will notice are a difference in texture and that they're much more moist." Don't worry that they will taste weird, however. She admits the brownies might be "a little chewier," but there won't be any noticeably beany flavor to them.
One piece of advice Stooksbury offers for how to mix in the beans is to use a blender or food processor rather than a stand mixer. She also suggested saving the black bean liquid (of course) and using it to make the brownie frosting. If you think you might like to try black bean brownies, Bush's website has a recipe Stooksbury says is sure to "wow your family," but maybe don't tell them about the beans til they've already eaten a few. As far as brownie secret ingredients go, beans are a lot more out-there than the instant coffee Ina Garten uses.
Beans also play nicely with pies and cupcakes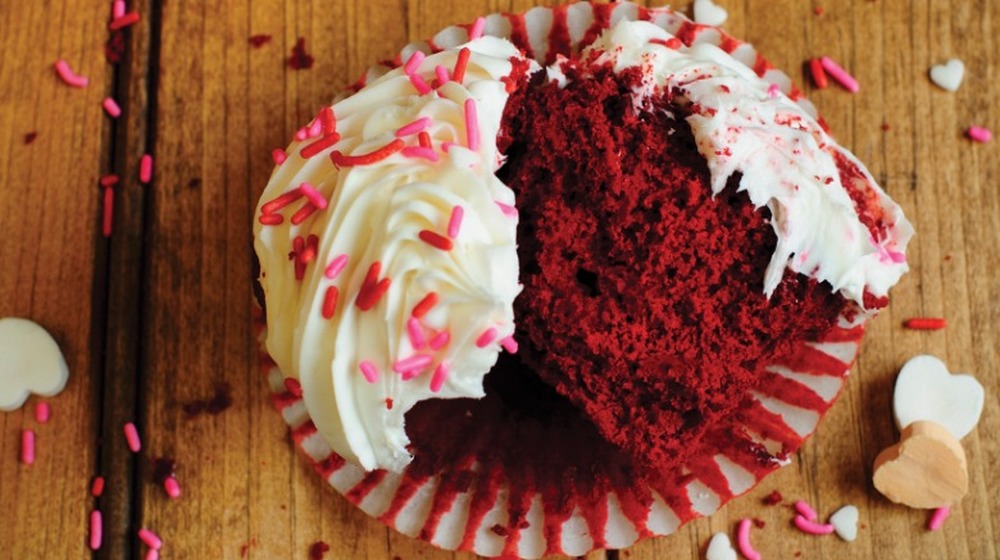 Bush's
Maureen Toman, who works in front end development at Bush's, also weighs in with a few tips for baking with beans. As she tells it, Bush's visitors center is evidently all about the bean baked goods, as they serve up a pinto bean pie that's "very similar to a pecan pie in how it tastes." She says that even though Bush's make their version with whole beans, you'd hardly know they were there, but adds "you can also puree the beans and it hides them even more." She calls using beans "an easy, affordable swap" due to the fact that "a can of beans is cheaper than pecans," and notes that this pie is better for you, as well, since unlike traditional pecan pie, it contains no corn syrup. (You can find the recipe on Bush's website.)
Yet another recipe Toman mentions is one for red velvet cupcakes made with cannellini beans. She says these beans are white and creamy and "almost have a slight vanilla flavor that I don't think people even realize." She explains that they are used to replace the oil in the recipe. "Incorporating cannellini beans," she says, "creates a heartier cupcake that's also more moist." The recipe is a simple 4-ingredient boxed cake mix upgrade that would be the perfect treat for a heart-healthy Valentine's Day.