Grandma's Favorite Desserts That Need To Make A Comeback
We may receive a commission on purchases made from links.
Newer doesn't necessarily mean better, and if you look back through the decades, it's true you'll find all kinds of wacky, wild recipes you can't fathom anyone actually eating. (Velveeta and pearl onions, anyone?) But take a page out of your grandma's recipe book when it comes to desserts, and you'll find a whole bunch of ideas her generation loved... and yours will, too. Let's find out what a knickerbocker glory is, whether or not there's mayo in mayonnaise cake, and why we need to bring back some of the desserts that were popular decades ago.
Icebox cake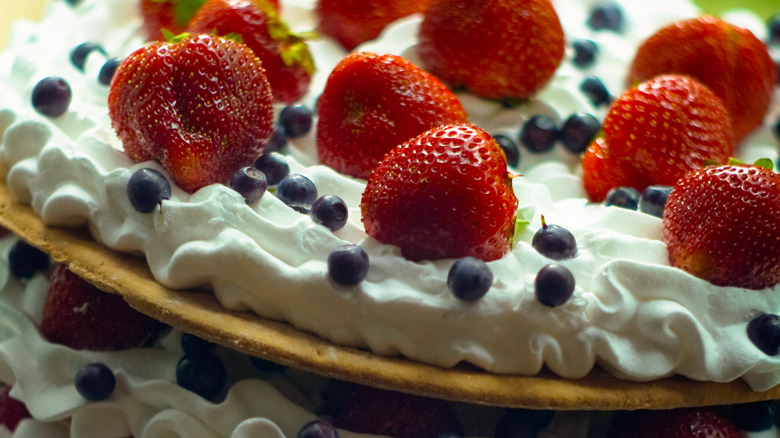 Shutterstock
Today's homes might have refrigerators instead of an icebox, but an icebox cake is still a brilliant dessert for those times you're looking for something delicious, versatile, and — above all — simple. According to Susan Stafford Kelly (via Our State), they do actually date back to an era where most people used an icebox to keep their foodstuffs cold, and there's no right or wrong way to make this one. Basically, you're layering cookies with whipped cream, and then adding some garnish. Chill until it's firm, then cut it like a cake.
Super-easy and super-amazing, right? The sky's the limit when it comes to making this one, but if you're looking for inspiration, we have some suggestions. There's this amazing Oreo icebox cake from The Kitchen is My Playground, and there's this delicious peanut butter version from Crazy for Crust. How about going a little salty with this salted caramel icebox cake from Lauren's Latest? You can pack this one full of all kinds of summer fruits, too, like Cakes Cottage does with their summer berry icebox cake. Seriously, why haven't you made one of these already?
Mayonnaise cake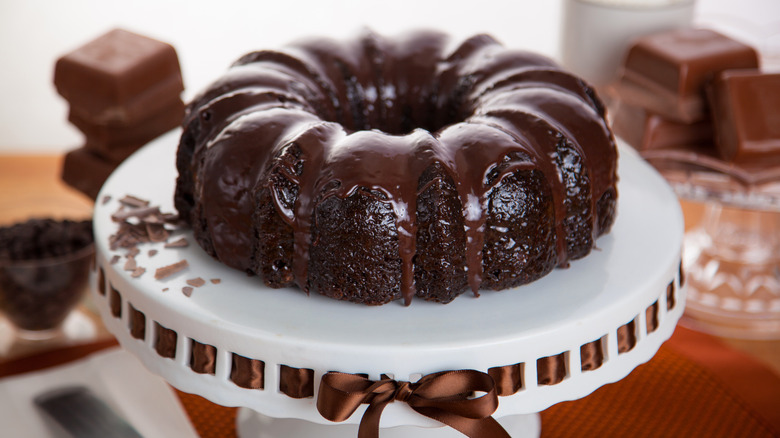 Shutterstock
According to author and baker Anne Byrn (via NPR), the difficult years of the Great Depression led to the development of a cake recipe calling for one of the most unlikely ingredients: mayonnaise. The mayo took the place of eggs and oil, and she says that while there's a bit of saltiness to the cake, it's incredibly moist.
And we need to start making it again. The perfect place to start is with this recipe for a triple chocolate mayonnaise cake from Manila Spoon, because seriously, a chocolate cake is even better when it's super-moist, and this one has that covered. Chocolate filling, dark chocolate ganache, chocolate chips... sounds amazing, doesn't it? For a bit of a different take on a chocolate mayonnaise cake, check out this one from Restless Chipotle. The coffee adds a brilliantly different flavor, and chocolate isn't all you can do.
How about a mayonnaise spice cake with caramel eggnog glaze, like this one from Eazy Peazy Mealz? Cut yourself a giant slice of this alongside a piping hot cup of chai tea, and it might be your new go-to autumn dessert!
Banana pudding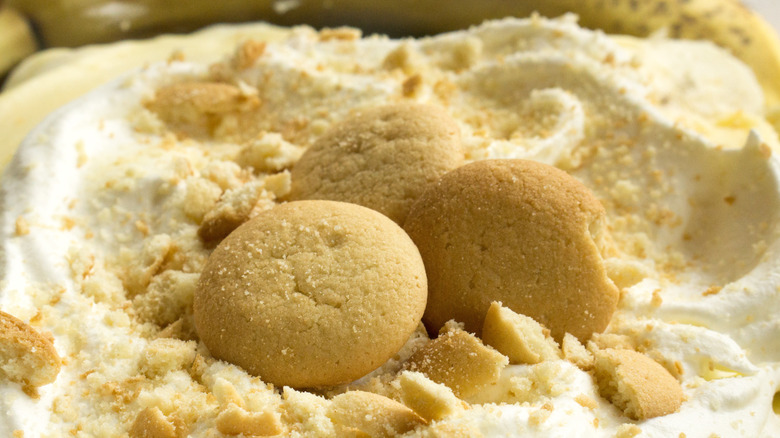 Shutterstock
Robert Moss over at Serious Eats says not only was banana pudding one of your grandma's favorites, but it was the favorite of grandmas — and grandpas — as far back as post-Civil War. With more trade happening between America and the Caribbean, bananas were a hot new trend. The 1920s introduced the banana pudding your grandma was probably familiar with, the one with vanilla wafers. That's the one we need to bring back!
If you're looking for something truly vintage, check out this 1956 recipe from Click Americana. You might not be able to find Jell-well anymore, but you can find Jell-O! And if you want something that's a little more complicated, a bit updated, and definitely not diet-friendly, POPSUGAR has a recipe for the banana pudding from the famous Magnolia Bakery. Sure, there's several cups of heavy cream, but sometimes, you just need to indulge.
Baked Alaska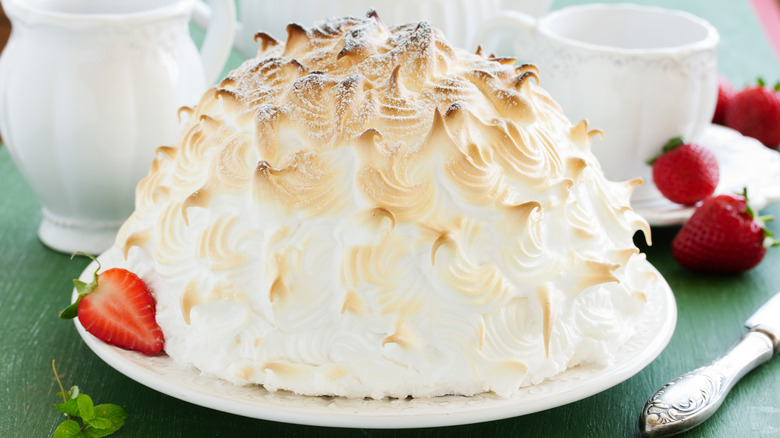 Shutterstock
Rhubarb pie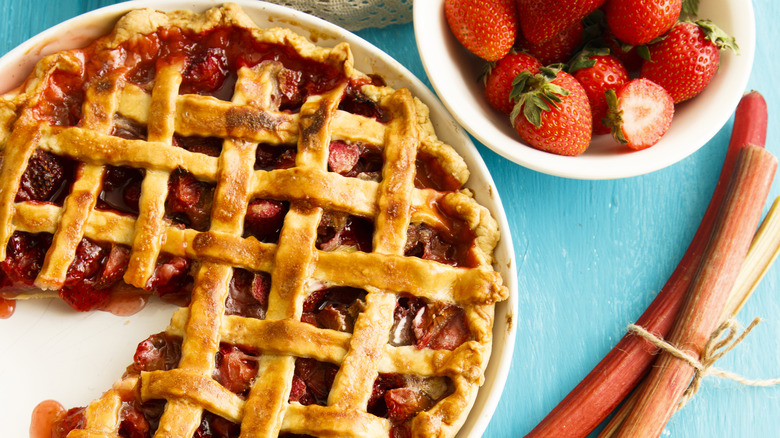 Shutterstock
According to History.com, rhubarb has had something of an up-and-down run as far as popularity. It was everywhere in Victorian England, but by World War II the younger generation considered it an old-fashioned sort of ingredient. It's about time we gave rhubarb another chance (especially if you cringed at the idea when you were younger), so let's talk about rhubarb pie. 
We'll look to Sally's Baking Addiction for a recipe for one of the rhubarb pie standards: the strawberry-rhubarb. Not only is it wonderfully sweet, but there's some tips here on how to avoid the sogginess that can ruin this delicate pie. For something a little different — but equally amazing — check out Foxy Folksy's rhubarb pie. This one uses blueberries instead of strawberries, and tops it with a crumble crust instead of a lattice. And if you've already warmed up to the idea of rhubarb, how about this rhubarb custard pie from The Creative Bite?
The brown betty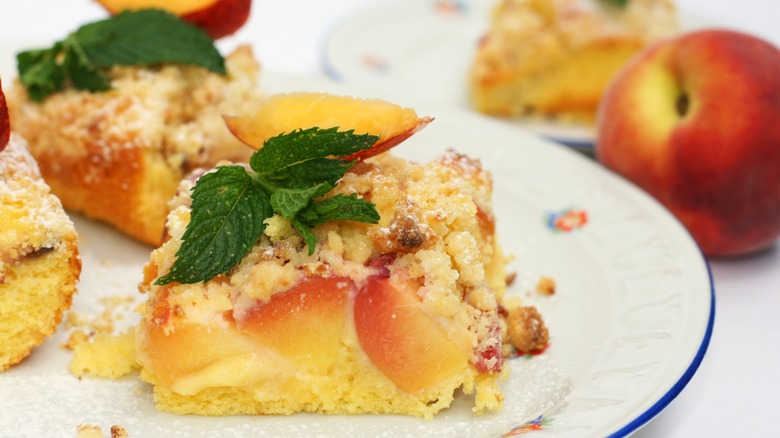 Shutterstock
According to Chowhound, the brown betty has been around since the 1860s, and their research seems to suggest that this seemingly inoffensive dessert has its roots in a racially segregated South. But regardless of its origins, the actual dessert described by the term "brown betty" deserves a revival... even if the attitudes that named it need to stay squarely in the past.
If you're at all familiar with the brown betty — a fruity dessert with a crumble topping — you've probably had the apple version, like this one from Happy Money Saver. You can use a variety of fruits with the same basic concept, though, and almost any one of them makes an amazing, warm dessert that's particularly perfect for any chilly night. Mel's Kitchen Cafe has a recipe for a peach brown betty, Half Baked Harvest has a blueberry version, and Blessed Beyond Crazy even has a pear version. And, if you're looking for something that fits the criteria of being an old favorite and completely re-imagined, try this rum raisin apple brown betty from Vintage Kitty.
Tapioca pudding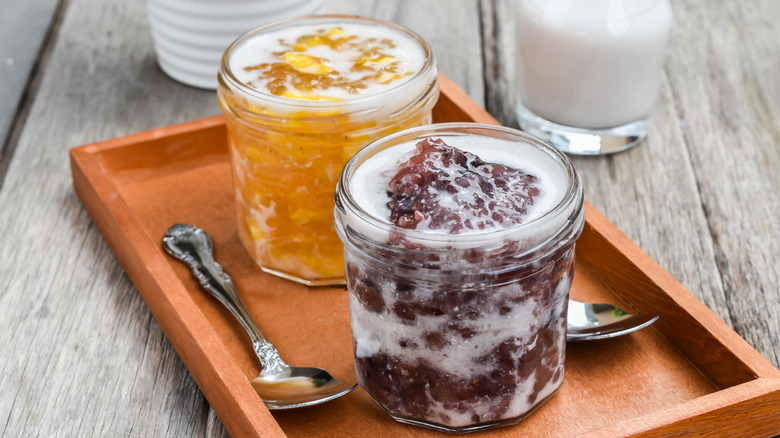 Shutterstock
Tapioca comes from the cassava plant, and it can come in different forms. According to the Food Timeline, it's been popular for a long, long time... but it was only in 1894 that the Minute Tapioca brand made it not only accessible, but so easy to make it became a household staple. Problems with importing it took it off the shelves during World War II, and it's safe to say it never reached its pre-war popularity again. It's time to give this old favorite a try, and that's exactly what Fried Dandelions does with their recipe for a chocolate tapioca pudding everyone's sure to love.
Chocolate is a favorite for everyone, and once you've introduced your family to the idea of this admittedly odd-textured dessert with a popular flavor, branch out a bit and try Neurotic Mommy's vanilla and coconut tapioca pudding. (Added bonus, this one's sugar-free!) And for something that's equal parts fruity and fun, try Radiant Rachels' mango sago tapioca pudding. It's so bright and elegant you'll be proud to serve this one up at any party, and be sure to tell them it's a pre-war favorite re-envisioned.
Upside down cake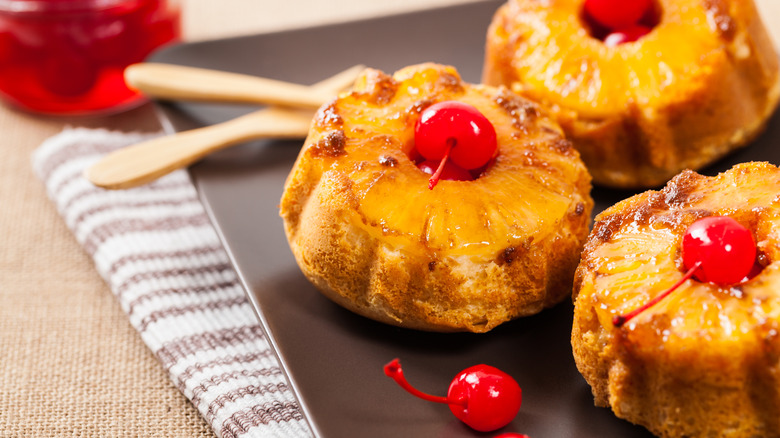 Shutterstock
There's nothing that says "vintage" quite like a pineapple upside down cake, and that's for a good reason. Decades before anyone ever made one with pineapple, the principle of making a cake upside down in a skillet was pretty common. According to historian and chef Gil Marks, also a writer for ToriAvey.com, the first mention of an upside down cake specifically involving caramelized fruit came in 1923, and no one's quite sure who the first person was to use pineapple. There's a traditional recipe after Marks' history on ToriAvey.com, but if you can also update this old classic.
For a light, fluffy version that has a coffee cake bottom, check out this one from Averie Cooks. But, you're wondering, what if someone in the house doesn't like pineapple? Some of the earliest recipes used entirely different fruits — and so can you! Rock Recipes has this amazing apple upside down cake, and if you're looking for an excuse to buy peaches this season, there's no better reason than this cinnamon, sugar, and bourbon peach upside down cake from How Sweet It Is. Natasha's Kitchen has a cherry version, and you don't even have to use fruit with Liv for Cake's caramel almond upside down cake. Yes, please!
Pavlova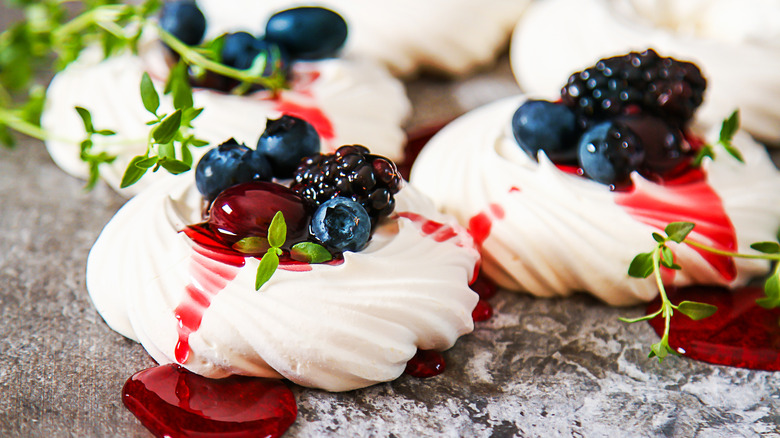 Shutterstock
Today, there's plenty of people who are craving something sweet but light after their meal, something that won't weigh them down. That's exactly why the light, airy pavlova needs to make a comeback! According to Food 52, it's not clear who invented pavlova or where it came from (Australia and New Zealand have been fighting over the honors), but we do know it was named after the ballerina Anna Pavlova — specifically, its resemblance to her tutu. 
Whatever the origins, this classic dessert is one perfect for anyone who's looking for something light and sweet for their post-meal tastebuds. Cooks with Cocktails has a brilliant pavlova recipe that pairs cherries and a red wine compote with mascarpone whipped cream, and while that's perfect for summer fruit season, Keep it Sweet Desserts has a cinnamon-apple one that's just what you're looking for when the season starts to give way to fall. Use Your Noodles has a completely different take, putting chocolate ganache and hazelnut whipped cream over their pavlova, and if you're looking for elegant, The Pretty Blog has a pavlova that's filled with figs, nuts, espresso, and brown sugar. Book club will never be the same!
Knickerbocker glory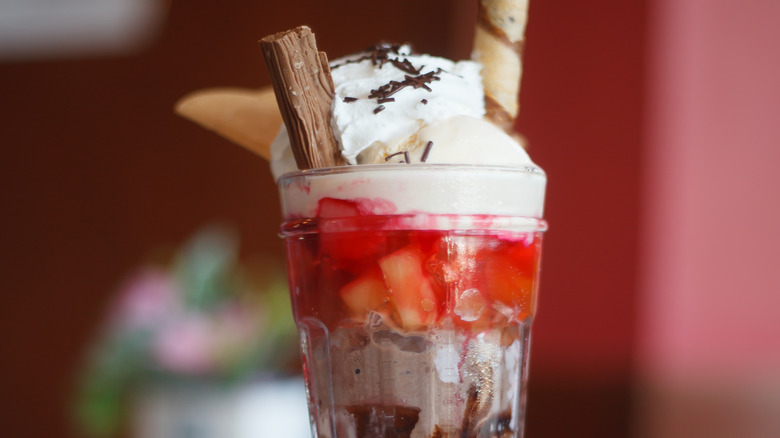 Shutterstock
Harry Potter fans might recognize the dessert called the knickerbocker glory, and while there's some debate over whether it was first created in the UK or the US, Matthew Robinson, author of Knickerbocker Glory: A Chef's Guide to Innovation in the Kitchen and Beyond (via Huffington Post) says it reached its height of popularity in the 1930s. It's more of a concept than a defined dessert, and you might even have everything you need to make it right now.
Food Roots Blog tracked down one of the original recipes, and it involved layering a series of ingredients — ice cream, chocolate syrup, whipped cream, and essence of rose — into a tall glass. It's evolved a bit since then, and Food Bloggers of Canada say the recipe is simply stacking the ingredients right: a fruit cream curd layer at the bottom, then a crunchy layer, a cakey layer, an ice cream layer, more fruit cream curd, more crunch, and whipped cream on top. It's easy and delicious, and if you need some ideas, check out Olive Magazine's boozy knickerbocker glory (made with sloe gin, blueberries, cherries, strawberry jelly, and raspberry ice cream), or The Culinary Exchange's salted caramel and apple version.
Ambrosia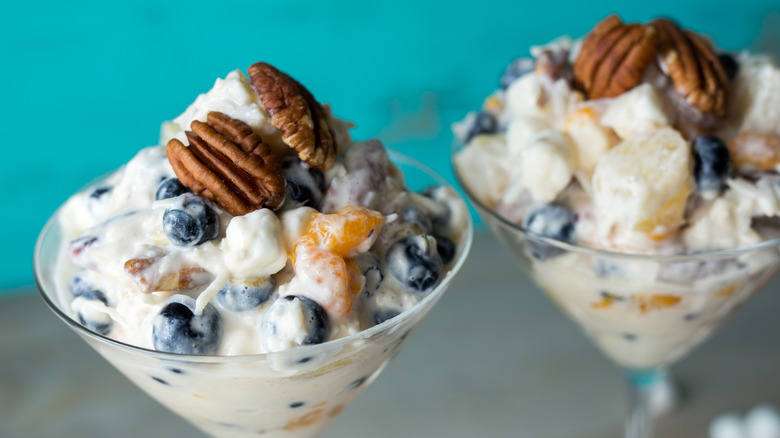 Shutterstock
You're familiar with ambrosia, and you may have even had someone bring this odd, somewhat questionable dish to some family get-togethers over the years. It's older than you think, with early recipes dating back to the mid-19th century. According to Serious Eats, it was firmly entrenched in Southern cuisine by the 1920s, and it was particularly popular around Christmas. It's that nostalgia that's earned it a place among our desserts that need to make a comeback.
Try this version from Six Sisters' Stuff for a fluffy, strawberry dessert that will absolutely earn your respect. Farm Wife Cooks has whipped up an easy version that uses pineapple, grapes, and blueberries for a light, fresh taste sure to please, and Mostly Homemade Mom has a cranberry and pineapple take on ambrosia that is just begging to be at the table for your next Thanksgiving dinner. Still suspicious about the texture and the inevitable sweetness? Try something completely different with this ambrosia pie from Spend with Pennies. It's flexible enough that you can adjust this for any taste, season, or occasion, and even better? It's sure to bring a smile to anyone's face when it's served up.
Jell-O desserts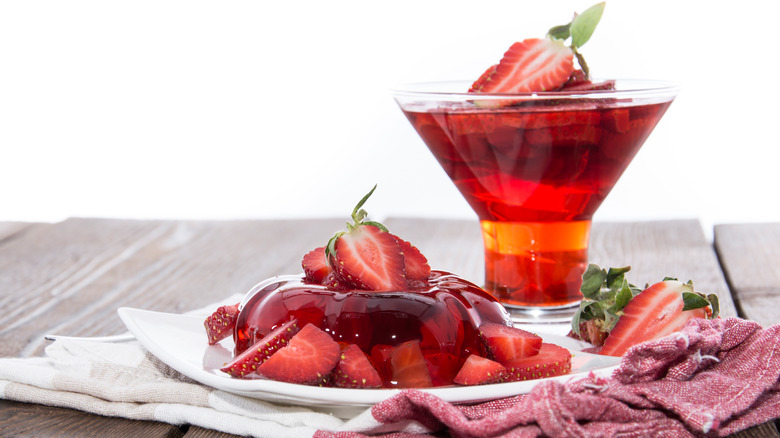 Shutterstock
If you've watched any television show set in the 1950s or 1960s, you've seen these things. They're usually made with a Bundt pan (made popular by the Pillsbury Bake-Off), and they're essentially Jell-O filled with things that... well, let's just say most of them don't look appetizing in the least. The Kitchn says these wiggly, wobbly, weird desserts became popular about the same time women started working outside the home, and when they needed a dessert, they needed something fast.
Get creative, and you'll find you can do make pretty impressive things with it, like this strawberry flan Jell-O cake from Living Sweet Moments. There's a cake layer, a flan layer, and a Jell-O layer, and you can do this with any flavors you like. (And we know you love these versatile recipes!) Ever After in the Woods has a gorgeous recipe for layered Jell-O bars that, like the name suggests, really do look like sea glass... and this one has "pool party" written all over it. And we didn't forget the most fun use for Jell-O: the Jell-O shot. These Baileys Irish Cream Jell-O shots from A Spicy Perspective are a perfect bite-sized dessert — and since they're not that strong, no one's going to get plastered!
Bread pudding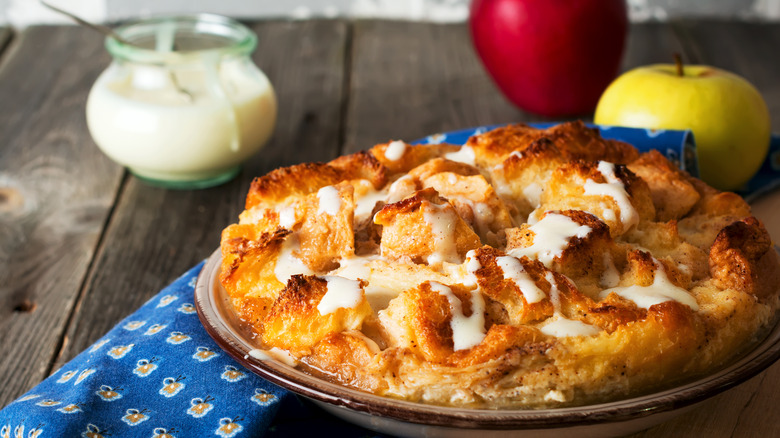 Shutterstock
The idea of bread pudding goes back a long, long time — back to the 11th century, according to The Daily Gazette. We're talking about grandma, though, and The Apron Archives says this dessert became popular during the Great Depression and stayed that way through the war years. Nothing went to waste during these long, frugal days, and bread pudding was a great way to use stale bread.
If you've ever had a basic bread pudding, you'll know it's an acquired taste for one big reason: the texture. It's all in your choice of bread, though — use something super-firm like brioche, and you'll love it! Doubt us? Start with a recipe like this chocolate chip cookie dough bread pudding from Call Me PMc and you'll change how you think of bread pudding! It's another great seasonal dish, too — try this one with its bourbon caramel sauce (from Let's Eat Cake) or this pumpkin praline bread pudding (from Flavor Mosaic) for Thanksgiving. And for those cold winter months? How about this eggnog bread pudding with warm whiskey sauce from The Crumby Kitchen? How fast can you say yes to that one?