The Pioneer Woman's Twist On Carbonara Is A Total Game-Changer
Bobby Bank/Getty Images
With several whole eggs, several ounces of pancetta, and a generous portion of grated Italian cheese, carbonara sauce could be seen as the ultimate keto diet fantasy (assuming you toss it with zoodles, as opposed to grain-based pasta). Or you could consider taking Ree Drummond's approach, which is to retain all of the dish's decadence while transforming it into a delivery system for that nutrient-rich star of the veggie world, broccoli.
Considering how much Drummond has said she loves cheese, it shouldn't be surprising that the star of television's The Pioneer Woman would "noodle" around with carbonara sauce to suss out a way of transforming it from a fat-bomb to a fiber-friendly meal. And that's precisely what she did. Her carbonara-makeover recipe includes a generous portion of broccoli, which registered dietitian Kristen Carli told Mashed is "one of the most nutritious foods you could eat," and specifically, "a great source of vitamin C, vitamin A, vitamin K, folate, calcium, and potassium." The Pioneer Woman's Broccoli Carbonara is a total game-changer, and here's how to rock it (via Food Network).
The Pioneer Woman's carbonara makes broccoli exciting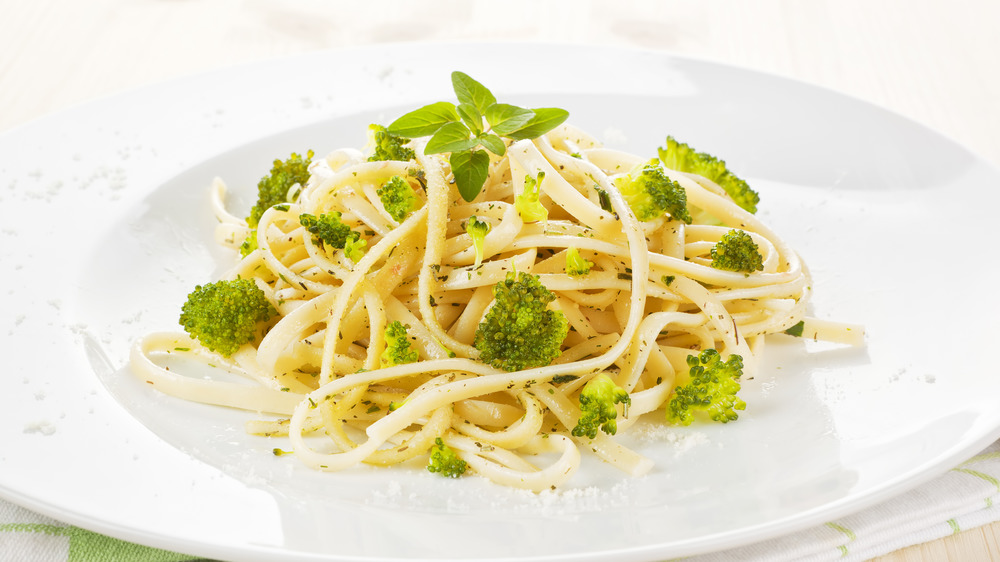 Shutterstock
"I love life, I love carbonara," Ree Drummond has said (via Eating Well), and it shows in her carbonara makeover recipe, "Skinnyish Broccoli Carbonara." The recipe boasts a mere six ingredients (not including salt, pepper, and water). It begins by boiling the pasta and then adding the broccoli for the final two minutes of cook time. And speaking of time-saving cooking hacks, Drummond uses that time to sizzle up the pancetta over medium heat (about five or six minutes, which still leaves another five or six minutes of pasta-broccoli boiling). She also sautés some minced garlic and whisks together Parmesan, eggs, salt, and pepper.
Before draining the pasta and broccoli, Drummond reserves a cup of the pasta water, which is one of the most important things you can do when making carbonara because it gets tossed into the final dish. The pasta water imbues the carbonara with a richness that could easily be mistaken for a splash or two of cream. And tossing is the next step. 
In the sauté pan, which Drummond makes sure to take off the heat, the pasta and broccoli are tossed gradually with the eggs and cheese mixture and a small amount of the pasta water, until the sauce has just the right silky consistency.