One-Pot Whole Wheat Pasta Carbonara Recipe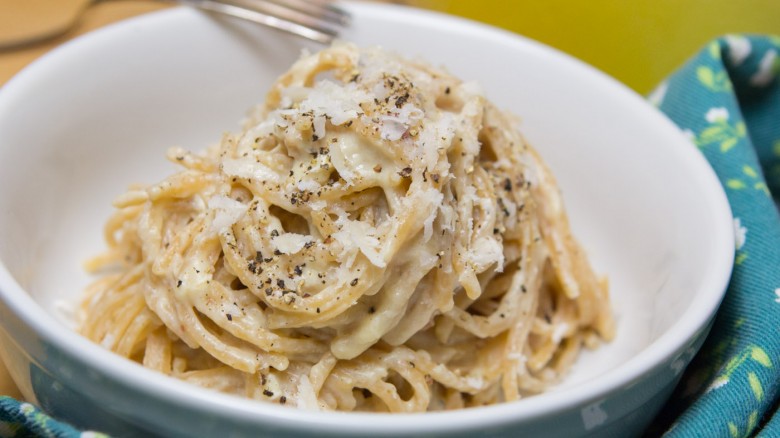 Prep time: 10 minutes. Cook time: 10 minutes. Servings: 4.
Pasta carbonara is a favorite Italian dish with an elusive history. According to culinary experts, you'd have trouble finding any reference to the dish in cookbooks written more than 50 years earlier. Since most of the origin stories are anecdotal, it's hard to pinpoint where this popular concoction came from. Whatever the case may be, carbonara is usually made with a combination of eggs, cheese (Pecorino Romano or Parmigiano-Reggiano), pancetta, and black pepper. Hot pasta is tossed with the raw egg mixture off the heat to create a creamy sauce that's thick but not curdled.
For me, pasta carbonara is the epitome of comfort food: it requires few ingredients, is easily thrown together, feels ridiculously warming, and tastes rich and savory. You can do no wrong. Prepare this weeknight miracle dish with pancetta or regular bacon, add peas or not, use Parm or Pecorino, and opt for whatever long pasta you like best. The sheer ease and flexibility make this meal a godsend on the busiest of weeknights. So on those evenings when I feel too tired to make a fuss in the kitchen, I know I can count on pasta carbonara for delicious sustenance.
Here, I've transformed this already simple dish into a time-saving gift by preparing the whole thing in one single pot. By eliminating the hateful mountain of pots and pans that normally accrue during the cooking process, I'm rewarded with low-maintenance cleanup that doesn't make me want to tear my hair out after dinner. Another tweak to the classic carbonara formula? This recipe cues whole wheat pasta instead of the regular kind. I find the whole grain texture surprisingly lends a desirable heartiness and deep nutty flavor in addition to being a healthier option all around.
Ingredients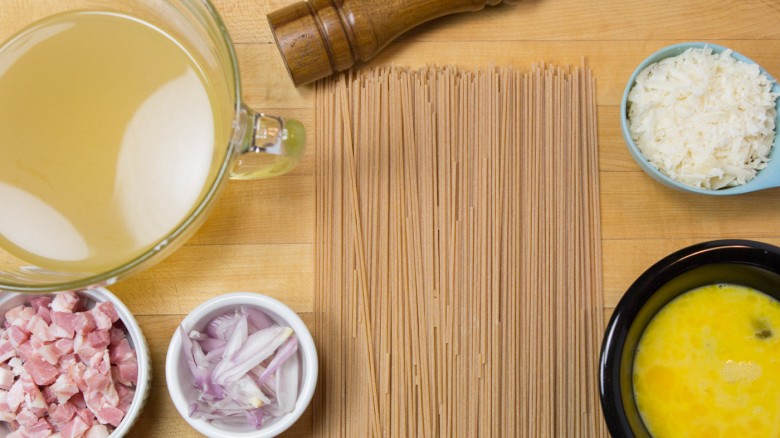 Shopping list


8 ounces pancetta, diced


1 medium shallot, thinly sliced


kosher salt


freshly ground black pepper


4 ½ cups chicken broth


1 pound whole wheat spaghetti


water as needed


4 large eggs, lightly beaten


1 cup grated Parmesan cheese, plus more for serving


Equipment
Cook pancetta and shallot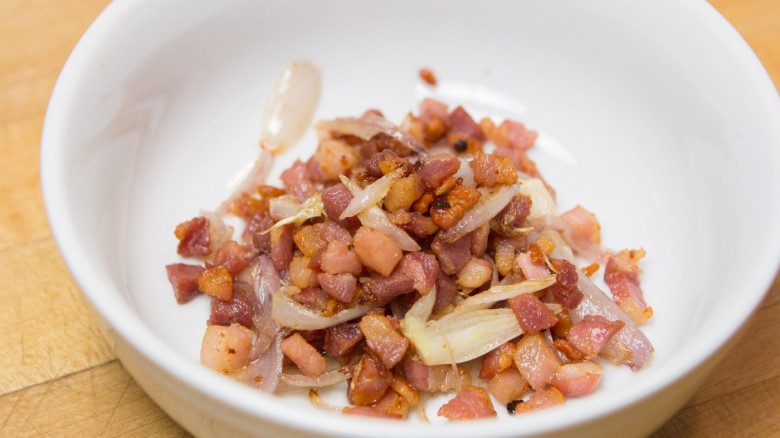 Place the pancetta in a large pot over medium-high heat and cook, stirring, until the fat is rendered, 5-6 minutes. Stir in the shallot and cook until softened, about 1 minute. Season with as much salt and black pepper as desired, then transfer the pancetta mixture to a bowl and set aside.
Cook and season spaghetti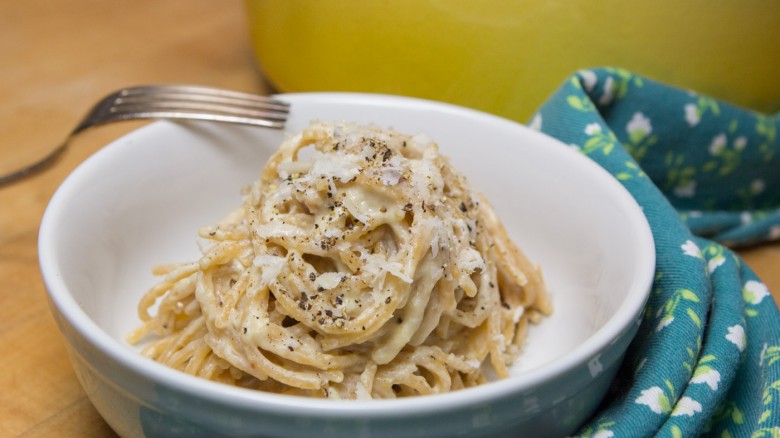 Add the chicken broth and spaghetti to the pot from the pancetta over high heat and bring to a boil. Cook, stirring frequently, until the pasta is al dente, 7-9 minutes. Add water if the pasta becomes too dry. Meanwhile, in a medium bowl, whisk together the eggs, Parmesan cheese, and as much black pepper as desired. Once the spaghetti is al dente, remove the pot from the heat and immediately add the egg sauce, stirring continuously until the sauce is no longer raw but not curdled. Add the cooked pancetta mixture and stir to combine. Serve with more Parmesan and black pepper on top as desired.