Cardi B's Super Bowl Ad Cameo Left Fans With A Question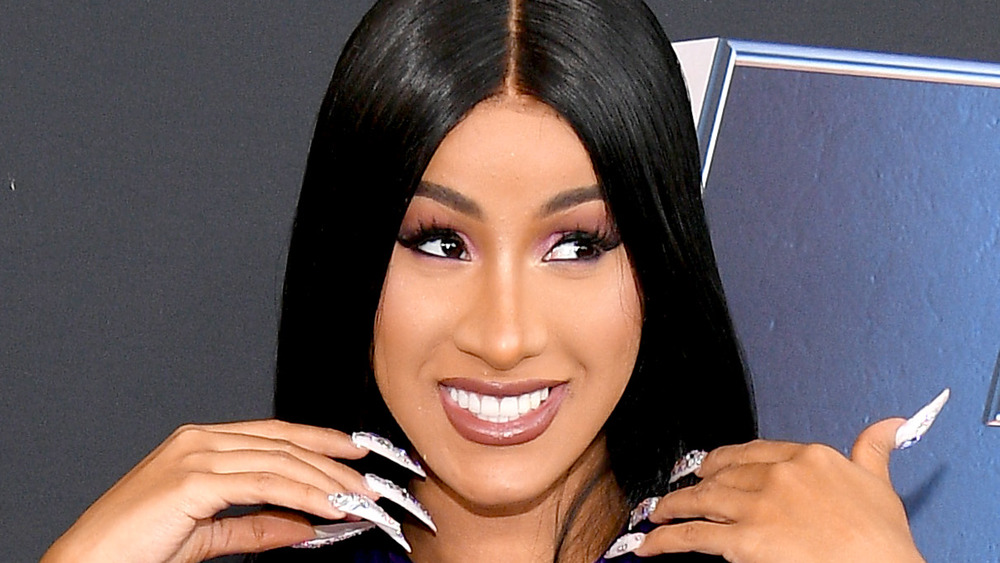 Dia Dipasupil/Getty Images
When you're making a Super Bowl commercial, you likely want to hit every age demographic, which probably explains why DoorDash revived the childhood memories of multiple generations by casting Sesame Street characters in its Super Bowl ad, along with Hamilton heartthrob Daveed Diggs. DoorDash rival Uber Eats seems to have had the same idea with its commercial, which appeared just after halftime in Super Bowl LV. Mike Myers and Dana Carvey reprised their roles as Wayne Campbell and Garth Algar on Wayne's World, which many will remember as a wildly popular Saturday Night Live sketch and then a hit movie in 1992 (via IMDb).
As much as people of a certain age think of the movie's "Bohemian Rhapsody" scene as a high-water mark in pop culture, it might be fair to ask if the younger generation has even heard of Wayne's World — but Uber Eats wasn't going to leave the all-important youth demographic out of its Super Bowl ad. Sitting next to Wayne and Garth as a guest on their basement cable-access show was Cardi B, the 2019 Grammy winner for Best Rap Album (via Grammy) who, according to her website, wasn't even born when the Wayne's World movie hit theaters. (Someone might have taken her as an infant to see the 1993 sequel, however.)
Cardi B's job in the Uber Eats Super Bowl ad: youth appeal
After the Uber Eats Super Bowl commercial aired, fans posed a question on Twitter: "You really think #CardiB knew who Wayne and Garth were when they pitched her that commercial?" Twitter user @nnhill imagined how that conversation might have gone: "'It was an old #SNL skit that turned into a movie. You'll just have to trust us, it was funny. You'll open up a whole new demo for your brand.'"
Cardi B had no comment about how much she knew about Wayne's World before she was asked to do the Uber Eats Super Bowl commercial — at least not on Twitter. The star did post a five-second video of her sitting next to Carvey, dressed in Garth's trademark flannel, Buddy Holly glasses, and blond wig. Her only message in the tweet was "EAT LOCAL," echoing the theme of the Uber Eats ad.
We think Cardi B looked right at home in Wayne's basement, joining Wayne and Garth in a variation on their theme song: "Local eats! Wayne's World! Yummy time! Excellent!" In any case, Cardi B was the obvious choice as a Wayne's World guest. She previously stole the show when she appeared alongside Millennial favorite Steve Carell in Pepsi's 2019 Super Bowl commercial (via YouTube).