Homemade Chicken Fajitas Recipe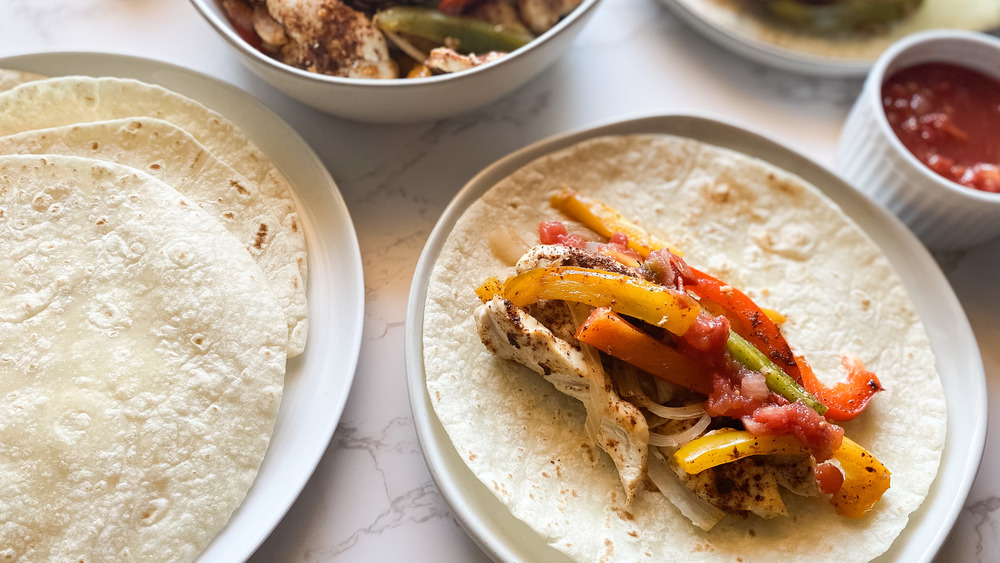 Kristen Carli/Mashed
There are a few foods out there so great they get their own night. You know what we're talking about: Taco Night. Pizza Night. And of course, Fajita Night. And there's no other experience quite like the moment a restaurant server sets down a hot, sizzling platter piled with meat and veggies and that stack of fresh tortillas that you're about to make into a meal well worth celebrating. It's just too bad that you have to go to a restaurant to enjoy that fresh, hot goodness on your plate, don't you? Not so, says chef, Mostly Green writer and creator, and registered dietician Kristen Carli of Camelback Nutrition & Wellness centers in Phoenix, Arizona.
"I like to serve these [fajitas] on a busy weeknight because they are so easy," she says, adding that they're ideally served with "some corn and pickled jalapeños or pickled red onion, and on the side, Mexican rice works great."
While fajitas may seem complex because of all the different types of ingredients involved and the rich spice blend you might need for the meat, the fact is you can cook everything for your fajitas at the same time, spices and all. In fact, your prep should only take about 10 minutes. And speaking of time, let's get on with this recipe so you can start Fajita Night — an event the family will love thanks to a meal that's surprisingly easy to make (with apologies to other perfectly great meals, of course, but let's be honest, not everyone will get this excited about Pot Roast Night or Baked Salmon Night.).
Gather your ingredients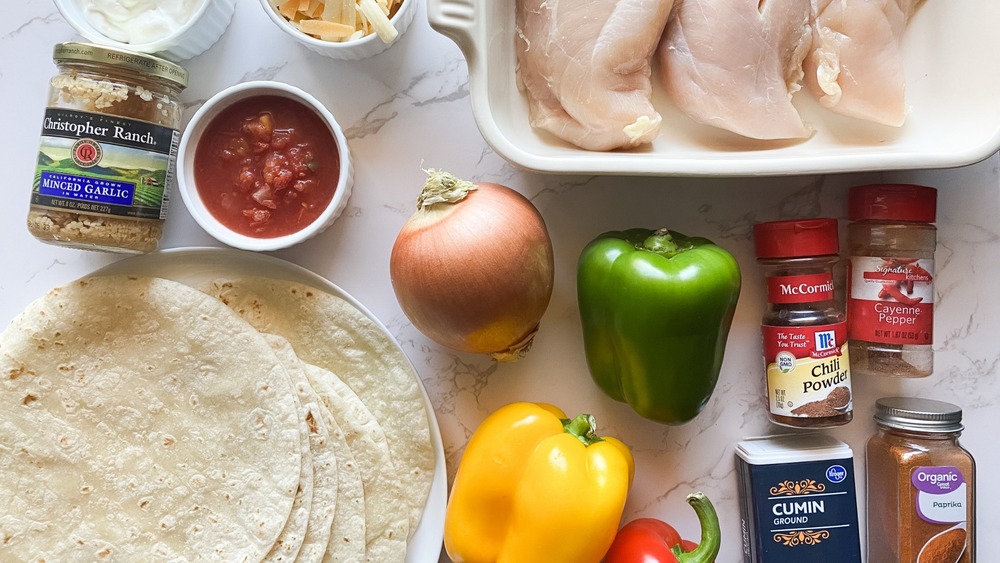 Kristen Carli/Mashed
Fajitas are great because they can be customized for each and every diner at the table, given the range of toppings you can add. But for a great chicken fajita, a few ingredients are a must. Those are boneless, skinless chicken breasts (for our recipe, think a pound and a half); 1 green bell pepper, 1 red bell pepper, and 1 yellow bell pepper, all sliced thin; a 1/2 sliced yellow onion, 1 tablespoon of chili powder, 1 1/2 teaspoons of paprika, 1 1/2 teaspoons of cumin, 1/4 teaspoon of cayenne pepper (you can leave this out if your diners don't like hot spice), 1 teaspoon of salt, a 1/2 teaspoon of pepper, 1 tablespoon of minced garlic, and about 8 flour tortillas.
As for optional toppings, think sour cream, salsa, shredded cheese, and so on. There's also some flexibility for meat-lovers and vegetarians alike, says Carli: "You can substitute other meat easily, or swap in some portobello mushrooms for a vegetarian option."
Let's slice your fajita veggies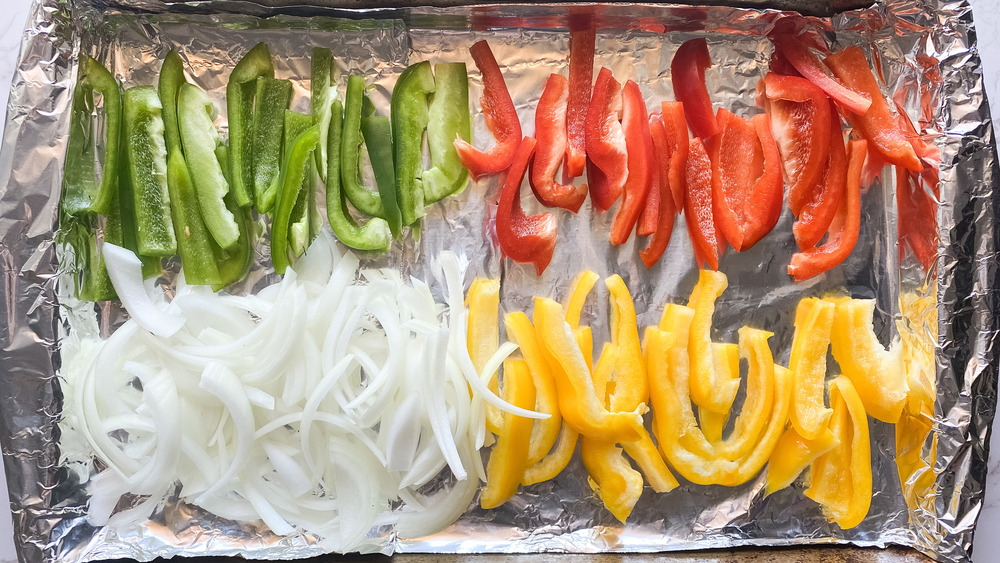 Kristen Carli/Mashed
First things first, preheat the oven to 425º F. Next, prepare a large baking sheet by wrapping it with foil. Then, it's time to slice all three bell peppers into long, thin strips (try to get as many strips as possible out of each pepper by discarding the inner stems and seeds and such). Next, slice the onion into long, thin strips.
Now, trim the fat off of the chicken breasts and then slice the meat into thin strips as well, each ideally about 1/2-inch to 1-inch thick.
Lay out the fajita veggies and chicken and sprinkle on the spices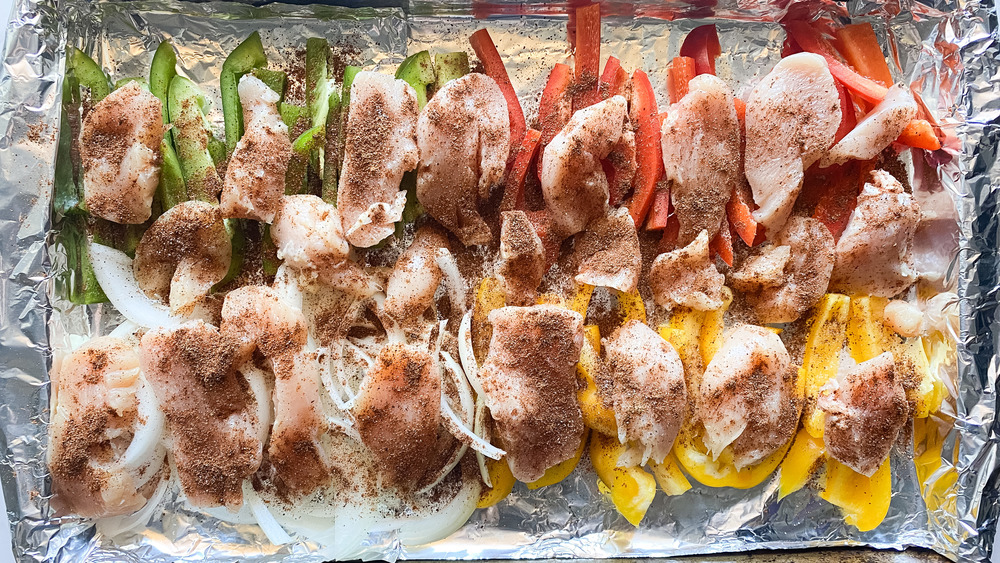 Kristen Carli/Mashed
On the prepared baking sheet, first place the sliced peppers and onions, spreading out the vegetables into as thin a layer as possible. Then, lay out the chicken on top of the pepper and onion slices.
Next, in a small bowl, prepare the seasoning mix by combining the chili powder, paprika, cumin, cayenne pepper, salt, and pepper. Stir these well to combine, then sprinkle this spice mix evenly over the entire baking sheet. Spoon the minced garlic on top, and then pop the baking sheet in the oven.
Bake then make then serve your fajitas!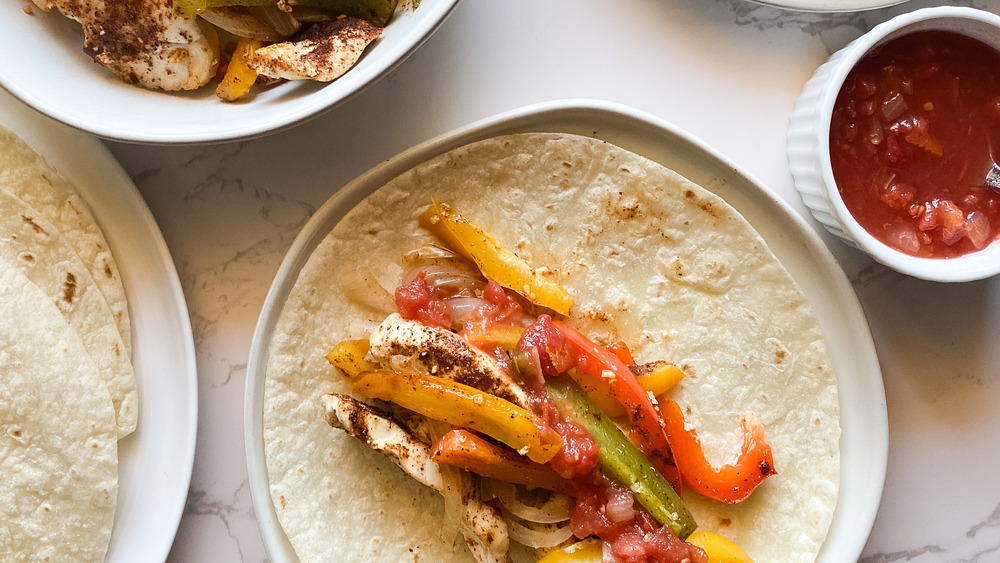 Kristen Carli/Mashed
Bake the spiced meat and veggies at 425º for 20 minutes. Then, remove the sheet from the oven and, just to be safe, check one of the pieces of chicken by using a meat thermometer (chicken needs to hit 165 degrees internally to be safe).
Finally, you have two choices as to how you serve you fajitas: you can prepare a bowl of chicken, a separate bowl of veggies, and also put out all of your family's favorite toppings, or you can go ahead and construct the fajitas yourself before serving them. The good news is you can't go wrong with these fajitas either way.
Homemade Chicken Fajitas Recipe
These perfectly seasoned chicken fajitas with chicken breast, roasted bell peppers and onions and your choice of toppings will be a family dinnertime favorite.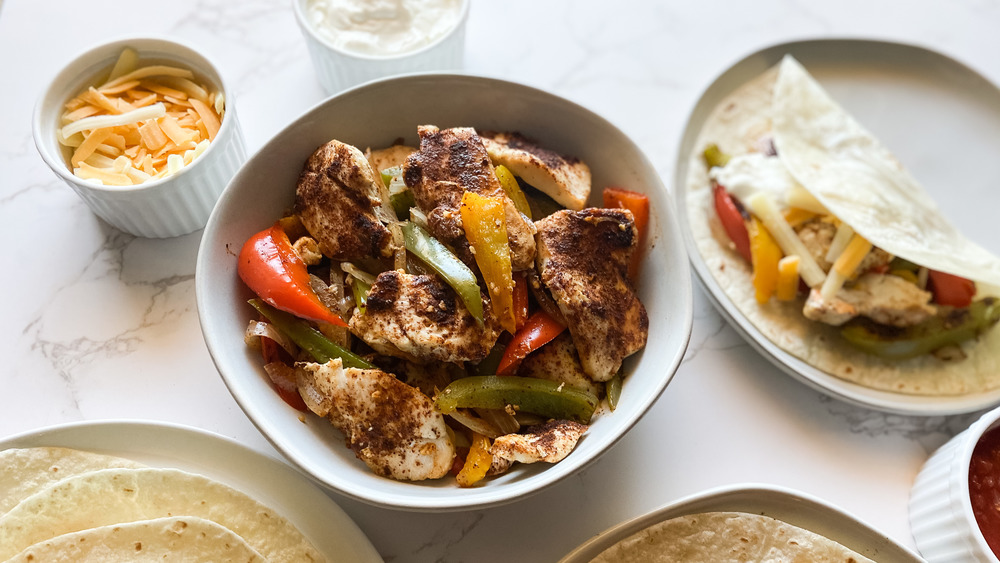 Ingredients
1 ½ lbs boneless skinless chicken breasts
1 green bell pepper
1 red bell pepper
1 yellow bell pepper
½ yellow onion
1 tbsp chili powder
1 ½ tsp paprika
1 ½ tsp cumin
¼ tsp cayenne pepper
1 tsp salt
½ tsp black pepper
1 tbsp minced garlic
8 flour tortillas
Optional Ingredients
sour cream
salsa
shredded cheese
Directions
Preheat the oven to 425º F.
Prepare a large baking sheet by wrapping with foil.
Slice the bell peppers and onions into thin strips, about ½-inch to 1-inch thick.
Cut the chicken breasts into thin strips, also about ½-inch to 1-inch thick.
On the prepared baking sheet, place peppers and onions.
Top bell peppers and onions with chicken.
Mix and combine chili powder, paprika, cumin, cayenne pepper, salt, and pepper
Sprinkle seasoning mixture over the entire baking sheet of veggies and chicken.
Spoon the minced garlic on top of the seasoned veggies and chicken.
Place the baking sheet in the oven and cook for 20 minutes.
Check the chicken's temperature to make sure it is cooked.
Remove tray from the oven and serve with toppings and tortillas.
Nutrition
| | |
| --- | --- |
| Calories per Serving | 544 |
| Total Fat | 12.8 g |
| Saturated Fat | 2.3 g |
| Trans Fat | 0.0 g |
| Cholesterol | 124.2 mg |
| | |
| --- | --- |
| Total Carbohydrates | 58.6 g |
| Dietary Fiber | 5.4 g |
| Total Sugars | 5.5 g |
| Sodium | 919.2 mg |
| Protein | 48.0 g |