This Is How Kylie Jenner Drinks Tequila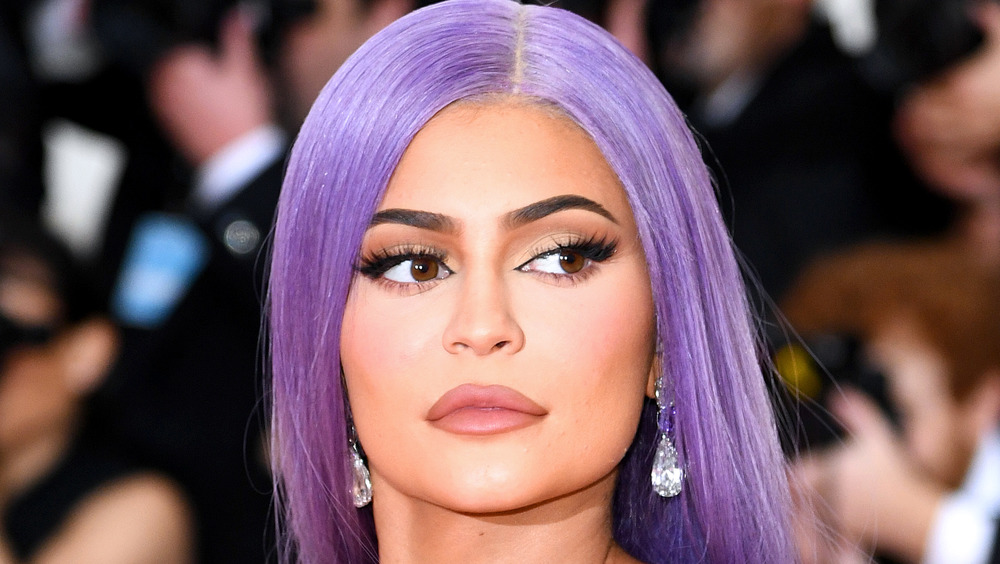 Dimitrios Kambouris/Getty Images
Consider Kylie Jenner's go-to breakfast drinks: lavender and lemon-infused bone broth and fresh celery juice (via Harper's Bazaar). And, after thoroughly studying her frosted flake-infused French toast, and avocado toast with honey, it's safe to say that the model and influencer does not do food the way that the rest of us do. Which is why it's absolutely no surprise that when Kylie Jenner headed to Costa Careyes, Mexico, she didn't down tequila like you might have expected, either.
It's not that Jenner, who chilled out at a $7,000 a night Mexican resort, opted for a tequila cocktail no one's ever heard of (via Daily Mail). Jenner, presumably along with her travel mates Kendall, influencer Anastasia 'Stassie' Karanikolaou, Victoria and Sofia Villarroel, travel blogger Hannah Logan, and record executive Carter Gregory, all did shots on their trip. We know because Jenner gleefully posted a picture of those shots on her Instagram, captioned "a love story." And, while we have no idea what kind of tequila Kylie Jenner opted for (Salma Hayek thinks it's mezcal), we were drawn by the ingredients Jenner chose to do her tequila shots with.
Kylie Jenner's unusual additions to the classic tequila shot
From now on, lemon and salt are so 2020. And good riddance, because Kylie Jenner's on to bigger and better things. Instead of the tequila shot pairings you might have expected, Jenner and her crew did tequila shots with what The Takeout has identified as Tajín (a combination of salt, chili, and lime) and grapefruit wedges. Lest there be any doubt, Jenner's resort crowd raved about the shots, too. "Great combo," chimed in Victoria Villarroel. "Best day ever," affirmed Carter Gregory. (Gregory and Jenner may have kissed, but they aren't a thing. So get over it, says Hollywood Life).
Having a hard time picturing what the experience might have tasted like? Think of tequila, grapefruit, and Tajín as miniature spicy grapefruit margaritas, or perhaps small, mezcal palomas, if you want to. We'd prefer to think of them, as Kylie Jenner's sister, Kourtney Kardashian put it, "true love."