Why You Should Add Honey To Your Barbecue Sauce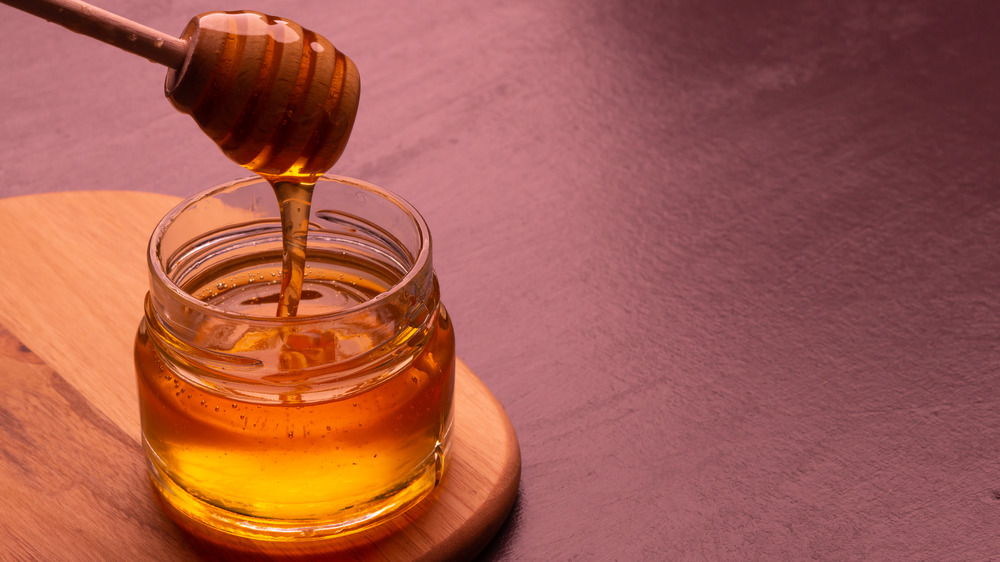 Shutterstock
Barbecue sauce is a sticky-sweet, smoky, savory, tangy relish used to kick foods up a notch. Poultry, pork, beef, vegetables, French fries, cheese curds, you name it — food simply tastes amazing when it's lovingly doused or dunked in some good ol'-fashioned BBQ sauce. Several U.S. cities and regions — from Kansas City to Nashville to the Carolinas – have their own unique barbecue sauce recipes that have become staples within American culinary culture.
The basic ingredients of a standard barbecue sauce are typically ketchup, brown sugar, vinegar, and spices (via Martha Stewart), but many saucemakers add their own flavorful twist by including mashed fruits, juices, molasses, cola, coffee, or other elements.
However, one ingredient that you should be regularly adding to your barbecue sauce is totally buzzworthy: Honey. That's right: According to Serious Eats, if you come across a sauce that's on the spicier or zestier side, adding some honey to the mix will help even out the flavor, add a hint of mild sweetness, and produce a more viscous texture.
Why does honey pair so well with barbecue sauce?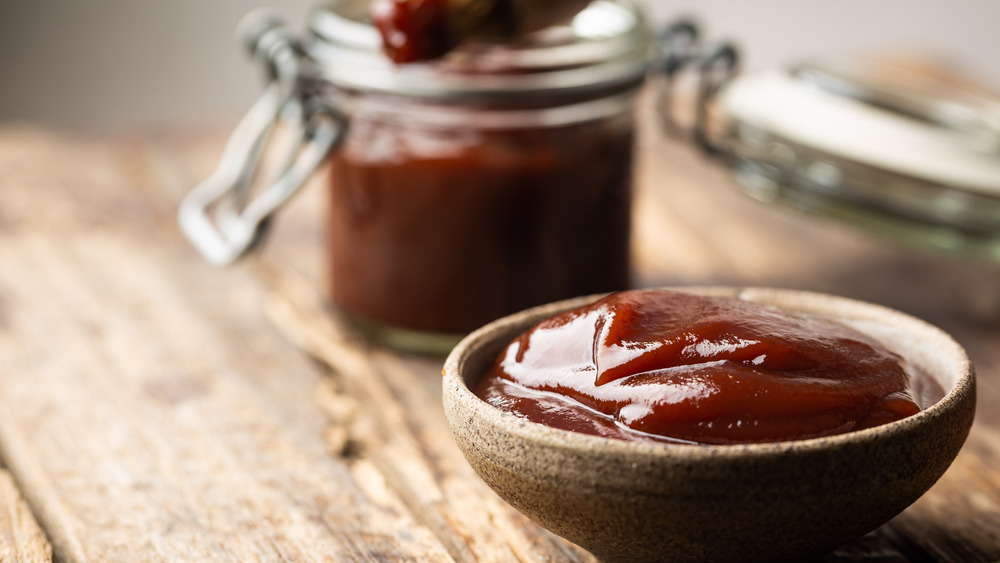 Shutterstock
In addition to being extremely versatile, honey offers some key health benefits — for one, it's rich in antioxidants (via Healthline). One type of honey in particular, manuka honey, is known to help clear skin, regulate digestion, soothe scratchy throats, and more. It typically carries a high price tag, but advocates swear by it.
According to MyRecipes, New Zealand-based manuka honey has a stronger, earthier taste and thicker texture than most honey varieties you've likely tried. If you want to try manuka honey in your homemade barbecue sauce, simply swap out the brown sugar to enjoy a similar, yet just as delightful glaze. Slather the honey-infused sauce over your favorite brisket or grilled meats and enjoy every single lip-smacking, finger-licking bite.
If you're looking for a vegan option, agave nectar is an excellent honey substitute, according to Vegetarian Times. And speaking of agave — Feelin' extra saucy? Adding tequila to your BBQ sauce is another way to amp things up a bit. Good Housekeeping shared Guy Fieri's recipe for tequila-infused barbecue sauce to pair with your ribs and sandwiches. Cheers!