Here's What Really Makes Carolina BBQ Unique, According To A Pitmaster - Exclusive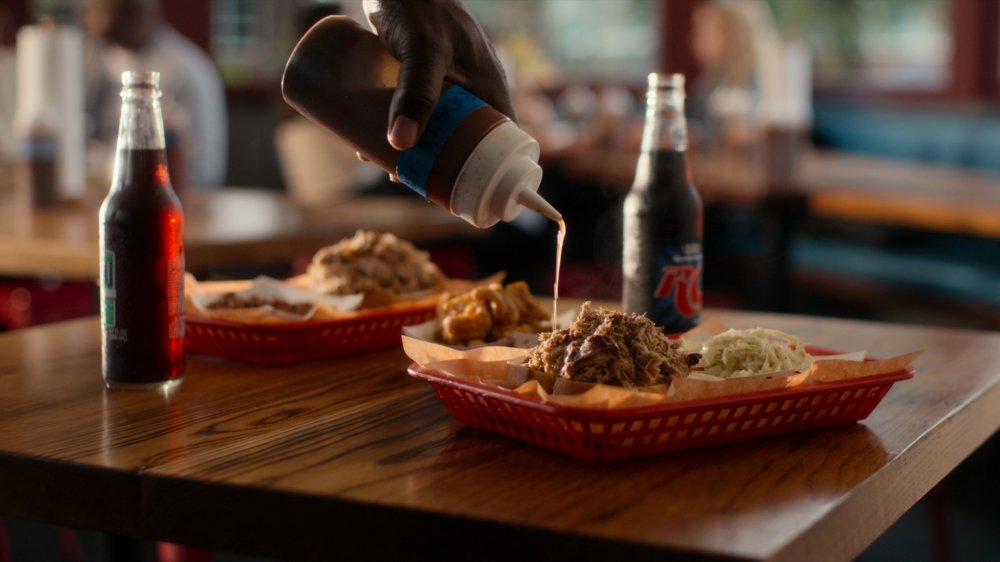 Netflix
Where in the United States will you find the most delicious barbecue? Just asking this question is inviting a food fight, since BBQ fans in Texas, Kansas City, Memphis, and the Carolinas will each claim their region is the best. That being said, master barbecuer Rodney Scott, who won a James Beard Outstanding Chef Southeast award in 2018, makes a pretty good case for Carolina's whole-hog approach to pitmastery. Taken from a hog cooked from head to hoof over an open pit, the legendary pulled pork he serves at Rodney Scott's BBQ draws crowds from all over the world to his locations in Charleston, South Carolina, and Birmingham, Alabama.
So what makes Carolina 'cue worth writing home about? In an exclusive interview with Mashed, Scott, who is the subject of a new episode of A Chef's Table BBQ on Netflix, explained the unique appeal of the flavor and texture of barbecue from his home state.
Carolina barbecue uses a whole-hog cooking technique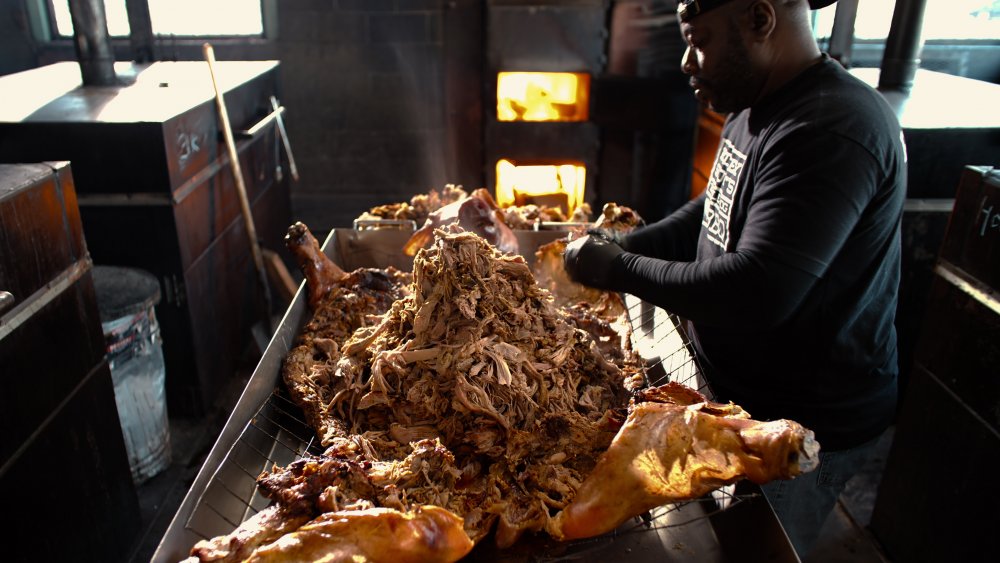 While barbecue in other regions might be known for ribs, shoulders, and the type of smoke and wood used,  Scott pointed out, "I think one of the things that's so unique about Carolina barbecue is that [it is] considered whole-hog barbecue, be it North or South." This is a physically demanding feat; in his A Chef's Table BBQ episode, you see Scott head to the hardware store, and not a cooking supply shop, to get the items he needs to smoke his hog: wire cutters for chicken wire, axes, and a shovel.
Even though it's hard, cooking an entire hog over open fire is what makes Scott excited to go to work every day, he added. "What I love the most about being a pitmaster is cooking meat. There's something exciting about cooking with fire and meat especially — some other foods too, but mostly the proteins," Scott noted. "I love cooking over fire and getting a chance to share that with people who've watched you try to prepare it."
Indeed, cooking a whole hog isn't just a culinary experience — it's a community event. "And to get it prepared, and just the whole fellowship of having people with you while you're doing it" is part of what makes Carolina barbecue so special, Scott said. "That's what I love about it," he added. "You get to meet people, you get to tell stories. You get to prepare this wonderful food, if you don't screw it up. I just love it. Just the gathering, the connection of people along with the food itself."
The sauces also make Carolina 'cue unique
Another thing that really sets Carolina apart from other regions is the sauces, according to Scott. "South Carolina... [has] a mustard and a tomato [sauce] and it goes across the state. So, I think that's one of the things that makes it so unique in the South," he explained.
Intriguingly, it's the way this style historically spread from town to town in the Carolinas that makes it a regional delicacy, Scott added. "These regions were developed verbally by people that live in them to say that, 'we are the kings and queens of barbecue in the South, because we do this sauce.' So, I think that kind of creates a conversation throughout the United States about what differentiates one regions' barbecue style from another," Scott said. He added: "They say the South is the barbecue spot because they have all these different sauces." And "they," Scott noted, are correct!
But that's not all. "Another thing that makes it a little unique is the vinegar and pepper," Scott noted of the flavoring of barbecue found in both North and South Carolina. This is more of a trend you'll find in the Eastern part of these states than in the central or west of the Carolinas, he pointed out.
Kansas City BBQ is 'memorable,' too, according to Rodney Scott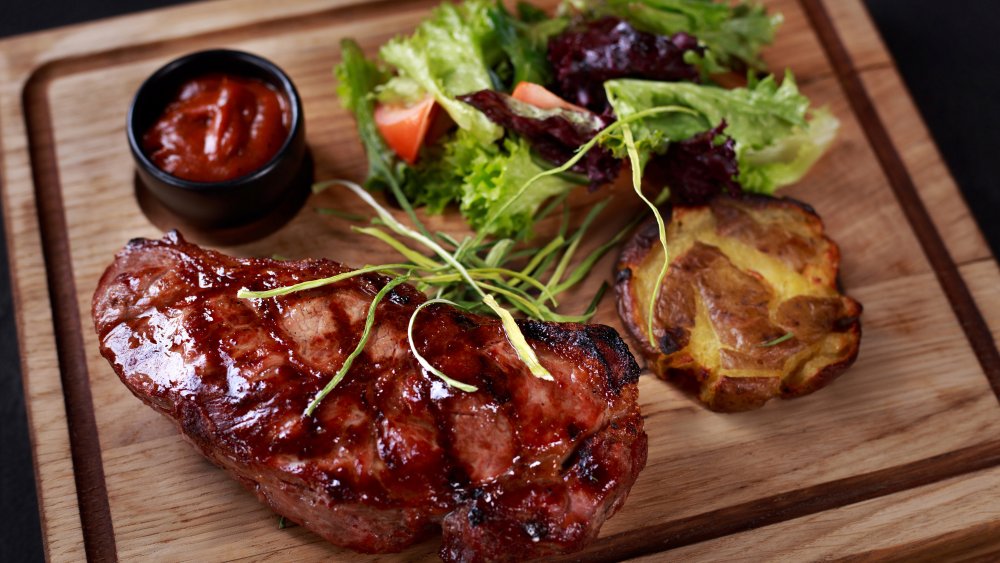 Shutterstock
Rodney Scott is a world traveler, having cooked alongside chefs in Belize, Uruguay, France, and Australia, as well as the U.S. So when he's not on his home turf where he can enjoy one of his famous pulled pork sandwiches, what is his next-favorite kind of barbecue? "I went to Kansas City twice and it was pretty good," Scott admitted. "I mean, Texas — you're good," he said. However, "the most memorable has been in Kansas City."
Kansas City barbecue is more diverse in terms of the meats served — chicken is more frequently served — and it's usually slow-smoked. In contrast, Texas barbecue may be sweeter because of a tomato base, or a molasses-like sauce, depending upon the region (per Learn To BBQ). Scott said all barbecue is good for different reasons, and choosing a second favorite was a tough choice for Scott. He admitted he is worried he might face some backlash from his fans for not going with Texas. "Wow. I know I'm going to get some phone calls behind this one!" he said.