The Popular Dairy Queen Blizzard That Isn't Even Available In The US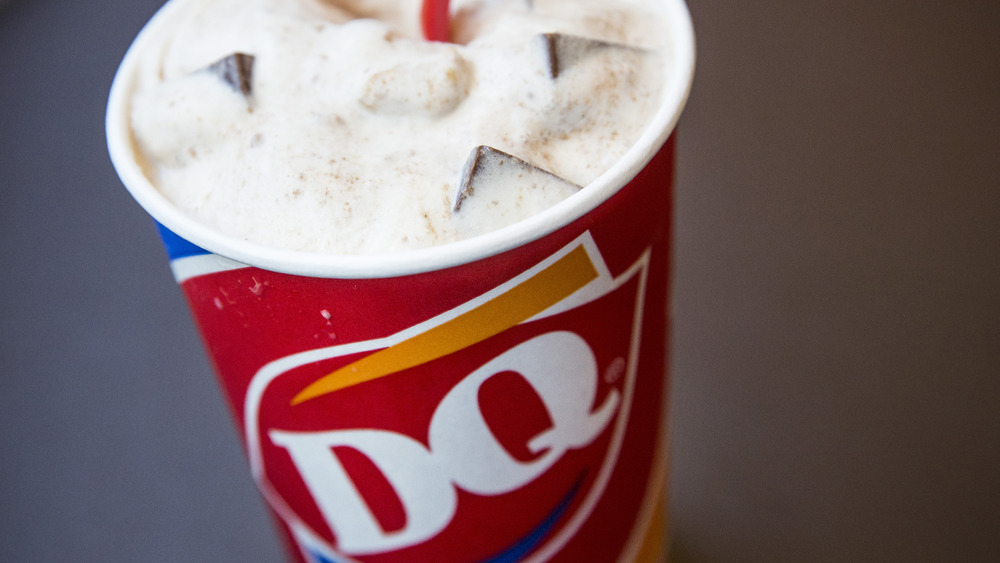 Andrew Burton/Getty Images
A Blizzard is more than a severe snowstorm. It's a tasty frozen treat enjoyed by sweet enthusiasts all around the world, thanks to Dairy Queen. Founded in the southwest Chicago suburb Joliet, Illinois in 1940, Dairy Queen has been an American staple for summer hangouts, post-baseball game victory celebrations, and innocent first dates for the past 80 years. 
One of its most popular menu items is the Blizzard, which entered the dessert scene in 1985 (via Thrillist). The Blizzard is a thick soft serve treat with a variety of flavor-boosting, sweet mix-ins. And according to Taste of Home, customers could be eligible for a free Blizzard if it's not handed to them upside down to prove its thick viscosity.
Among the most popular Blizzard flavors are Oreo, Butterfinger, M&Ms', Reese's Peanut Butter Cups, New York cheesecake, brownie dough, red velvet cake, and even cotton candy. But even the biggest fans of Blizzards may not realize that some flavors are exclusive to different locations.
What is the most popular Blizzard flavor in China?
Dairy Queen is an international franchise, and like most companies that run business in multiple countries, they must adapt to each nation's culinary culture and cater to their target consumers' taste preferences in order to be profitable. A half-century after its founding, QSRweb notes that Dairy Queen entered the Chinese market in 1991, when it opened its first franchise in Beijing. Dairy Queens in China offer a wide variety of Blizzard flavors, some of which aren't even available in the U.S.
If you're ever in China and stumble upon a DQ, be sure to treat yourself to a green tea Blizzard! The soft serve treat boasts a mellow, earthy matcha tea flavor that's both indulgently refreshing and subtly sweet. According to Mental Floss, the green tea Blizzard is the best-selling flavor in China. This virescent delight was created as a result of careful market research. Many Chinese consumers prefer their sweets to be a bit lighter, more tender, and toned down, according to China Highlights.
Ice cream is wildly popular in China, and has been for millennia. In fact, The Spruce Eats reports it's believed that ice cream was invented in China around 2,000 B.C.! In the past few years, China has surpassed the United States as the largest ice cream market in the world. Other popular Chinese ice cream flavors, in addition to green tea, include squid ink, Mengxiaola (spicy chocolate), ube (purple sweet potato), and chili pepper, according to Daxue Consulting and China Daily. Yum!