Copycat Taco Bell Quesadilla Sauce Recipe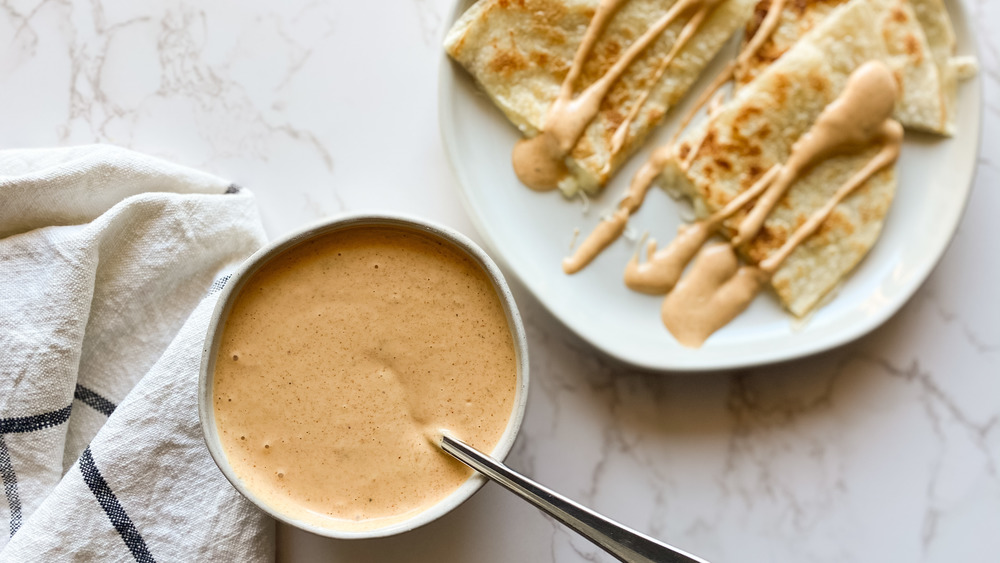 Kristen Carli/Mashed
Do you know how people like to joke that deep-frying can make anything delicious? Like how you can deep fry everything from cheese to pickles to chicken to candy bars to, most likely, a leather boot and, with enough time in the cooking oil and just the right kind of batter, it will taste great? Once you try this sauce, you might have to swap it in for deep frying. This copycat Taco Bell quesadilla sauce dials the flavor up way past 11 and is great on all sorts of foods. Just maybe not a leather boot, though that not really the sauce's fault.
Chef, food writer, and registered dietician Kristen Carli of Camelback Nutrition & Wellness is a big fan of this sauce. "This recipe is seriously so good," she says, going on to explain that she puts it on everything from taco salads to burrito bowls. "But it is great as a dip with quesadillas or even just chips," Carli says. Simplicity isn't such a bad thing, after all.
And considering that whipping up a fresh batch of this sauce requires all of five minutes total, anytime is the perfect time to sauce things up. So whether you have a fresh quesadilla cooking in the pan, a taco platter coming together, or you just want some extra fancy chips, make the bit of time to make this sauce. 
Want even more inspiration? It can also double as a seriously succulent salad dressing and is also great on burgers, hot dogs, grilled cheese sandwiches, and beyond. As with deep frying, the only limit is your imagination.
Gather your ingredients for copycat Taco Bell quesadilla sauce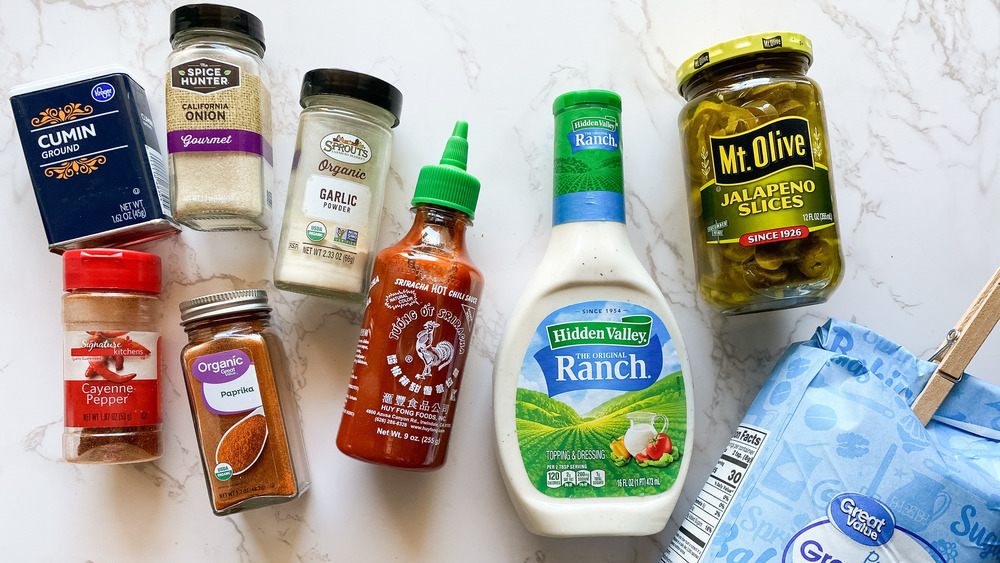 Kristen Carli/Mashed
While this recipe may be to make a copycat of Taco Bell's quesadilla sauce, it in fact has one major leg up on fast food concoction. In this case, you know exactly what is used to make the stuff, as opposed to the oftentimes mysterious contents of what's served up alongside your chalupa. 
For this copycat Taco Bell quesadilla sauce, you'll need 1 cup of ranch dressing, 1 tablespoon of pickled jalapeños, and 3 teaspoons of Sriracha sauce. For seasoning, secure a 1/2 teaspoon of ground cayenne pepper, a 1/2 teaspoon of paprika, 1 1/2 teaspoons of ground cumin, 2 teaspoons of granulated sugar, 1/4 teaspoon of onion powder, 1/4 teaspoon of garlic powder, and 1/2 teaspoon of salt.
As for the spice-averse people out there, take comfort in knowing that you have the ultimate control over the level of heat in this sauce. "You can control the spice by increasing or decreasing the sriracha," says Carli. Once you have tried making a batch or two, feel free to experiment with other ingredients, too, adding or subtracting herbs and spices as the spirit moves you.
Make the copycat Taco Bell quesadilla sauce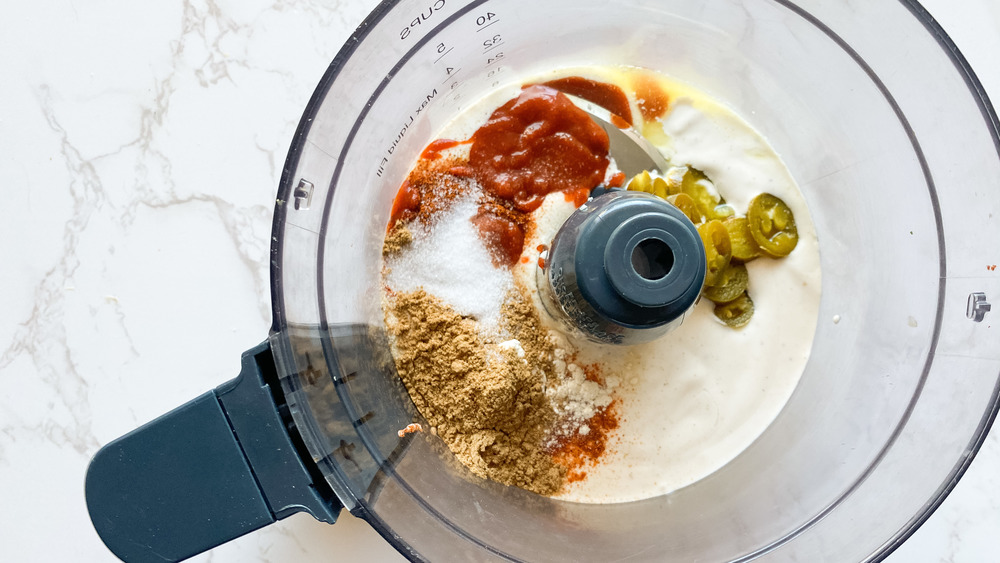 Kristen Carli/Mashed
Alright, have you taken the time to carefully measure out all of the ingredients needed for this sauce? Excellent, because that was a good 80% to 90% of the hands-on work here. That's the value of getting everything all lined up and ready to go, which is a handy chef's trick known as "mise en place", by the way. 
Now, literally, all you need to do at this point is to place all of the ingredients together into a food processor, and then blend them until the sauce is even and smooth. In particular, watch carefully and make sure that the jalapeños are fully chopped up and blended. Once they have disappeared into the sauce, you can count on it being mixed to the proper consistency. With that done, you're free to dip your chips into the smooth sauce or slather it all over your meal of choice, whether that's a homemade quesadilla, a salad, or practically anything else your heart desires.
How to store copycat Taco Bell quesadilla sauce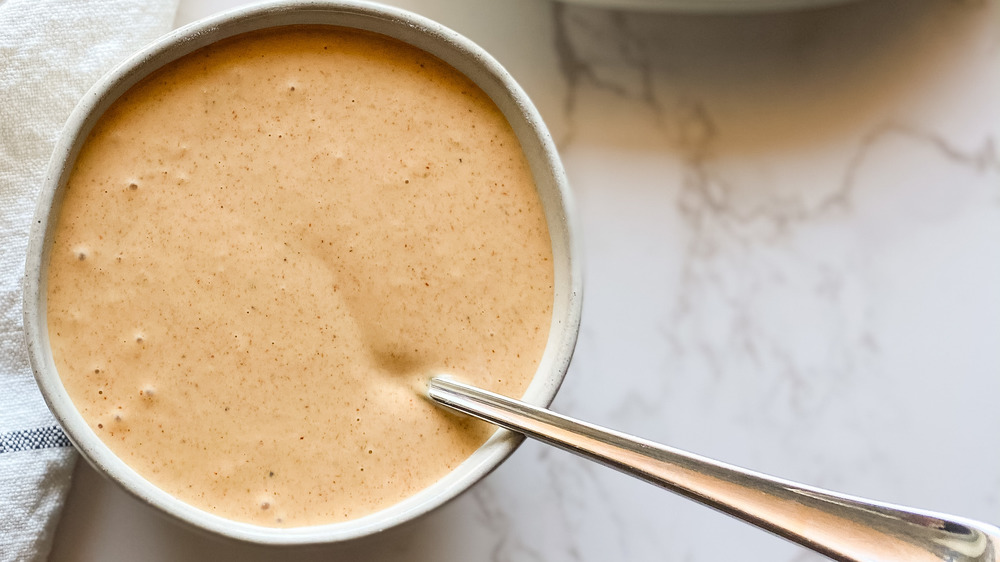 Kristen Carli/Mashed
As measured out, this recipe yields about a cup and a half of sauce, which is equivalent to 16 servings. This is a lot, to be sure, and it's likely more than you'll need for any given meal. Well, unless you're throwing a dinner party for a large number of people who are also ravenous for ranch dressing-infused sauce. 
Fortunately, time is on your side. "This is best stored in an airtight container in the fridge for up to one week," says Carli. That should be plenty of time for you and anyone else in your household to finish up this copycat Taco Bell sauce, especially given how versatile this sauce can be.
Of course, considering how quickly and easily you can make a fresh batch with easily accessible ingredients, you can also make a smaller batch almost whenever. Any time you want this tasty, tangy sauce, this copycat Taco Bell quesadilla sauce will there to save the day and in just a few minutes, too.
Copycat Taco Bell Quesadilla Sauce Recipe
This copycat Taco Bell quesadilla sauce takes only a few minutes to whip up, but you'll be putting this savory goodness on almost everything from tacos to salad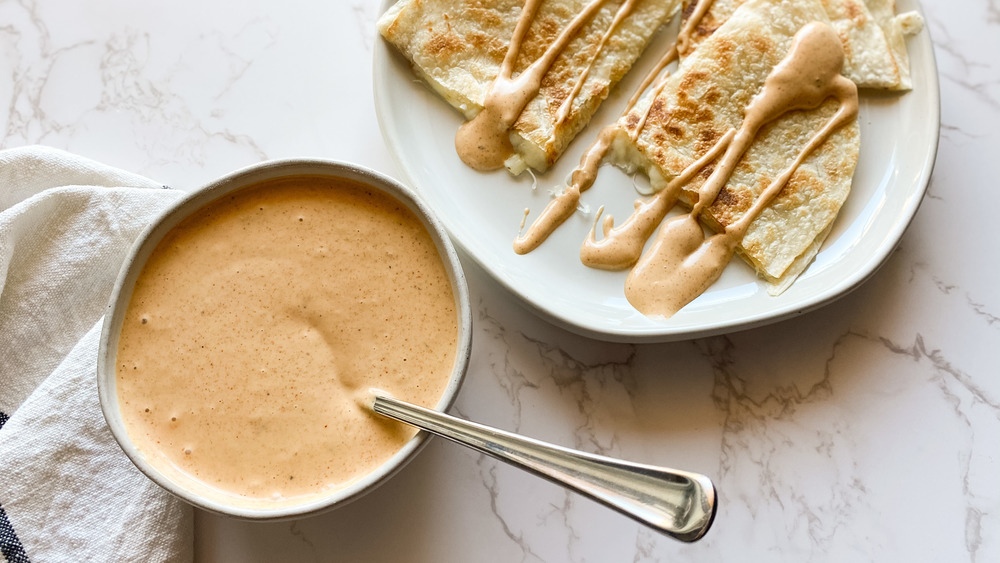 Ingredients
1 cup ranch dressing
1 tablespoon pickled jalapeños
3 teaspoons sriracha sauce
½ teaspoon ground cayenne pepper
½ teaspoon paprika
1 ½ teaspoon ground cumin
2 teaspoons granulated sugar
¼ teaspoon onion powder
¼ teaspoon garlic powder
½ teaspoon salt
Directions
Place all ingredients into a food processor.
Blend until smooth.
Enjoy with chips or on a meal of your choosing. The sauce will keep up to a week, covered, in the refrigerator.