The Secret Method To Perfect Pizza, According To Bobby And Giada In Italy
It doesn't matter if it's Friday night in, Tuesday lunch at the office, or Sunday afternoon watching football: It's always the right time to eat pizza. Whether you're a Chicago deep dish fan or more of a thin-crust New York-style person, it's a well-known fact that Americans love a slice of saucy, cheesy pie. According to Slice, the average person eats 40 pizzas a year, which equates to about 6,000 slices over your lifetime. 
There are thousands of pizzerias in the U.S., but everyone knows that to find the best pie, you have to go to its birthplace: Italy. Which is exactly where Giada De Laurentiis and Bobby Flay went to explore in their new Discovery+ show, Bobby and Giada in Italy. As they indulged in all the local cuisine — which includes a lot of pizza, of course — they learned some tips and tricks on how to make it themselves. One very important lesson they learned? The secret to the tastiest pizza.
Add this one topping before you bake your pizza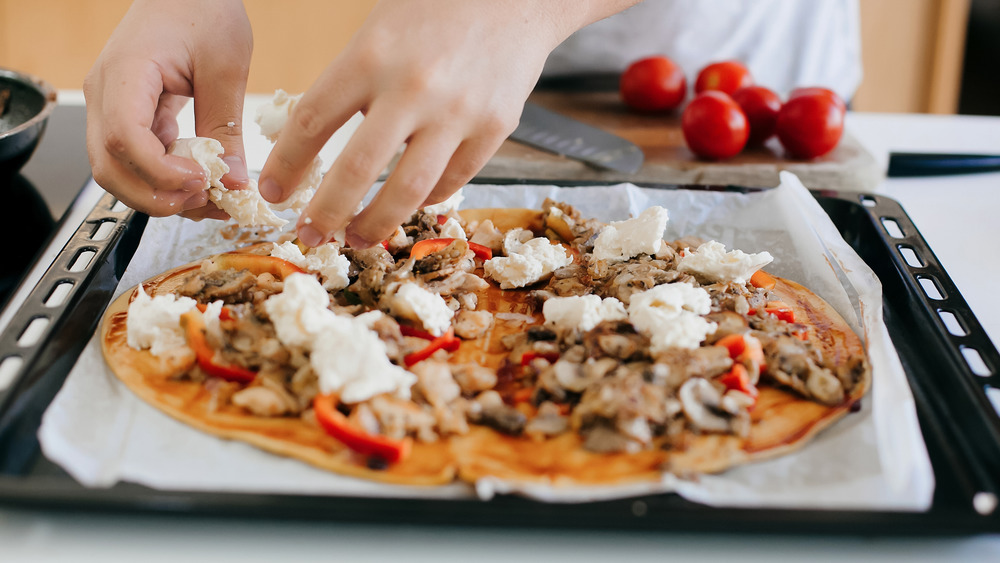 Shutterstock
The trick to making your homemade pizza that much better isn't how you cook it or what you do to the dough — it's what you put on top right before it goes in the oven. When De Laurentiis and Flay were at Sforno in Rome, chef Stefano Callegari revealed to them the secret behind his famous Cacio E Pepe Pizza. He says he puts ice on top of the cheese before baking the pizza to help regulate the temperature while it cooks, according to Food Network.
How does this work? Food & Wine explains that by sprinkling crushed ice over the pizza, it keeps the middle of the dough soft and chewy while allowing the bottom to get a nice crispy texture. The outlet recommends spreading about two tablespoons of crushed ice in the center of the pizza, leaving about half an inch around the crust so it doesn't get soggy on the edges. So the next time you fire up the oven to bake a pizza, be sure your ice tray is full, too!