How Bobby Flay Really Feels About Giada De Laurentiis' Mom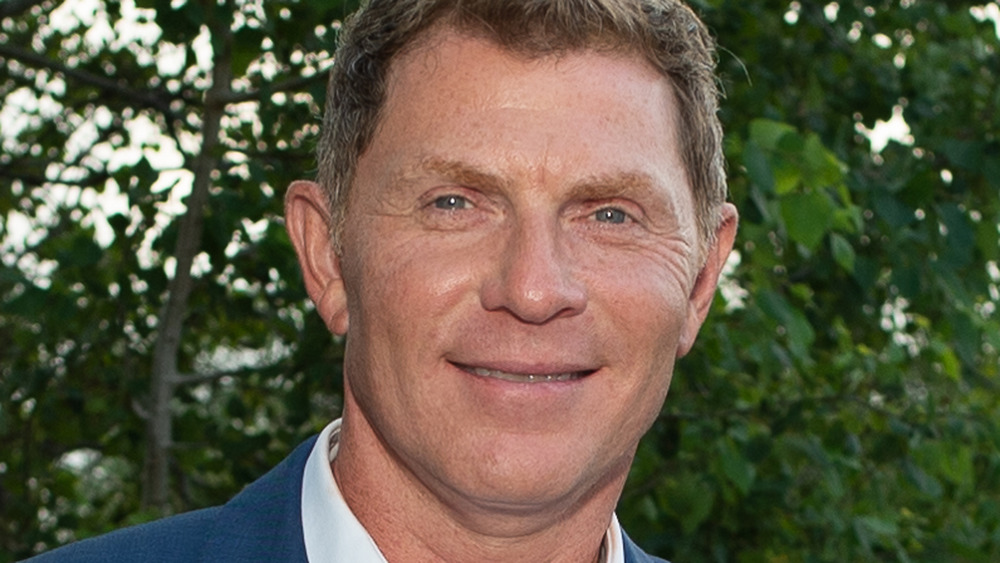 Mark Sagliocco/Getty Images
In their new series for discovery+, Bobby and Giada in Italy, the dynamic duo of Bobby Flay and Giada De Laurentiis tour the streets of Rome and Tuscany, learning about Italy's history, meeting local chefs and food experts, and of course, eating to their stomachs' and hearts' content.
As shown in a special preview for People magazine, episode one kicks off at Armando Al Pantheon in Rome and with a very special guest: Giada's mom, Veronica De Laurentiis! While we're certain Giada was happy to spend some quality time with her mom in their home country, Bobby was even more excited to see mama De Laurentiis, as he considers her to be "one of his favorite people in the world" (via Delish). "I just love being around Veronica because she's funny as can be, she has an opinion about everything, and she has crazy great knowledge."
The three of them enjoy a classic Roman meal, or "table," as Flay calls it. The Food Network hosts with the help of De Laurentiis' mom explain that traditional Italian meals are separated into four main courses: antipasto (appetizers), a primo (typically pasta, risotto, or a soup), secondo (the main course), and dolce (dessert). However, each course could have several plates making it more like a seven-to-10-course meal!
The food in Italy looks amazing. But, Flay says the culture and fully immersive experience are what captured his heart and soul.
Bobby Flay and Veronica De Laurentiis explain the impact of relaxation in Italian culture.
According to The Roman Guy, a traditional Italian dinner can be as long as four hours. A large part of that has to do with the various courses, but half of it also has to do with how sacred family time is in Italian culture. We doubt you'll see phones at the dinner table or people rushing through meals to get to their next commitment.
Building on that concept, Veronica De Laurentiis explains the key difference between dining in America and dining in Italy is relaxation. "Here, you learn to relax," laughed Veronica in the People magazine video package. She added that patience is another dissimilarity between the two cultures. No wonder that Bobby Flay is so fond of her.
In an interview with Delish, Flay explains that the customs and way of Italian culture make it impossible for you not to relax. It's evident in his and Giada De Laurentiis' overall demeanor with one another. "I love Giada in Italy — like the person, not just the show — because she's so relaxed there," he continued. "And I feel the same way." Flay describes being able to explore Italy with native Romans like the De Laurentiis family as an "extended vacation," a form of relaxation he can't wait to get back to.