Taco Pizza Recipe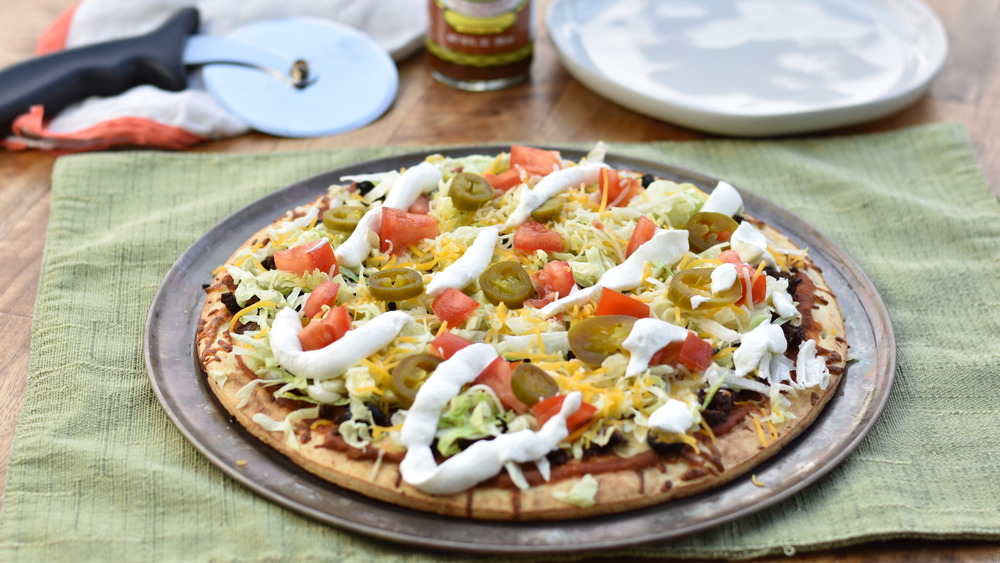 Stephanie Rapone/Mashed
Quick — name two of your favorite foods. If you said tacos and pizza, we are right there with you. What if you could enjoy both of these comfort meals in one? Thanks to Stephanie Rapone, who blogs at Pantry to Plate, you can. Because along with Mashed, she created a taco pizza recipe that will breathe new life into your weeknight meal planning. Of course, we had to know how Rapone came up with this brilliant idea, and she told us, "I had a mild obsession with these giant vegetarian quesadillas from a place in college. This recipe basically came from the ingredients on those quesadillas, but in pizza form." 
Meanwhile, she adds, "When you have little kids, you'll put anything in pizza form to get them to try it!" We hear that! Rapone notes this meal makes weeknights a breeze in her house. "I love that I can make the taco meat ahead of time, or just double up when I'm making tacos and stick some in the freezer for later, making this recipe super fast."
Shop for your taco pizza ingredients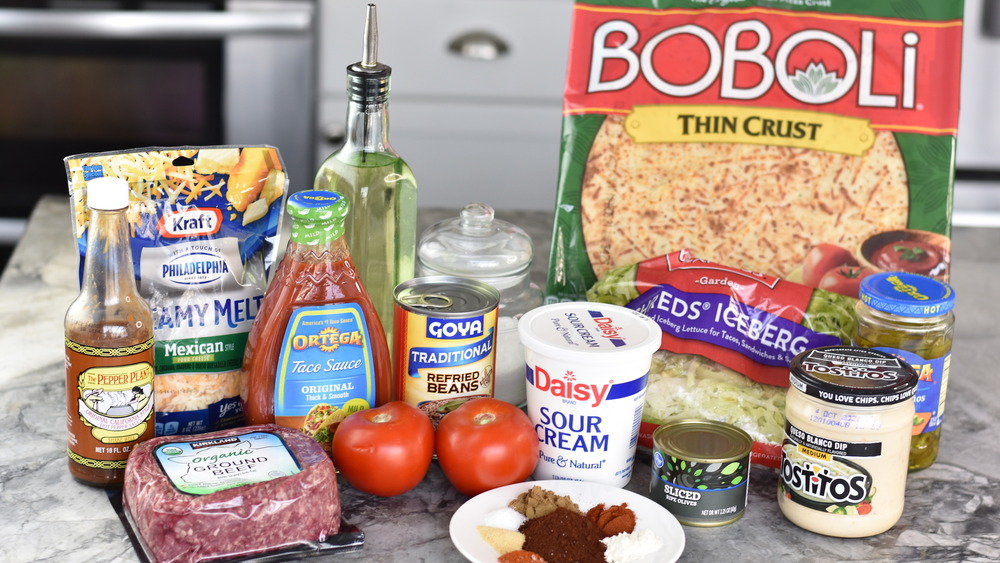 Stephanie Rapone/Mashed
You may have some of the needed ingredients on hand in your kitchen if taco Tuesday is a tradition you simply refuse to stray from. Otherwise, put these items on your shopping list: vegetable or canola oil, lean ground beef, kosher salt, taco seasoning — you can also make your own, a process which Rapone will walk us through. If you are adventurous enough to try it, you'll pick up chili powder, cumin, paprika and smoked paprika, garlic powder, onion powder, black pepper, and sugar.
Rapone's recipe also calls for a can of refried beans, taco sauce, two 12-inch pre-cooked pizza crusts, queso, sliced black olives, a shredded Mexican cheese blend, shredded lettuce, pickled, sliced jalapeños, sour cream, tomatoes, and, optionally, your favorite hot sauce. 
The only ingredient on the list that surprised us was sugar for the taco seasoning. But as Rapone explained, "I find it provides balance to the taco seasoning, but someone could leave it out if they want."
Make your taco pizza beef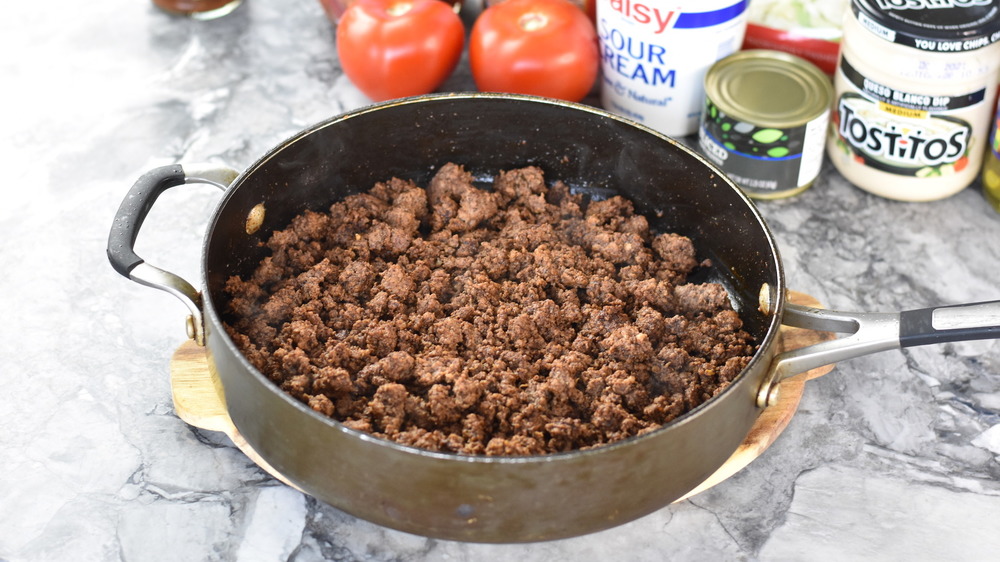 Stephanie Rapone/Mashed
The first step to realizing taco pizza nirvana is to move your oven rack to the second from the bottom position. Next, you'll preheat the oven to 450 degrees. Now, prepare your ground beef — Rapone suggests using 85 to 90 percent lean ground beef for her taco pizza recipe. Of course, she also told us this recipe will work meat-free, too. In fact, her original recipe did not have the beef.
Using the beef? Great. Simply heat a skillet over medium-to-high heat and add some oil, and your ground beef, along with salt. Using a spatula, you will break up the beef as it browns to create crumbles. Rapone recommends draining the excess grease once the beef is fully cooked, or using a paper towel to blot up the oil. Now it's time to season your beef, and if you are feeling brave, why not make your own taco seasoning? 
DIY your taco seasoning if you'd like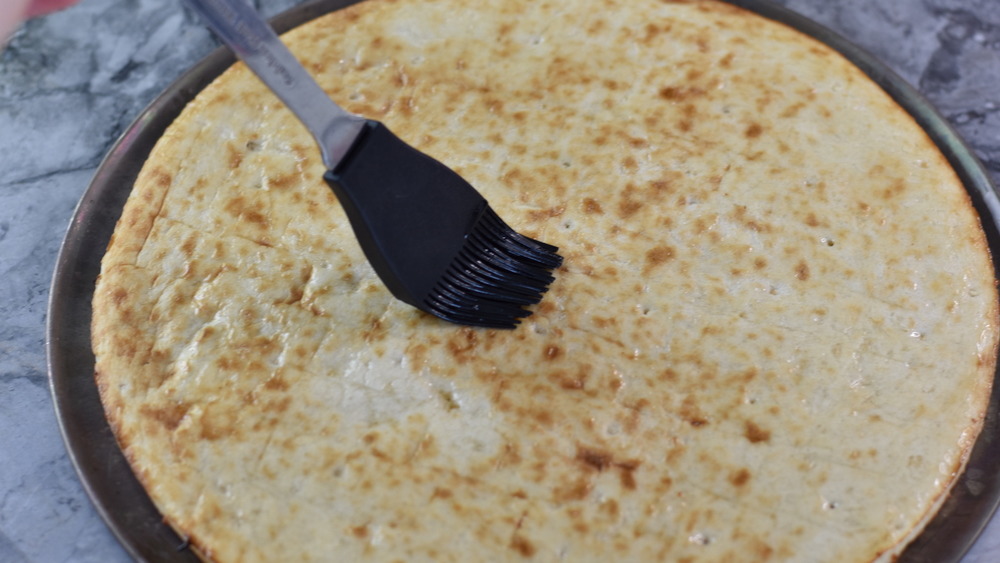 Stephanie Rapone/Mashed
At this stage, you add your taco seasoning to the beef. If you plan to DIY it, combine 2 tablespoons chili powder, 1 teaspoon cumin, 1/2 teaspoon paprika, 1/2 teaspoon garlic powder, 1 teaspoon onion powder, 1/2 teaspoon smoked paprika, 1/4 teaspoon black pepper, 1/2 teaspoon sugar. 
As for why she uses two kinds of paprika in her taco seasoning, Rapone explained to Mashed, "Usually taco seasoning just has regular paprika, but we love smoky flavor, so I swapped out some of the regular paprika for smoked paprika." She added, "Swapping out all of it was too strong — but a blend is just right." Give it a whirl — we are guessing you won't be disappointed by the result.
Once your taco seasoning comes together, add your creation to the browned beef, cooking and combining the ingredients until the meat is well coated, which will take another minute or so. Set the beef aside — it's time to turn our attention to the pizza crust, which you'll flip upside down and brush with oil to help it get all nice and crispy.
Bake the taco pizza's crust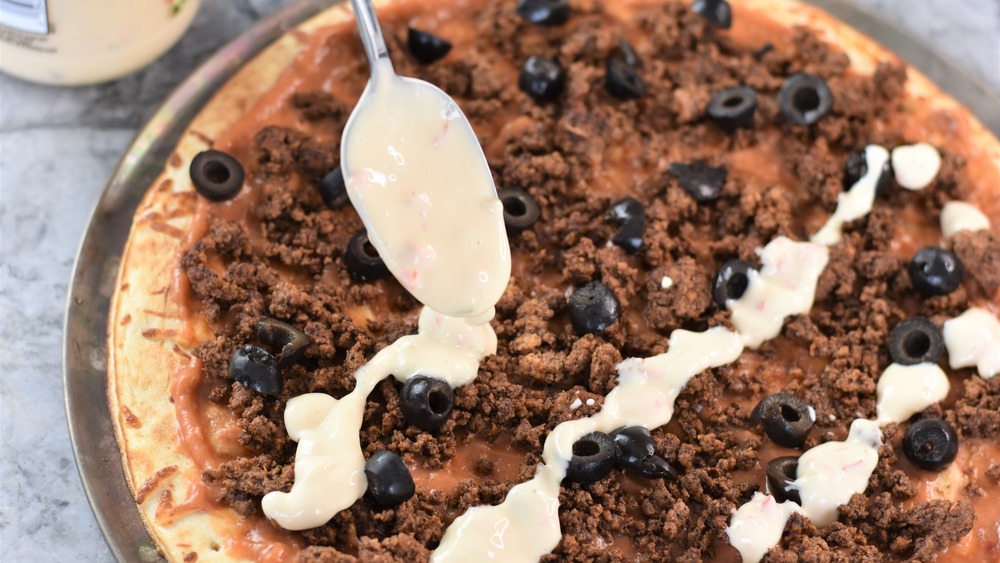 Stephanie Rapone/Mashed
Some of your toppings will get baked along with your pizza crust, and some go on after the bake — you obviously wouldn't want to bake lettuce. So, go ahead and combine your refried beans and the taco sauce in a bowl, combining the ingredients well, before spreading half of the thick and flavorful mixture on each crust. This is your pizza "sauce." The beef goes on next, evenly distributed over each taco pizza. If you like 'em, sprinkle on the sliced black olives next.
Now comes our favorite part. Before popping the pizzas in the oven, Rapone recommends drizzling rich and creamy queso or nacho cheese sauce over the top. Wow, are we getting hungry for this indulgent meal! Oh, and pro tip — "If the queso is too thick, just microwave for 30 seconds to make it more drizzle-able," Rapone suggests. 
Finally, slide each pizza in the oven and bake it for 13 to 16 minutes. 
Add the rest of your taco pizza toppings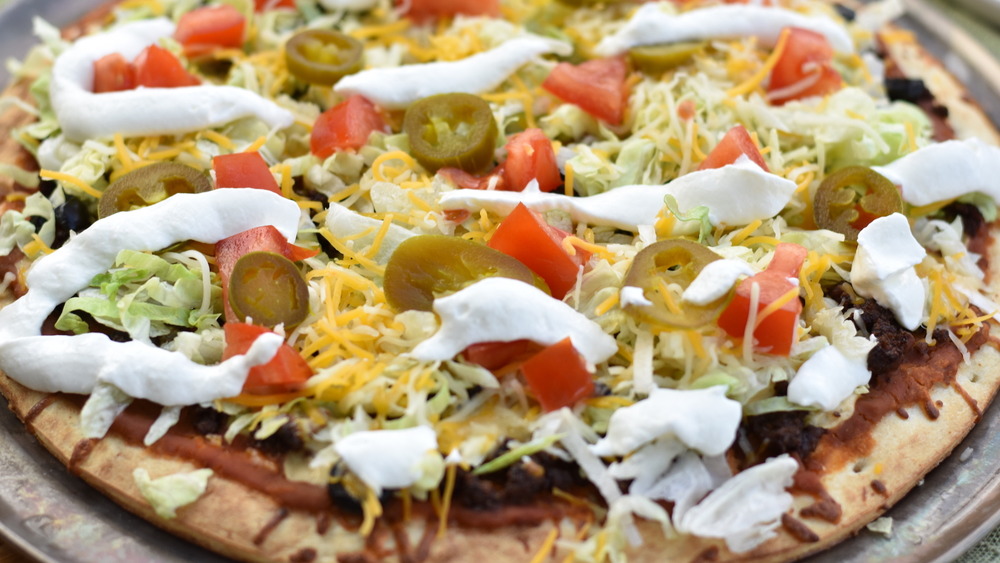 Stephanie Rapone/Mashed
While your pizza crust is baking away, you can prep the rest of your toppings. Slice up those tomatoes. Shred that lettuce. Rapone adds, "If you want to drizzle your sour cream on the pizza, spoon it into a plastic zip-top bag and seal the top. When it's time to drizzle, just snip one of the corners with scissors."
Rapone recommends allowing your pizza to rest for a few moments once it's done baking. Finally, you will top your pizzas with the cheese, lettuce, jalapeños, the optional sour cream, fresh tomatoes, and, if you're game for some heat, your hot sauce. Okay — time to eat! Especially since when it comes to leftovers, Rapone notes that's a no-go. "The one way leftovers would work is just to build one pizza when you eat it, and then save all the components for the second pizza separately and build it when you are ready." She adds, "I would eat it within three days."
Taco Pizza Recipe
Tacos are awesome. Pizza is awesome. Combine these two awesome foods together and what you have is taco pizza, a delicious weeknight meal everyone will love.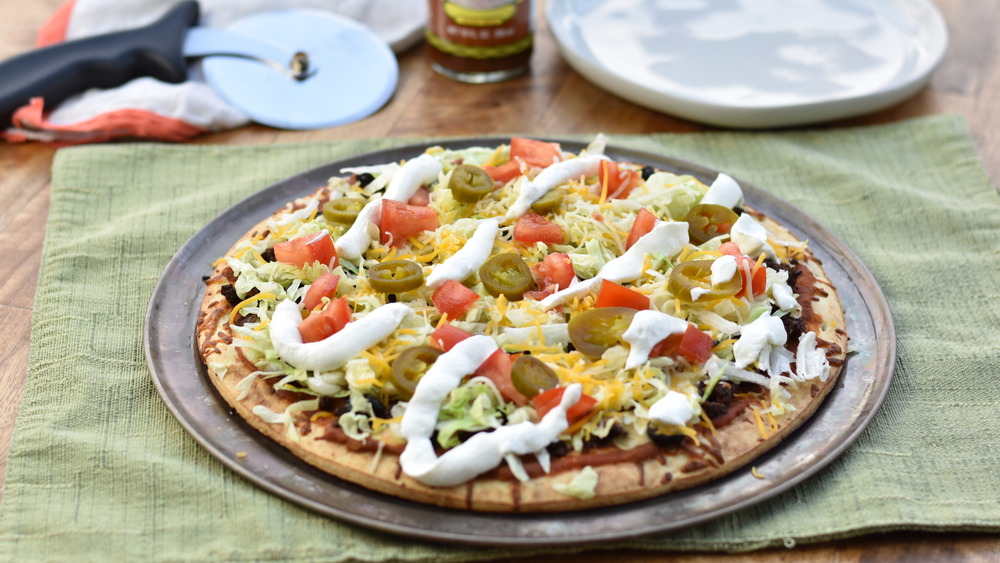 Ingredients
2 teaspoons vegetable or canola oil
1 pound 85% or 90% lean ground beef
1 teaspoon kosher salt
1 packet taco seasoning
1 15-ounce can refried beans
1 cup taco sauce (from a jar)
2 12-inch pre-cooked pizza crusts (such as Boboli)
⅔ cup (approximately) queso or nacho cheese sauce
Optional Ingredients
sliced black olives
grated Mexican blend cheese
shredded iceberg lettuce
pickled sliced jalapeños
sour cream
1-2 medium fresh ripe tomatoes
hot sauce
Directions
Move your oven rack to the second from the bottom position. Preheat oven to 450 degrees.
With the skillet over medium-high heat with 2 teaspoons oil, add ground beef and 1 teaspoon kosher salt. Brown, crumbling with a spatula. Drain excess grease, or blot up using tongs and a paper towel, if needed.
Once it is cooked all the way, add the taco seasoning (chili powder, cumin, paprika, garlic powder, onion powder, smoked paprika, black pepper, sugar) and stir until the spices evenly coat the meat and have toasted — about 1-2 min. Remove from the heat.
Get the pizza crust out and flip it over (upside down). Brush the back with canola oil to help it crisp.
Place the refried beans and taco sauce in a bowl and combine well with a spatula. Spread the half of the refried beans and taco sauce mixture over each crust, acting as your "sauce." Evenly distribute the ground beef over each pizza, as well as the black olives.
Drizzle approximately ⅓ cup of queso over the meat on each pizza and place in the oven to bake for 13-16 minutes.
While that's baking, get out the rest of your toppings, and wash and chop your tomatoes.
Once the pizza is done in the oven and the crust is to your liking, remove and let it rest for 3-5 min.
Top with the grated cheese, shredded lettuce, sliced jalapenos, a drizzle of sour cream, and fresh tomatoes.