Gordon Ramsay's Risotto With A Twist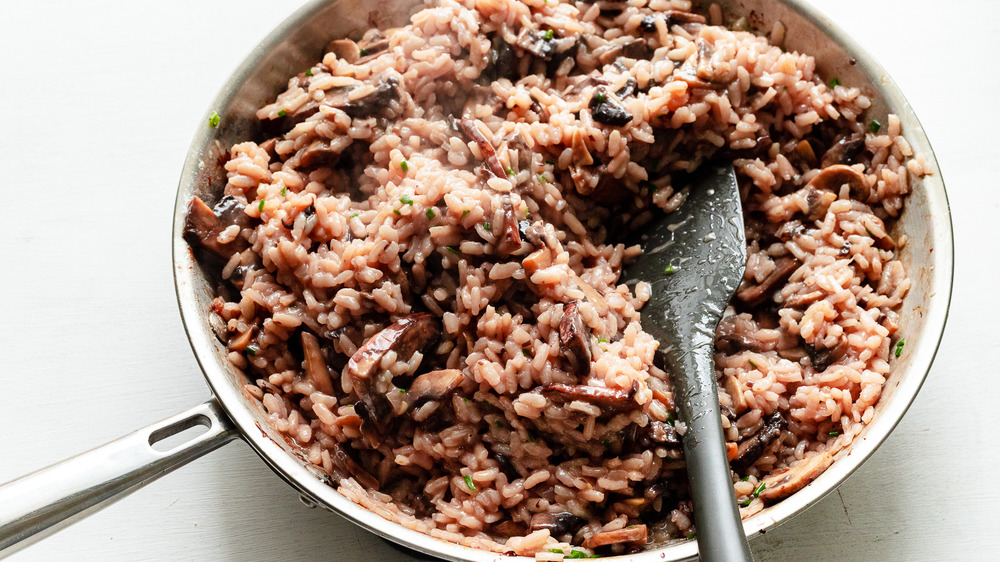 Sher Castellano/Mashed
In America, risotto is often served as a main dish, something Italians would never do. In Italy, the rice dish actually a secondo small plate that reaches the table before a meaty entree. But risotto can make a hearty meal for dinner, and Gordon Ramsay's recipe is intended for just that. We asked recipe developer Sher Castellano to take Ramsay's risotto and add some creative twists for an updated taste profile. While Ramsay's original is a true classic, Castellano's recipe proves how versatile and exciting risotto can be, once you have a good base to start from.
Risotto has a reputation of being difficult, but it's quite easy. The only tricky thing about the dish is that once you've started you most likely need to watch it to the end. Then, you'll want to serve it right away with plenty of grated parmesan on the side. This risotto can also be easily changed to suit your tastes. At the end, we'll reveal how we updated Ramsay's original, but see if you can guess what it is.
Gather together the ingredients for Gordon Ramsay's risotto with a twist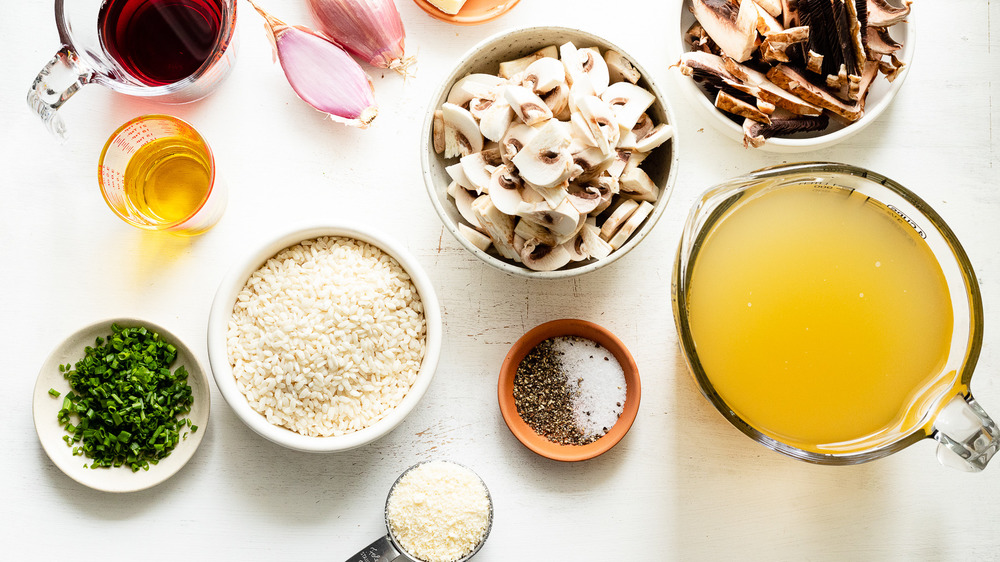 Sher Castellano/Mashed
Without revealing our twist, Castellano's ingredient list is pretty much what you would find in any risotto recipe. The main component is two kinds of mushrooms: white mushrooms and earthy Portobello mushrooms, which imbue the risotto with a heady flavor reminiscent of truffles (In Italy, truffles are everywhere, and they're shaved onto risotto for special occasions or high-end multi-course meals.).
Shallots are preferred over onion for risotto, because they're less pungent and harsh, Castellano advises. Butter, of course, is essential, and it's not just for sautéing the mushrooms — we'll reveal butter and risotto's special relationship later. 
Finally, there's the rice, and it's the most important ingredient. Don't try using long-grain rice to make risotto, or it will turn to mush. Traditionally, Carnaroli rice is used exclusively for this dish because it can absorb more liquid than regular long-grain rice and because it also holds its texture. You can find it any Italian food market, but if you don't have one nearby, Ramsay's original recipe calls for Arborio rice, which has a firmer texture and is often substituted for Carnaroli.
Sauté the mushrooms for Gordon Ramsay's risotto with a twist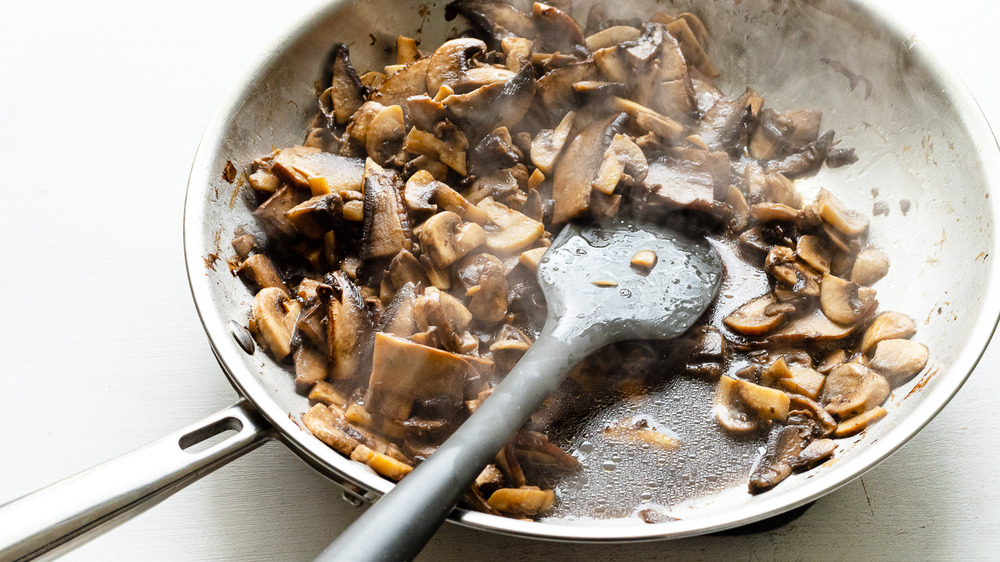 Sher Castellano/Mashed
Before beginning the risotto, pour the chicken stock (or vegetable stock for a vegetarian version) in a saucepan and bring it to a simmer. Keep the stock warm throughout the process, because that helps the rice absorb the liquid better. 
In a large heavy-bottom pan, heat two tablespoons of olive oil over medium heat — make sure you use a wide pan, or otherwise the rice won't cook evenly. Add in the mushrooms and then stir them so they're lightly coated in oil. Sprinkle on the salt and black pepper — if you have a pepper mill, use it, as freshly ground pepper has much better flavor. Sauté the mushrooms until they're soft and just starting to brown around the edges, about five to seven minutes. Transfer the mushrooms and their exuded juices to a medium bowl.
Toast the Arborio rice and stir in the red wine for Gordon Ramsay's risotto with a twist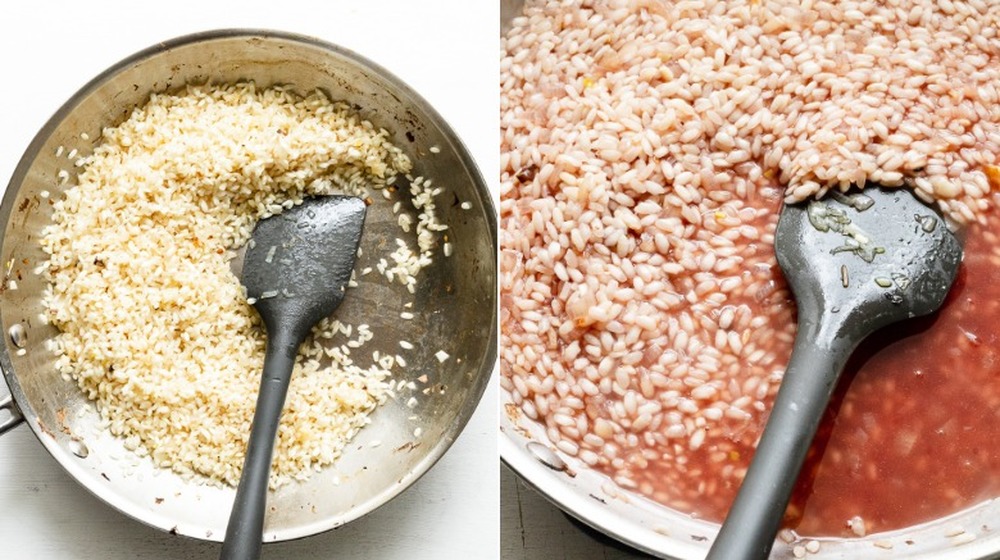 Sher Castellano/Mashed
Heat the remaining one tablespoon of olive oil in the same pan you used for the mushrooms over medium heat, and then, add the minced shallots, continually stirring them so they don't brown for about one minute (Note: An optional addition at this point is to sauté a couple of ounces of diced pancetta with the shallots.). 
Now, add the Arborio rice and stir it around, coating it with oil. One reason why risotto is so delicious is that you're building flavors, and toasting the rice this way will give a boost to the overall umami flavor of the finished dish. 
Once the rice is toasted, slowly pour in the wine, stirring continuously until the wine has been fully absorbed. Also, use a good red wine — and for this recipe, a hearty, dry red is ideal — because it won't be cooked down too much, and lower end wine will give your risotto a harsh taste.
Stir in the broth for Gordon Ramsay's risotto with a twist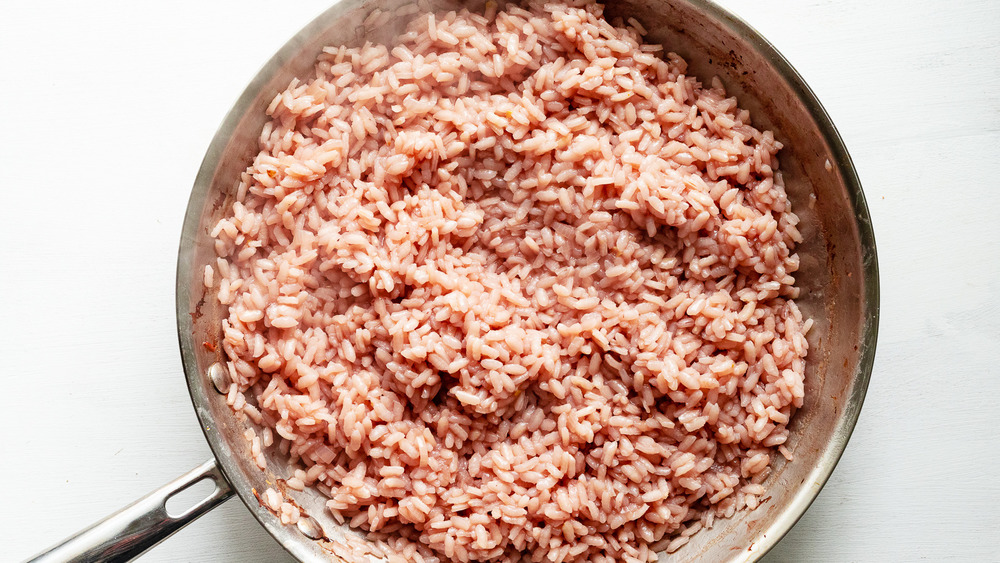 Sher Castellano/Mashed
Although Ramsay says otherwise, you could let the risotto "rest" at this point. Many restaurants prep risotto like this, and then, when an order comes in, the chef stirs in the hot broth and finishes the risotto in about 10 or 15 minutes. For this recipe, however, begin adding the warm vegetable stock by the half-cup and stir continuously until the rice has absorbed most of the liquid. Then, add another half-cup of stock. Keep doing this for about 20 to 25 minutes. 
You'll notice the rice plumps up and gets creamy. Risotto is not a dry rice dish — it should have a slightly liquid consistency, so have a little extra warmed stock on hand. When you notice the change in the rice, pick out a few grains, and bite them. Just like with pasta, risotto should be al dente. 
Add the remaining ingredients for Gordon Ramsay's risotto with a twist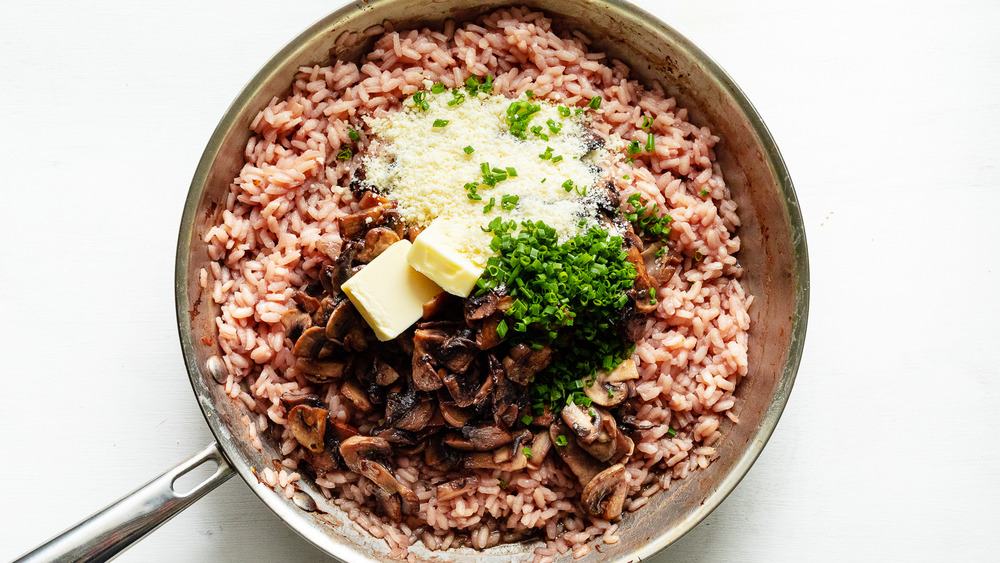 Sher Castellano/Mashed
The quick and easy way to finish up the recipe is to take the pan off the heat and add the butter, grated Parmesan, mushrooms, and the chives. Stir it all together so everything's combined and creamy, and serve the risotto in bowls with more cheese and chives on the side. However, if you want to try a pro-chef method, Castellano advises that instead of adding the butter and cheese at this point, you stir the mushrooms and chives into the rice and then put the tablespoons of butter on top. Then, cover the pan and wait about five minutes. The butter will melt into the risotto and make it extra creamy. Remove the lid, stir in the chives, and you're ready to serve. 
How did we modify Gordon Ramsay's risotto recipe?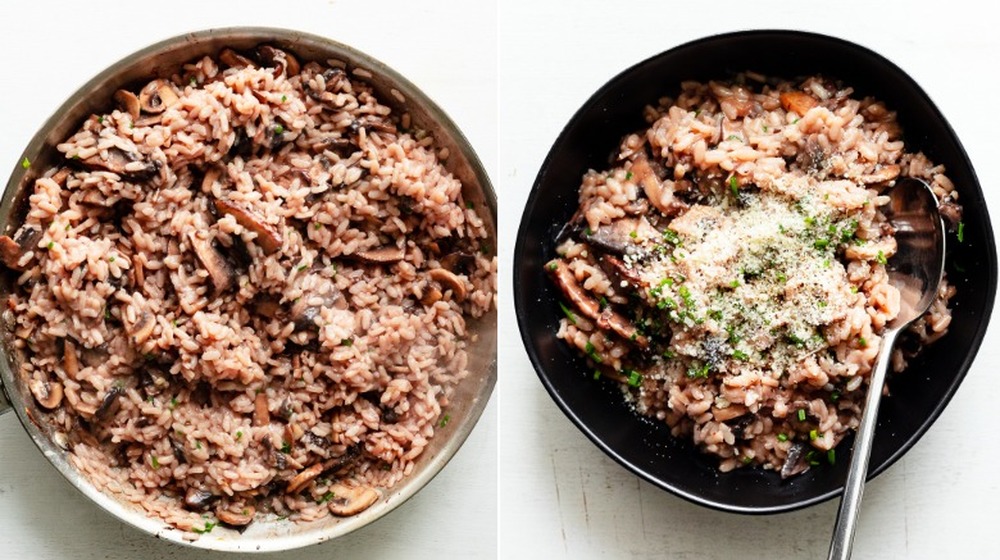 Sher Castellano
So what did Castellano change in Ramsay's recipe? Before his dramatic weight loss, thanks to his wife's tough love, Ramsay often prepared richer foods. As you can see from his original risotto recipe, he uses four tablespoons of butter and one-third cup of Parmesan cheese for this dish. Castellano's recipe, on the other hand, cuts the butter in half and also reduces the cheese, so this risotto won't be as much of a gut-buster as Ramsay's. 
But one of biggest changes our chef made was substituting some of the broth in Ramsay's recipe with a hearty red wine. Usually, white wine is used in risotto, but this red wine version originates from the Piedmont region in Italy, where some of the best red wines in the world are made.
"Red wine risotto is a classic northern Italian dish and the flavors would pair perfectly with the earthy mushrooms," Castellano told Mashed. "So, same dish with a more complex flavor."
As a result of that deep richness in flavor from the red wine, there's no reason for adding more butter, Castellano says (though Julia Child might argue about that!). Castellano's "twist" to Ramsay's recipe is just as delicious, but it's also lower in fat by half.
Gordon Ramsay's Risotto With A Twist
Gordon Ramsay's risotto recipe gets a lower fat update from Mashed chef Sher Castellano, with help from a special ingredient for a Northern Italian classic.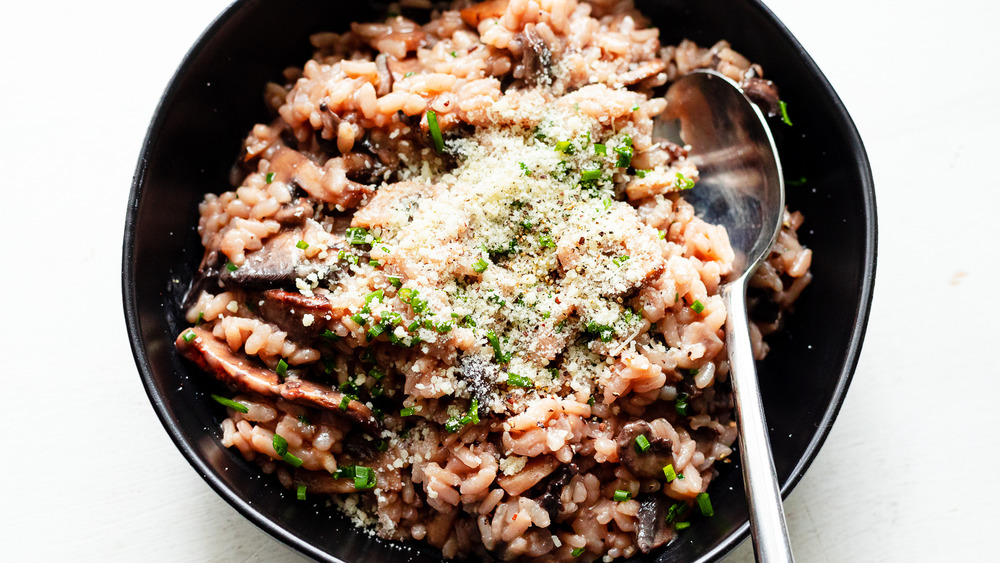 Ingredients
4 cups chicken or vegetable stock
3 tablespoon olive oil
½ pound Portobello mushrooms
½ pound white mushrooms
¼ teaspoon sea salt
¼ teaspoon ground pepper
2 shallots
1 ½ cups Arborio rice
½ cup red wine
3 tablespoons fresh chives
2 tablespoons unsalted butter
¼ cup grated Parmesan cheese
Directions
Heat the chicken or vegetable stock in a sauce pan over low heat.
In a large, wide pan, heat 2 tablespoons olive oil over medium-high heat.
Add the mushrooms, salt, and pepper and sauté until softened, about 5 minutes.
Transfer the mushrooms and their juices to a bowl and set aside.
Add the remaining 1 tablespoon olive oil to the pan.
Stir in the shallots, and sauté one minute.
Add the rice, and stir to evenly coat with the oil, about 2 minutes. 
When the rice is slightly golden, pour in ½ cup red wine, and stir continuously until the wine is fully absorbed.
Add ½ cup of the warmed broth to the rice, and stir continuously until the broth is almost all absorbed.
Continue adding broth ½ cup at a time and stirring, about 20-25 minutes.
Remove from heat, and stir in the mushrooms, their juices, 2 tablespoons butter, ¼ cup Parmesan, and chives.
Stir until fully combined and serve. 
Nutrition
| | |
| --- | --- |
| Calories per Serving | 604 |
| Total Fat | 22.0 g |
| Saturated Fat | 7.5 g |
| Trans Fat | 0.2 g |
| Cholesterol | 28.8 mg |
| | |
| --- | --- |
| Total Carbohydrates | 78.1 g |
| Dietary Fiber | 4.5 g |
| Total Sugars | 9.0 g |
| Sodium | 603.2 mg |
| Protein | 18.1 g |