Polenta Recipe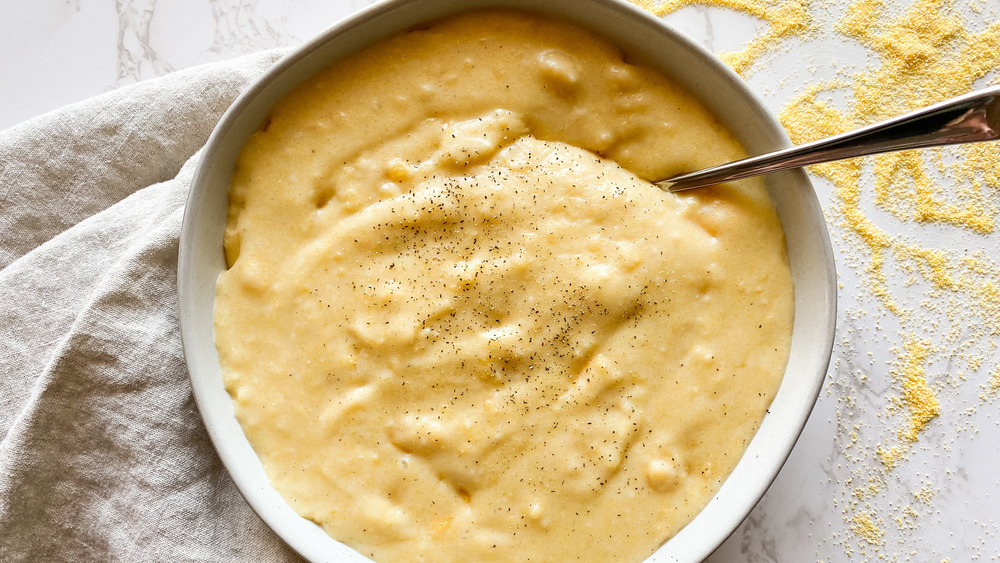 Kristen Carli/Mashed
Some dishes are delicious because of the rich complexity of their flavor profile – think Greek salad, pad Thai, or a pizza with all the toppings, to name a few examples. Other foods are delicious precisely because of the opposite. They're wonderful because of their simplicity. Think of a French baguette, for instance, or a gracefully pared-down potato chowder, or even a perfectly ripe piece of fruit.
Polenta is very much in that latter category. It's perfect, basic comfort food that's so satisfying to gobble down by the spoonful that you may forget about all the ways you can play with this basic meal. This would be a shame because, as chef, food writer, and registered dietician Kristen Carli of Camelback Nutrition & Wellness says, "This is a blank canvas for so many flavors."
Ah, but what kinds of flavors work best with this classic corn dish? "I served this with roasted cherry tomatoes and mushrooms and balsamic glaze," says Carli. "Other great ways to serve polenta include with baked chicken and roasted broccoli or shrimp and sautéed bell peppers."
You can also serve this basic polenta with eggs and bacon, as well as other breakfast staples. Frankly, you can enjoy polenta with just about anything. And, once you realize how easy it is to make the dish, you're probably going to start doing so quite often.
What is polenta, anyway?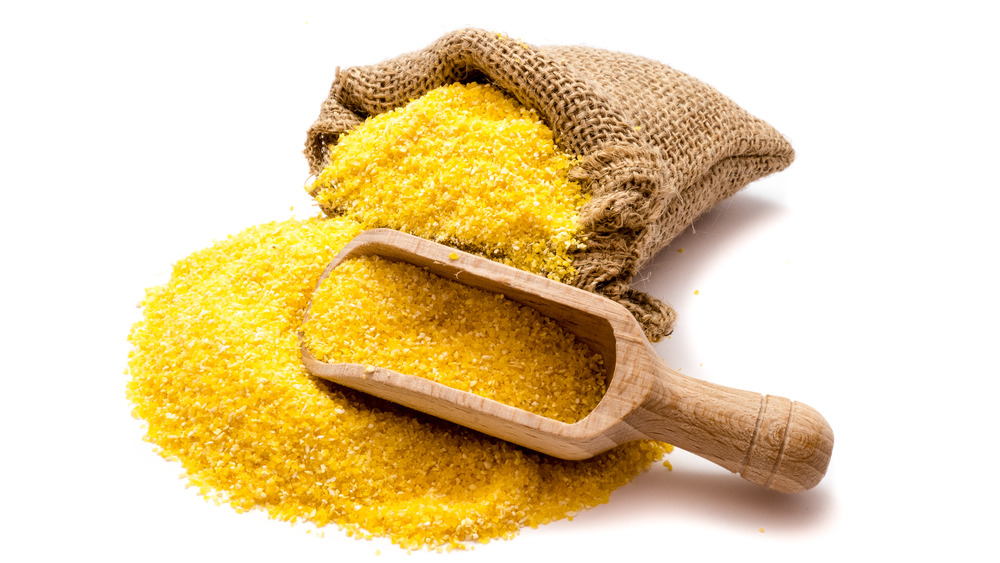 Shutterstock
At a glance, polenta might seem akin to the style of grits popular in the American South. It might also look pretty similar to some of the corn-based foods from Mexican, Central, and South American cuisine. In fact, polenta is a Northern Italian dish, according to The Spruce Eats. And unlike grits, which are almost always made from white corn, polenta is more typically made with coarsely-ground yellow corn.
When hot and fresh, polenta is much like a thick porridge that can soak in sauces or serve as a bed for other ingredients. You can also let it cool and set into a firmer texture that can be sliced into pieces and baked or fried, creating a totally different type of food. Yes, that means that you, too, can unlock the semi-secret Midwestern treat of "fried mush" with your leftover polenta or grits.
Combine liquids and spices then cook the polenta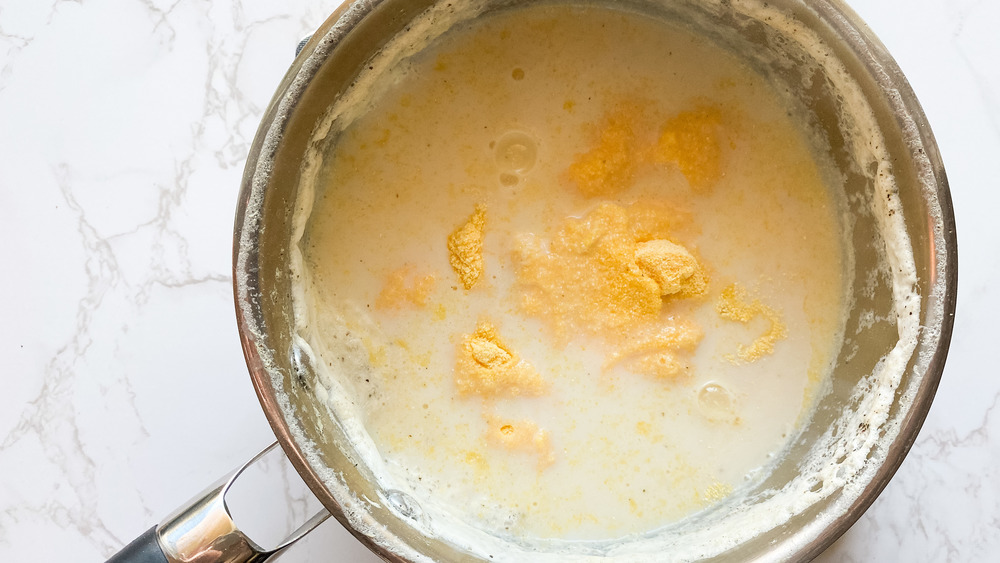 Kristen Carli/Mashed
In a medium pan, combine the milk and broth and stir them well to combine. Then, turn on the heat to medium and add the salt and pepper, stirring again to evenly distribute everything. Once the liquids begin to bubble, reduce the heat to hold things at a simmer.
Now add the cornmeal and be sure to stir well, making sure there aren't any unincorporated lumps of dry polenta in the pan. Once that's done, then reduce the heat to nearly as low as you can and let the cornmeal cook for 15 minutes, stirring occasionally to make sure that all is cooking evenly. You'll also want to watch the pot in order to make sure that things aren't drying out too much, as a drier polenta is likely to feel more like concrete than the delightfully smooth porridge-like result you really want. If it does look a little dry, don't worry. You can always add a few more teaspoons of water and milk if need be to keep the cooking polenta at the perfect consistency.
Add in the cheese and butter to the polenta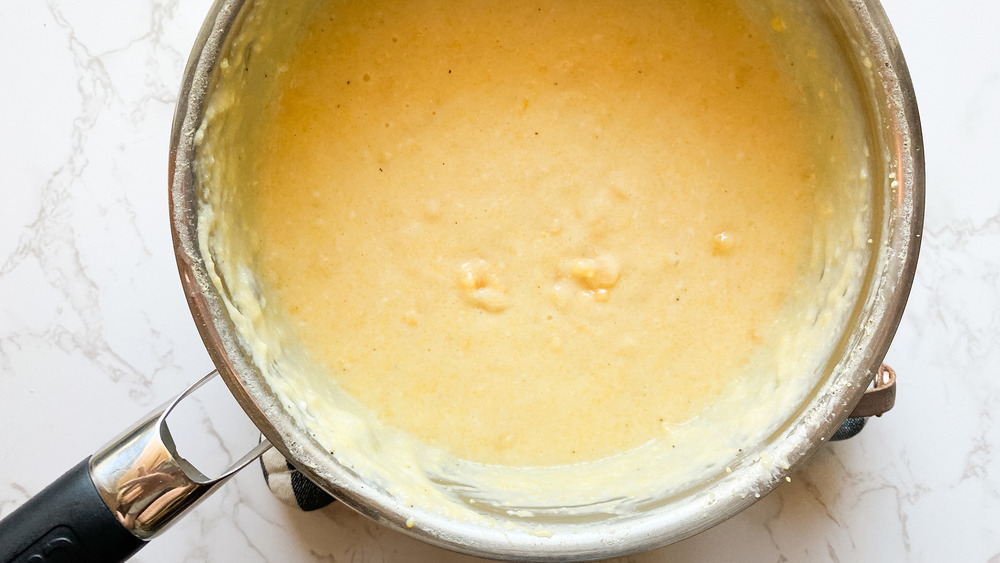 Kristen Carli/Mashed
When 15 minutes have passed and the polenta is soft, smooth, and even, add the parmesan and the butter. Stir to combine the cheese and butter into the rest of the dish, giving it a minute to fully melt and blend together. Finally, it's now time to enjoy the fruits of your admittedly pretty easy labor. 
Remember that this basic recipe takes pretty easily to different flavors and add-ins as the mood or inspiration may strike you. For starters, consider sprinkling in some freshly-cracked additional black pepper over the polenta for a bit of extra kick. You might also try some balsamic vinegar for a fruity, tangy take. Ultimately, try whatever spices sound interesting and see where that takes you.
And if you want an interesting way to make a meal out of the stuff, consider dressing up your polenta with all the trappings you'd use for a loaded baked potato. So try sour cream, shredded cheddar, bacon bits, chopped green onions, and so on. Truly, the only thing limiting you here is your imagination.
Polenta Recipe
Frankly, you can enjoy polenta with just about anything. Once you realize how easy it is to make this dish, you're probably going to start doing so quite often.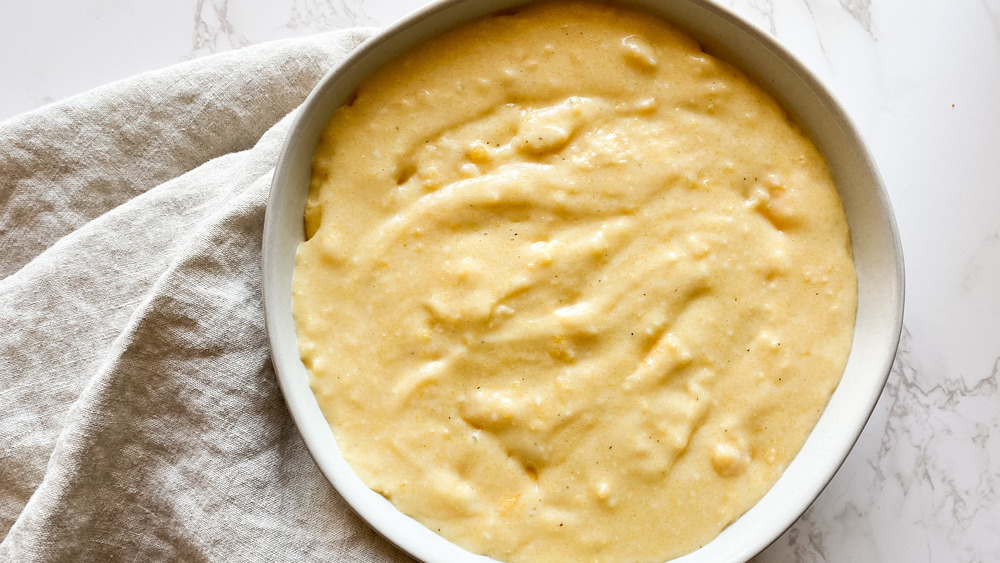 Ingredients
4 cups vegetable broth
1 cup milk
½ teaspoon pepper
½ teaspoon salt
1 cup cornmeal
2 tablespoons unsalted butter
½ cup grated parmesan
Directions
In a medium pan, combine milk and broth. Add salt and pepper. Bring to a simmer.
Add cornmeal and reduce heat to low for 15 minutes, stirring occasionally.
Add parmesan and butter. Stir to combine and then serve.
Nutrition
| | |
| --- | --- |
| Calories per Serving | 309 |
| Total Fat | 13.3 g |
| Saturated Fat | 7.9 g |
| Trans Fat | 0.2 g |
| Cholesterol | 34.0 mg |
| | |
| --- | --- |
| Total Carbohydrates | 35.3 g |
| Dietary Fiber | 1.7 g |
| Total Sugars | 4.0 g |
| Sodium | 612.2 mg |
| Protein | 11.5 g |