Chicken Cordon Bleu Recipe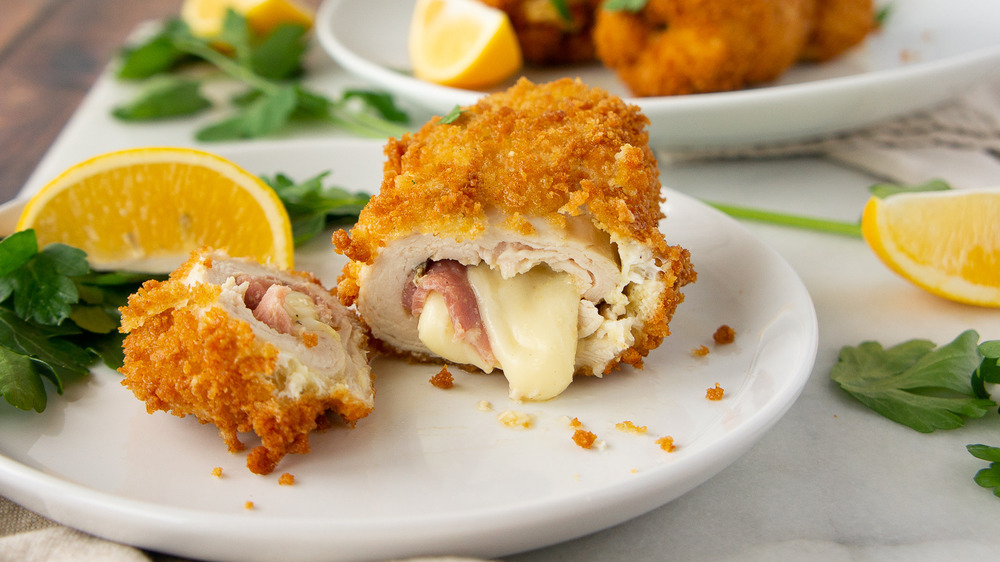 Mikayla/Mashed
Chicken cordon bleu is one of those classic dishes we all know and love, but maybe save for that meal out, when a professional can take care of our stuffing, rolling, and frying. Well, we have some good news for cordon bleu lovers, our rendition is still that classic version with no shortcuts, but is easy to make, incredibly delicious, and looks pretty enough to have come out of a restaurant kitchen.
Next time you get that craving for hot crispy fried chicken, gooey cheese, and a tasty hint of salty ham, look no further. With our recipe and tips, you can have this chicken cordon bleu piping hot and on the table in just 40 minutes. You've been warned, once you've served this to friends and family, you may be the official chicken cordon bleu maker for every dinner party. 
Read more from Mikayla on her food blog The Flour Handprint.
First, what does cordon bleu even mean?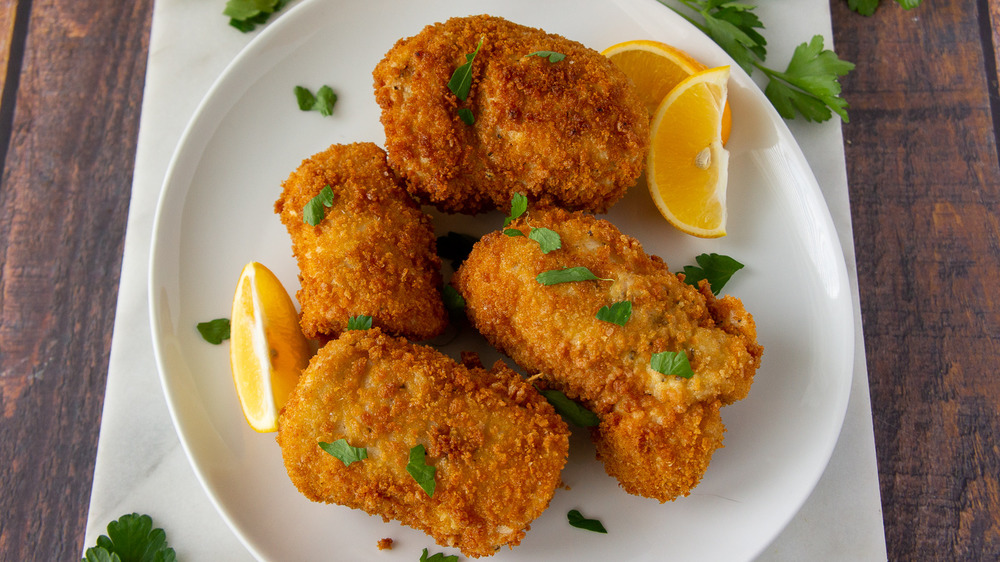 Mikayla Marin/Mashed
Cordon bleu newbies may venture a guess it has something to do with bleu cheese, but in fact, the "bleu" in cordon bleu and has absolutely nothing to do with bleu cheese. "Cordon bleu" is actually derived from the French term for blue ribbon. The dish itself is from Switzerland; it's a well-loved recipe that gets its breaded, crispy inspiration from chicken schnitzel.` 
One of our favorite stories around the origin is that it came out of a busy chef's kitchen when he realized he didn't have enough portions of chicken to serve a large group that had arrived. We don't know if that's how it really went down, but we do know that chicken cordon bleu is delicious and we're happy it was created somewhere.
The basics of chicken cordon bleu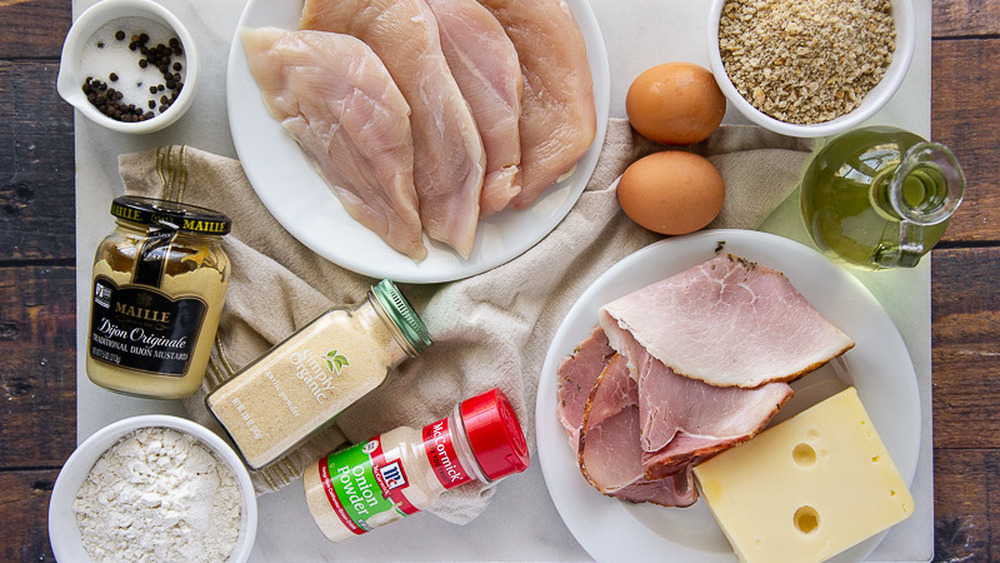 Mikayla Marin/Mashed
The final spiraled appearance of a sliced chicken cordon bleu roulade gives the impression that it's a complicated recipe, when actually, it takes just a handful of pretty simple ingredients to pull it off.
The base flavors for the dish come from thinly sliced boneless chicken breasts, the crispy egg, and breadcrumb fried coating, and finally the savory ham and cheese filling. Those alone build a fabulous dish, but we take it just a bit beyond with a sprinkle of seasonings and a sweep of dijon mustard for extra layers of flavor.
The all important ham and cheese of chicken cordon bleu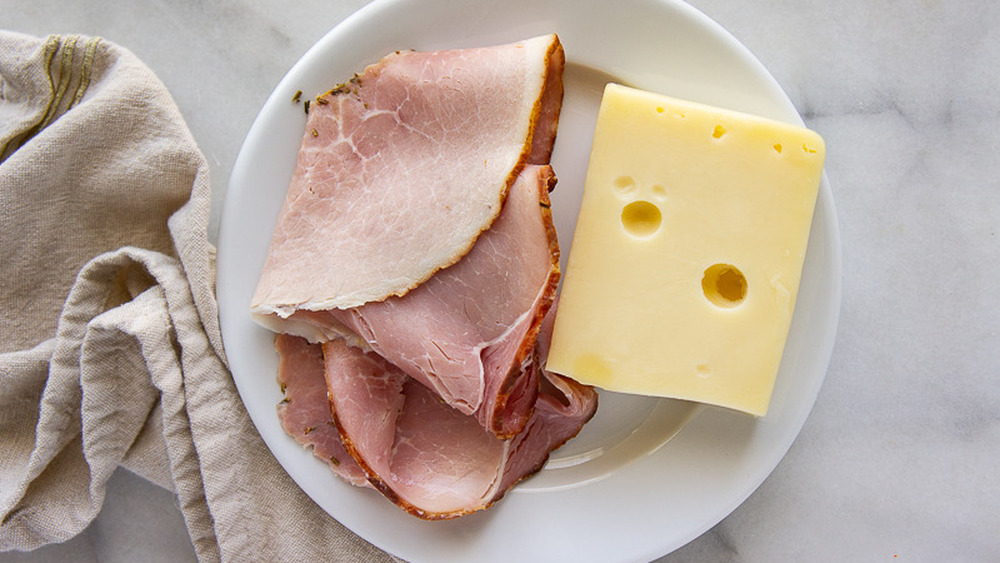 Mikayla Marin/Mashed
We've seen all sorts of variations on what can go into chicken cordon bleu, all of them intriguing and likely tasty. For our version, we stuck with the classic: ham and swiss cheese, but we definitely have some tips on making the best selection.
You can grab whichever ham and cheese you see first at the grocery store, but when it comes to a dish of simple ingredients like this one, your choices matter. We opted to have our deli counter slice some thicker slices of rosemary roasted ham, and went with a high-quality Jarlsberg (a Norwegian variety of swiss cheese) so that we knew our roulade would have a prominent flavor from both.
Certainly, choose what will make your taste buds happy, but since it only takes four small batons of cheese, and four slices of ham, it's a fabulous time to splurge on the good stuff.
Adding some layers of chicken cordon bleu flavor with seasonings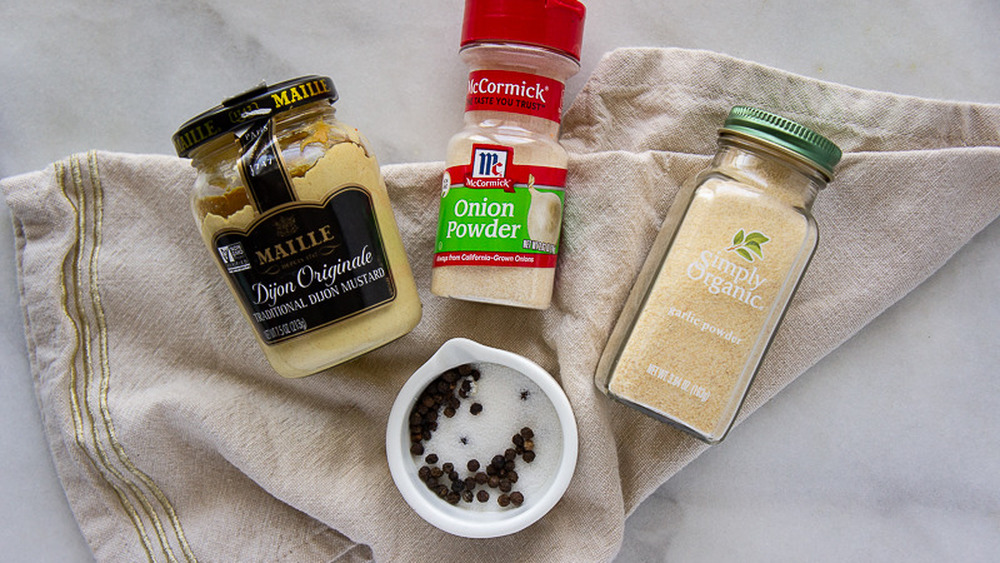 Mikayla Marin/Mashed
The next flavoring component we approached was spices. In addition to the must haves like kosher salt and fresh cracked black pepper, we opted to add 3 more very important flavors – garlic, onion, and mustard.
Instead of cooking down fresh onions and garlic we added the granulated versions directly to the chicken and breadcrumbs, to infuse our flavors into several steps.
Finally, the dijon mustard is a key factor for balancing out the rich, cheesy filling and fried coating. The little bit of acidic tang is all this chicken needs to be perfect.
Finish with the classic 3-part breading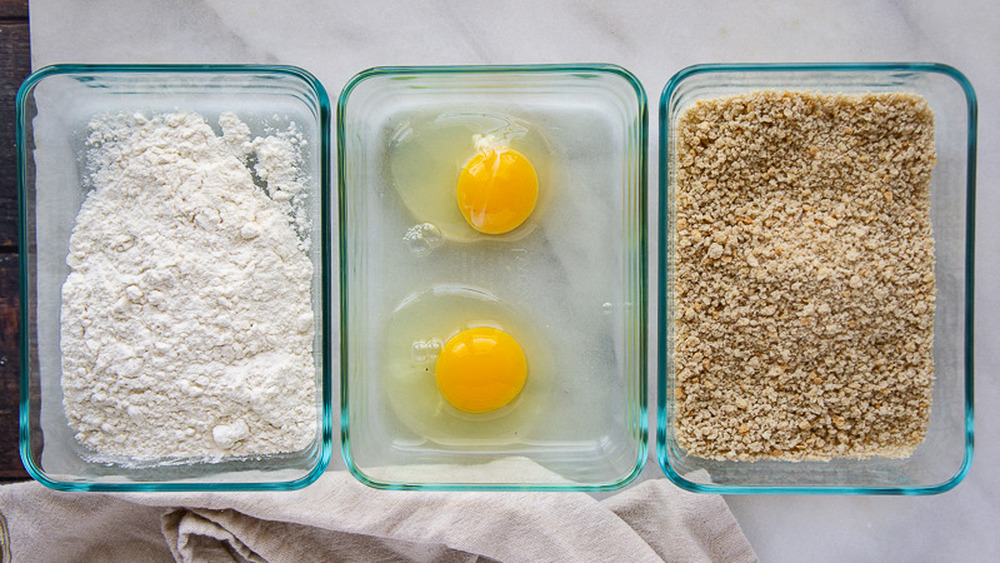 Mikayla Marin/Mashed
We aren't pulling any fast ones here, the breading for your chicken cordon bleu is the classic method we all know and love, because it works!
We'll season up some flour, eggs, and panko breadcrumbs in three separate bowls, then dip our chicken roulades into each. This creates a thick coating that will turn into a golden brown and deliciously crispy crust in the fryer.
If you're stuck without flour or breadcrumbs, don't panic. Any wheat flour or cornstarch can replace the white flour on a one for one basis. For breadcrumbs, any unseasoned breadcrumb, purchased or homemade, will do; panko merely creates the crispiest crust.
Heat the oil for your chicken cordon bleu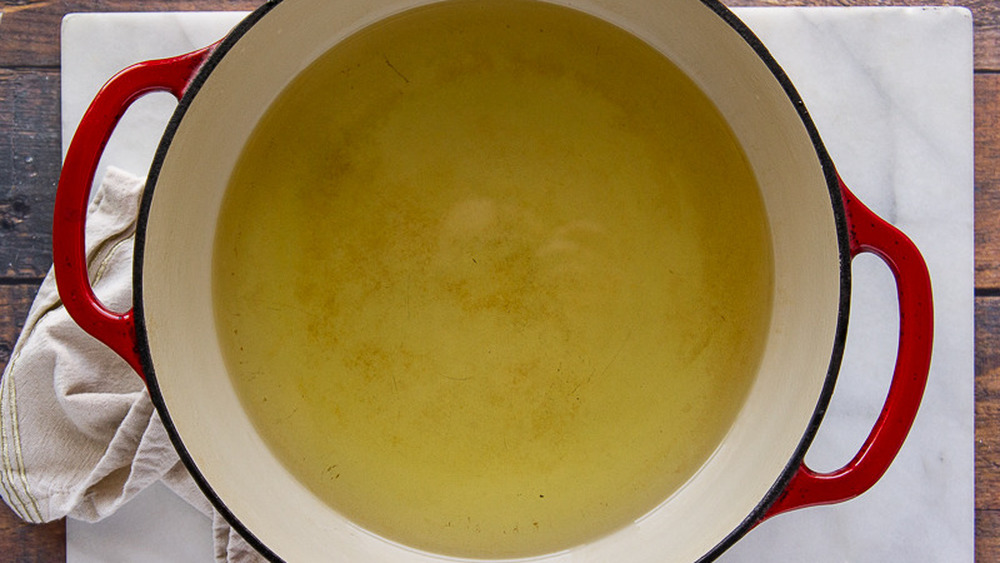 Mikayla Marin/Mashed
There are tons of fabulous baked varieties of cordon bleu, but we're sticking with the classic pot of hot oil for getting our roulades cooked and crispy.
We need just enough for the chicken to be halfway submerged. To fry all four chicken cordon bleu roulades at once we used 6 cups of oil in a large enameled Dutch oven. Those pans are the best for heat retention and distribution, especially when stovetop frying. Don't have a Dutch oven? Not to worry any heavy-bottomed pan will work just fine!
When it comes to oil selection, any high heat oil like grapeseed, avocado, sunflower, canola, or vegetable oil will work. You'll need at least enough to come halfway up on the chicken roulades when frying. Simply avoid low heat oils like olive oil to avoid scorching and adding burnt oil flavors in your chicken.
Getting the chicken flat and ready to roll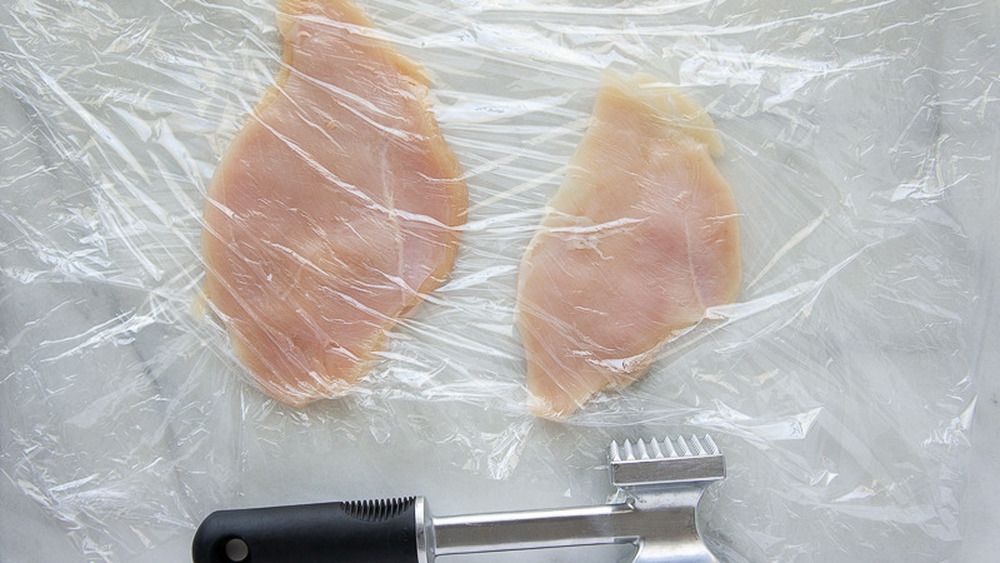 Mikayla Marin/Mashed
We'll start with the chicken. Make a smooth slice through the middle of the chicken, so it opens like a hamburger bun to create two breast filets. Separate the two halves and repeat, placing all four chicken cutlets onto a sheet of plastic wrap or wax paper. Cover them with another sheet and get your meat tenderizer ready.
Using firm downward sweeping motions, smack the flat side of the tenderizer against the thickest parts of the chicken, sweeping the hammer out toward the edge of the chicken breast with each strike. Tenderizing the chicken will help it cook evenly, so go slow and you'll have the perfect ½" thick chicken breast cutlets in no time.
No meat tenderizer, no problem! Swap in a rolling pan, a small heavy sauté pan, or an empty wine bottle.
Next, layering and rolling flavors into a roulade for the chicken cordon bleu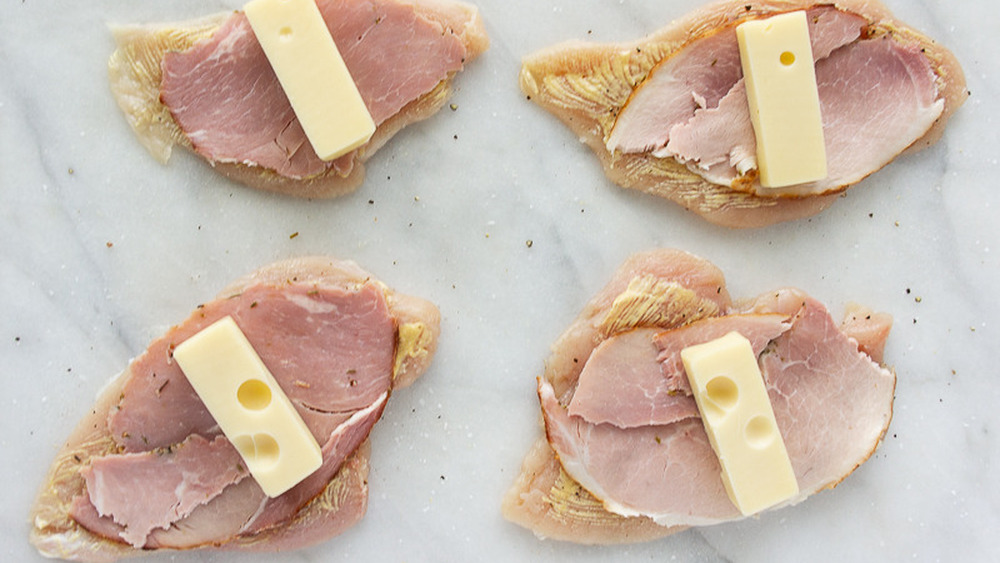 Mikayla Marin/Mashed
Sprinkle the first side of each chicken breast with salt, pepper, garlic, and onion powders. Flip them over and repeat on the second side. Then, using a small pastry brush, spread a shy half teaspoon of dijon onto one side of the chicken. On that same side, lay down a slice of ham on top of the dijon. Do your best to line the ham up to the shape of the chicken.
On top of the ham, place a small baton of cheese horizontally onto the chicken across the widest part of the cutlet. Next, we're ready to make our chicken into those gorgeous, iconic roulades. We'll be rolling it up lengthwise, over the top of the cheese stick, starting at the widest end of the chicken cutlet, and rolling toward the narrow pointed end.
Keep them as tight as you can and secure the small pointed end of each breast to the roll with a toothpick.
Freezing and breading for successful chicken cordon bleu frying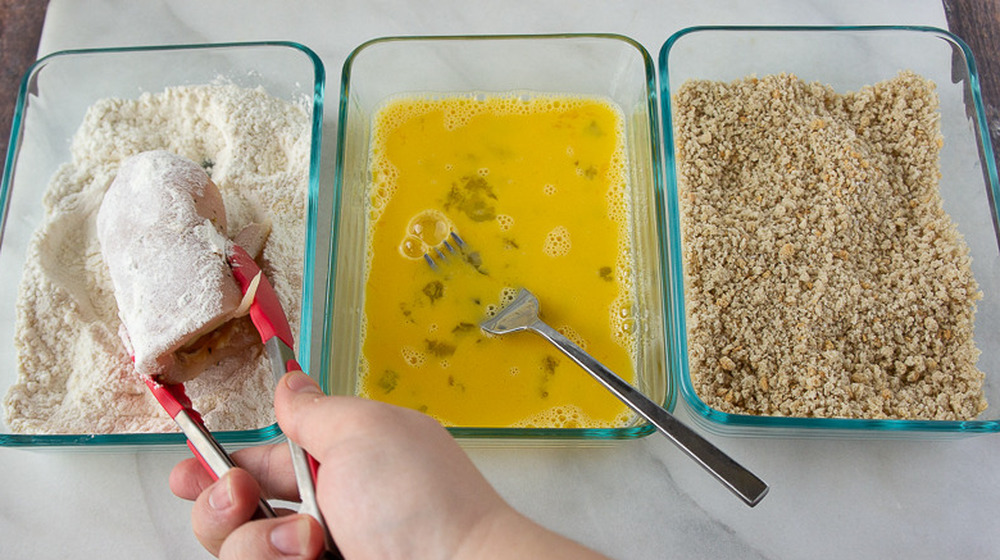 Mikayla Marin/Mashed
Next, place all of your rolled roulades in the freezer while your oil gets hot. This is really important! Keep them there for at least 15 minutes. The freezer chills the chicken and cheese down so when it hits the oil, the breading has a chance to get brown and crispy before the chicken gets overcooked and the cheese melts out.
As your oil approaches 360°F, bring those roulades out of the freezer for breading and frying. By the time we're done, the oil will be at the proper temp. Dip the roulades into the flour first, and make sure to thoroughly coat the sides and ends, even if ham or cheese is peeking out. Repeat this with the egg, then transfer to the breadcrumbs, and again, make sure the ends are well coated too.
Fry for crispy golden brown chicken cordon bleu perfection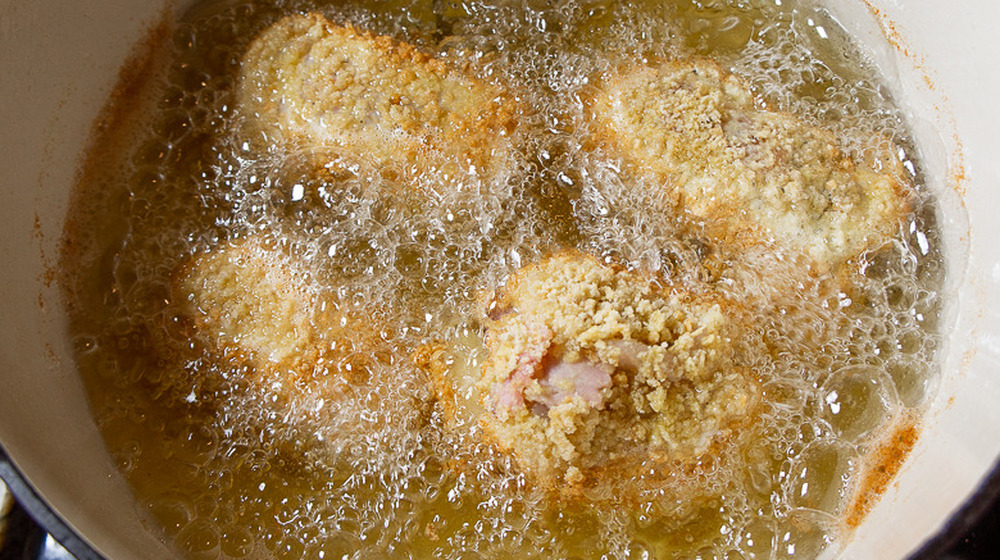 Mikayla Marin/Mashed
By the time your chicken is all breaded, the oil should be up to the proper 380°F. Begin adding in your chicken carefully. Keep an eye on the temp, if it drops too fast, turn the heat up or wait to add more chicken until the temperature recovers. We're aiming for a consistent 365°F to 375°F to achieve crispy, not greasy, fried chicken cordon bleu.
Cook each chicken cordon bleu portion for 10 to 12 minutes, or until they're deeply golden brown, crispy, and cooked through. If you temp the chicken, it should read 165°F, but be sure you're not temping the cheese or ham if you're attempting to use your thermometer.
As always, please use caution when working with hot oil! 
Enjoy the chicken cordon bleu immediately for gooey satisfaction!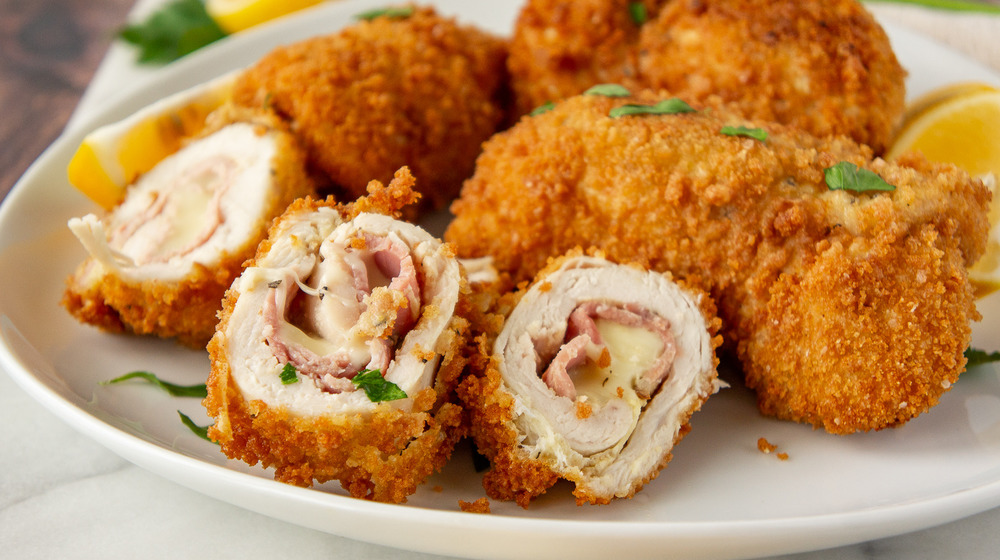 Mikayla Marin/Mashed
When you're planning chicken cordon bleu like this for dinner, we definitely recommend getting some sides made ahead before your chicken hits that oil. Why? Because the absolute best way to serve cordon bleu is right away, straight out of the hot oil, while the cheese is still melting and gooey.
Serve whole portions and allow your dinner guests to cut into the cheesy center themselves, or slice and serve gorgeous spiraled roulades for a stunning protein on any plate. However you choose to serve it, this is a classic recipe we're sure you'll be happy to have.
Chicken Cordon Bleu Recipe
Chicken cordon bleu is a dish that's sure to impress your dinner guests. With fried chicken, gooey cheese, and ham, this recipe is sure to become a favorite.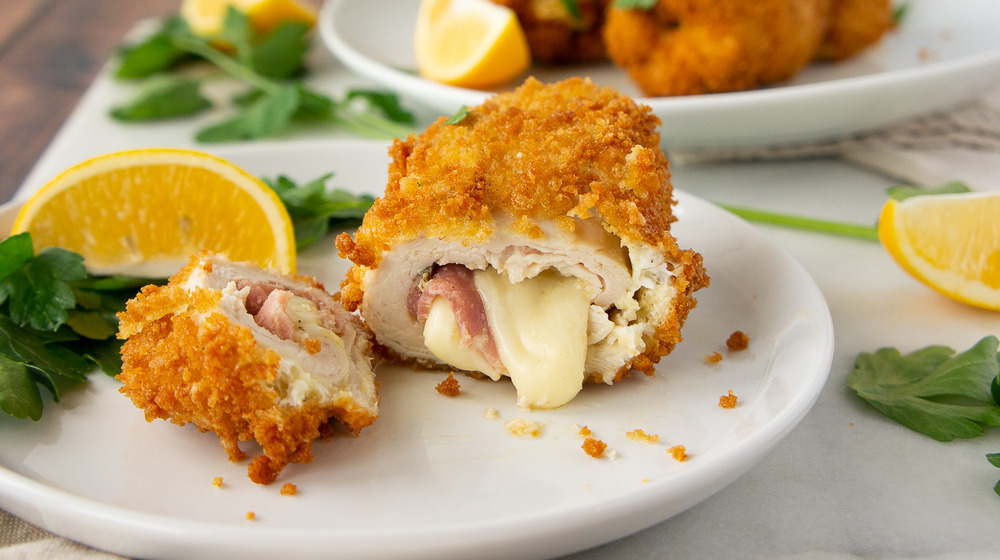 Ingredients
2 chicken breasts
1 ½ teaspoon kosher salt
½ teaspoon black pepper
1 teaspoon garlic powder
1 teaspoon onion powder
1 ½ teaspoons dijon mustard
2 ounces swiss cheese
4 slices ham
½ cup flour
2 large eggs
¾ cups panko bread crumbs
Directions
Slice the chicken breasts in half and place in a single layer on a sheet of plastic or parchment, leaving 2 inches of space between each half.
Cover with a second sheet of parchment or plastic and pound thin until about a ½ inch thick.
Use ½ teaspoon of the salt, and ¼ a teaspoon of the garlic powder, onion powder, and pepper to season the first sides of the chicken cutlets.
Flip, and use a pastry brush to spread a thin layer of dijon mustard on the second side of each cutlet. Sprinkle the other ½ teaspoon of salt, and a ¼ teaspoon of onion, garlic, and pepper over the mustard.
Layer one slice of ham across the chicken, cutting or trimming to make it fit as needed. Slice your swiss cheese into thick batons, about 1-inch square if possible, and lay across the chicken at its widest point.
Rolling lengthwise, but starting at the widest end, roll the chicken breast toward the point as tightly as possible. Secure each with a toothpick and place in a freezer-safe container. Place in the freezer for 15 minutes.
Place your oil in a heavy-bottomed, wide pan like a Dutch oven or stockpot. Heat to 380°F.
While your oil heats, set up a breading station with flour in one bowl, eggs lightly beaten in a second, and breadcrumbs in the third. Season the breadcrumbs with the remaining salt, garlic powder, and onion powder.
When the oil approaches the right temperature, take the chicken from the freezer and bread it by first coating it in flour, then in the egg, then in the breadcrumbs. Make sure all sides and ends are thoroughly coated at each step.
Fry for 10 to 12 minutes, or until very golden brown and the chicken is cooked through to 165°F. Serve immediately.
Nutrition
| | |
| --- | --- |
| Calories per Serving | 388 |
| Total Fat | 17.4 g |
| Saturated Fat | 6.5 g |
| Trans Fat | 0.1 g |
| Cholesterol | 177.7 mg |
| | |
| --- | --- |
| Total Carbohydrates | 23.2 g |
| Dietary Fiber | 1.5 g |
| Total Sugars | 0.8 g |
| Sodium | 458.3 mg |
| Protein | 32.7 g |