Chipotle's Makeup Collab Wants To Make Your Face Look Like A Burrito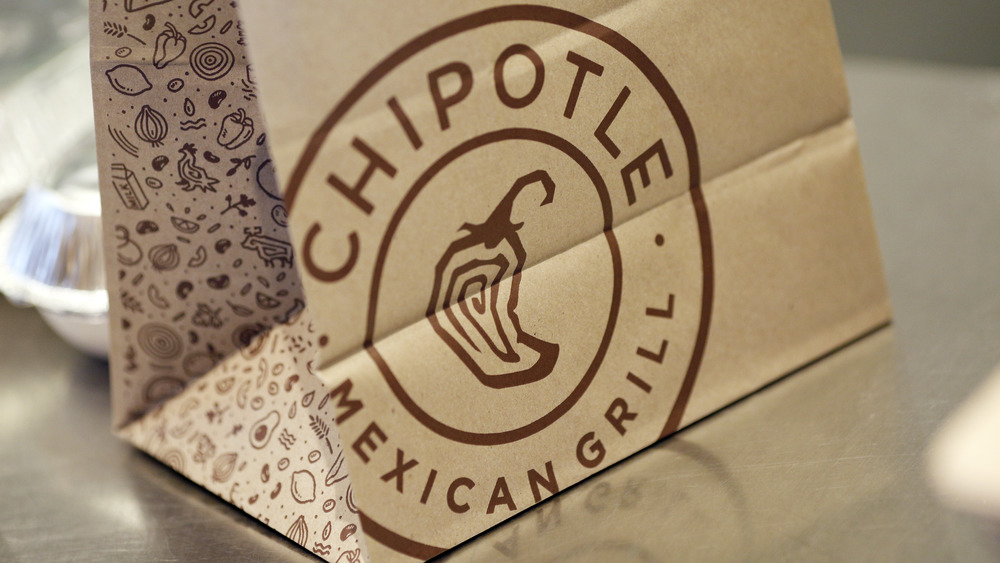 Bloomberg/Getty Images
Health and beauty go together like, well, chips and salsa. As fast-casual restaurants go, Chipotle is healthy-ish, depending on what you order (via People). And in the beauty business, e.l.f. Cosmetics is known for high-quality makeup at low prices (via College Fashion). The makeup line also has a reputation for appealing to preteens. All considered, then, it makes some sense for the Mexican-style chain and the cosmetics company to collaborate. 
But don't look for e.l.f. foundation in Chipotle's sour cream bins. (We all know Chipotle doesn't want to put anything in its food line that's going to make people sick.) On the other hand, if you want to apply makeup that resembles salsa, guacamole, or even chorizo, then the Chipotle-e.l.f. collab has just what you're looking for.
Starting March 9, Chipotle and e.l.f. Cosmetics will offer four makeup products with a Tex-Mex theme. There's a 12-shade eyeshadow palette that resembles the Chipotle service line with its emphasis on green and red tones (and a speckled brown that will remind you of chorizo).
Chipotle and e.l.f. sold out its previous collaboration in four minutes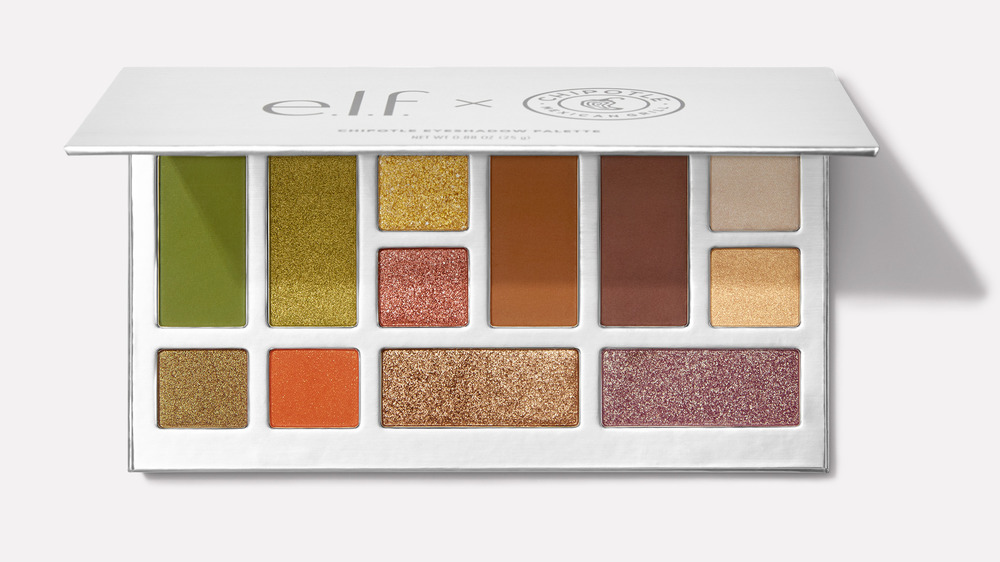 Chipotle
Along with the eyeshadow, Chipotle and e.l.f. will offer three other products. The Make It Hot lip gloss gives you a "mild-yet-alluring tingling sensation" when you apply it, sort of like hot salsa. Then there's the Extra Guac sponge set, which comes with two sponges: one green and shaped like an avocado, the other dark brown and pit-shaped. To hold everything together, Chipotle and e.l.f. offer the Eyes Chips Face makeup bag, which resembles the paper bag Chipotle's chips come in and which, yes, will only look cool to preteens. (As fans of the makeup line could tell you, "Eyes Chips Face" plays off the name e.l.f., which stands for "eyes, lips, face." For your ears, nose, and throat needs, you'll need to consult a doctor.)
If you still think a collaboration between Chipotle and e.l.f. makes no sense, then you may not know this is the second product line the restaurant chain and cosmetics company have released (via Refinery29). The first time around, the collab sold out in four minutes (via Best Products). So you may want to mark your calendars for March 9, or better yet sign up for a notification from e.l.f. so you can get your order in. In case you were wondering, chips do come with that. You get a coupon for free chips and guacamole when you order the eyeshadow palette.