How The Founder Of Wendy's Helped Create KFC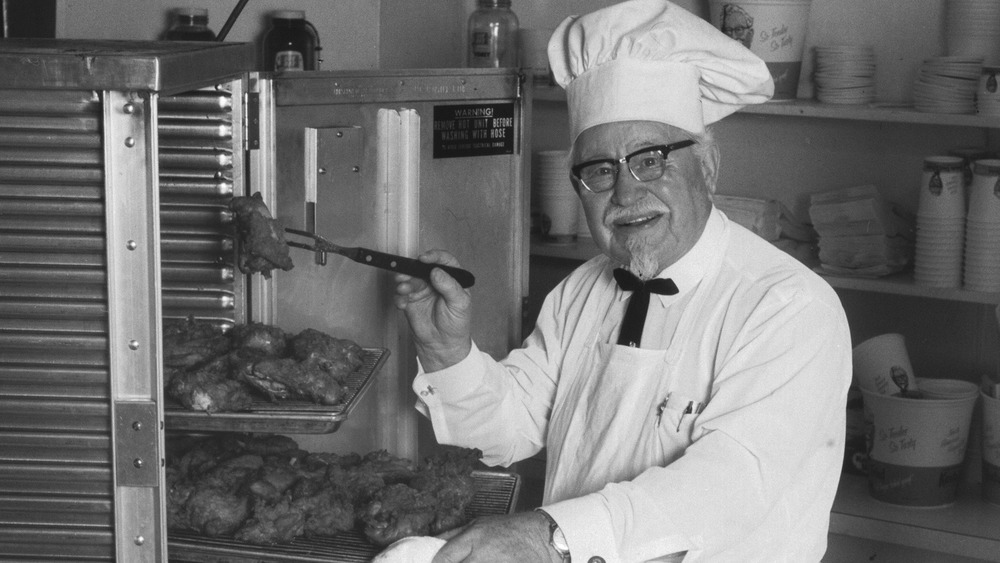 Leila Grossman/Getty Images
Wendy's and KFC are two of America's most popular fast food chains. One is well-known for its square-shaped, freshly-prepared burgers; the other for its crispy, juicy fried chicken. Both were founded by humble men who simply wanted to make good food to serve their communities. But did you know that one of those food chains wouldn't be what it is today without the help of the other's founder?
In 1930, a man named Harland Sanders cooked and served chicken and steak at a Shell gas station in the small town of Corbin, Kentucky, according to The Balance. He eventually opened Sanders Court & Café, a popular pitstop for travelers en route to Florida. After retiring and selling the restaurant, he concluded his career with the role for which people know him best.
Sanders reconnected with Pete Harman, a long-time friend and successful restaurateur out of Salt Lake City. He convinced Harman to let him sell his incredible chicken dishes at his restaurant. Sales skyrocketed, and Harman agreed to let Sanders on board. KFC (originally named Kentucky Fried Chicken) was officially founded as a company in 1952 by 65-year-old Sanders and Harman (per Business Insider). Chicken enthusiast Sanders spent several years perfecting his famous, finger-lickin'-good recipe of 11 herbs and spices — which is still used in today's KFC kitchens.
So, when and where did this Dave Thomas fella come into the picture, and how did he change the KFC brand as present-day consumers know it?
How did Dave Thomas help Colonel Sanders?
Dave Thomas served in the U.S. Army during the Korean War (via Biography). When his military service ended in 1962, Thomas reconnected with his former boss and Hobby House restaurant investor Phil Clauss, one of the first franchise owners of the up-and-coming Kentucky Fried Chicken. According to the official Wendy's website, Clauss called upon his former employee to revive four struggling KFC restaurants in Columbus. Thomas was offered a 45 percent profit share if he was able to save the failing locations, Mental Floss reports. During this time, Thomas met Colonel Sanders, the chain's retirement-aged founder, and the two quickly formed a strong bond and mentorship.
More than 40 years Sanders' junior, Thomas helped revitalize and modernize the KFC brand and its offerings. For example, Thomas simplified the KFC menu and invested in creative marketing. One example: an illuminated sign that resembled a giant bucket of chicken. Thomas also introduced the idea for the iconic red-and-white-striped bucket, as well as the family-style bucket. He even convinced Colonel Sanders to appear as himself in television commercials to connect with his audience in a genuine way (per The Balance).
By 1968, 35-year-old Thomas sold the franchise for $1.5 million. With that money, Thomas opened his own burger joint in 1969 after getting bored of the same old options in the Arch City. He named his business after his youngest, then-eight-year-old daughter Melinda — aka Wendy.
Dave Thomas and Colonel Sanders: two passionate fast food legends who happily helped one another succeed.