Turkish Delight Recipe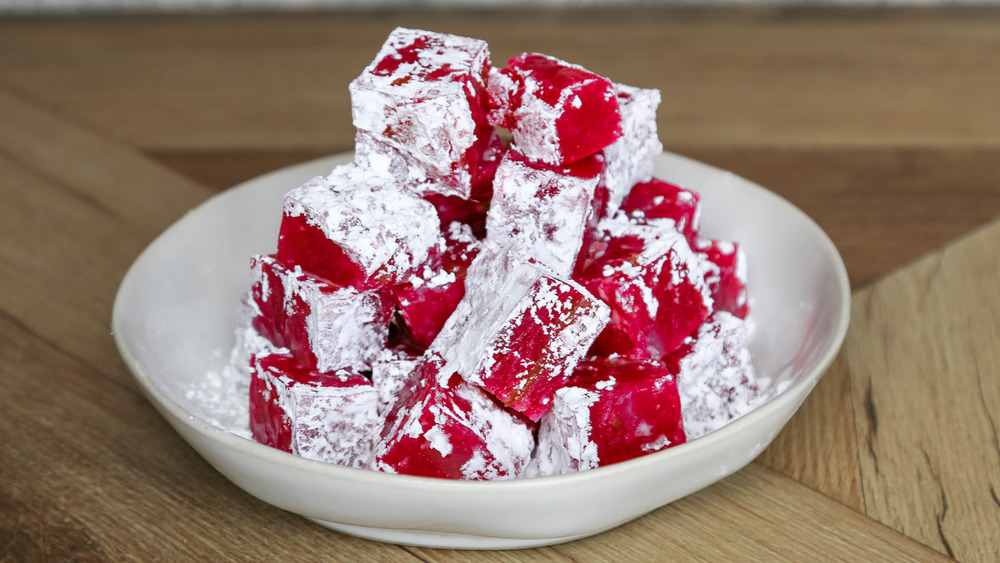 Maren Epstein/Mashed
Turkish delight, while as sweet as a candy can be, is one that nevertheless has its sinister side, at least in the annals of children's literature. In C.S. Lewis' classic The Lion, the Witch, and the Wardrobe, Turkish delight was the favorite candy of Edmund Pevensie, Tor reports, and the magically addictive version supplied to him by the White Witch bound him to do her evil will. This led to Very Bad Things happening, as you will know if you've read the book or seen the movie.
The candy originated not in Narnia, but in the Ottoman Empire, where it may possibly have been created half a millennium ago at the request of a sultan who wanted to sweeten up the ladies in his harem (via The Culture Trip). Whether or not the invention led to that sultan's getting a little more sugar, it certainly resulted in a candy that's every bit as delightful as its name might imply. 
With such a pedigree, it seems as if Turkish delight would be something that could only be crafted by a secret society of confectioners privy to arcane candy-making secrets. If that were ever true (which seems unlikely, since we just made up that story), then recipe developer Maren Epstein of Eating Works must have cracked the code and is risking the wrath of the candy makers' cabal to share it with us. Yet, Turkish delight, it turns out, isn't as difficult to make as you might imagine.
Assemble the ingredients for the Turkish delight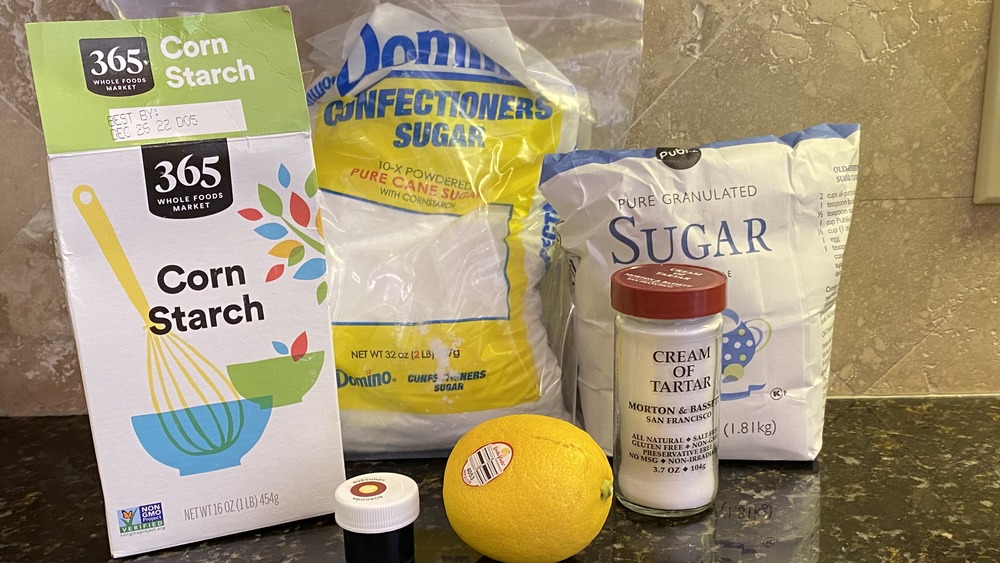 Maren Epstein/Mashed
Most of the ingredients you'll need to make Turkish delight are things you probably already have in your pantry, though you should still check just to make sure you have sufficient amounts to make this classic treat. One of the quickest ways to screw up a baking project, after all, is to get started and then realize you've run low on something crucial at a time when you can't easily call a time out while you run to the store. 
You're going to be needing two types of sugar here –- the regular kind (which goes by the name of granulated, if you want to be all formal and stuff) that's used to make the candy itself, and powdered, or confectioner's, sugar to coat the finished product. You'll also need corn starch and also some cream of tartar, as well. This last-named item is one you may actually have to go out and buy before attempting this recipe. Unless you make a lot of meringues already, it's likely one of your less frequently-used baking ingredients.
Two additional ingredients would fall under the heading of "optional". Red food coloring is what gives these candies their pretty pink hue, but you could use another color if you like, or just leave it out altogether if you prefer to avoid food dyes. You may also wish to flavor your Turkish delight with a few drops of rose water.
What rose water brings to this Turkish delight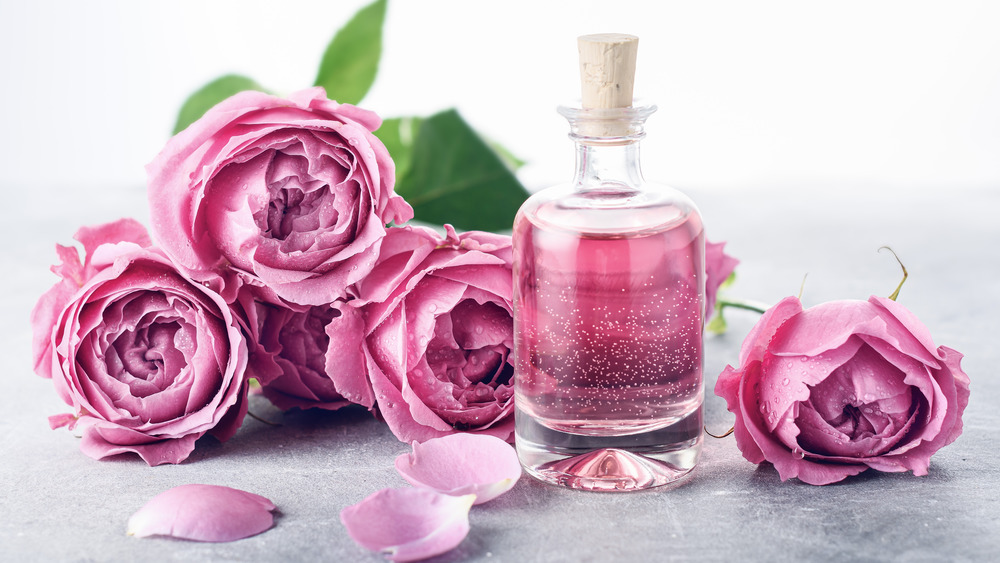 Shutterstock
If you're not familiar with rose water, Martha Stewart says it was very commonly used in baking back in your great-great-great (and so on) grandparents' day, right up until 19th-century advances in vanilla production led to the latter taking over as the universal baking flavor ingredient. Rose water originated in the Middle East, and today is still a very popular flavoring in Middle Eastern and South Asian cooking. If you add it sparingly, rose water adds a sweet, delicate touch to candies. However, too much rose water may make your dish taste as if it's been doused with perfume.
Rose water can be found in just about any Middle Eastern grocery as well as in some specialty stores. If it's summertime and the roses are in bloom, however, it's actually quite easy to make it yourself. Wellness Mama describes two methods for turning fresh rose petals into rose water. One of these involves simmering them over very low heat and the other being a more complex process for distilling rose essence by way of steam. 
If you're not looking for an extra DIY project and you don't have easy access to non-standard groceries, that's not a deal-breaker. Epstein lists rose water as an optional ingredient (she states that she's not a fan herself), and says it's okay to substitute a few drops of a different flavoring such as lemon extract or orange juice if you prefer.
Start your Turkish delight with a sugar syrup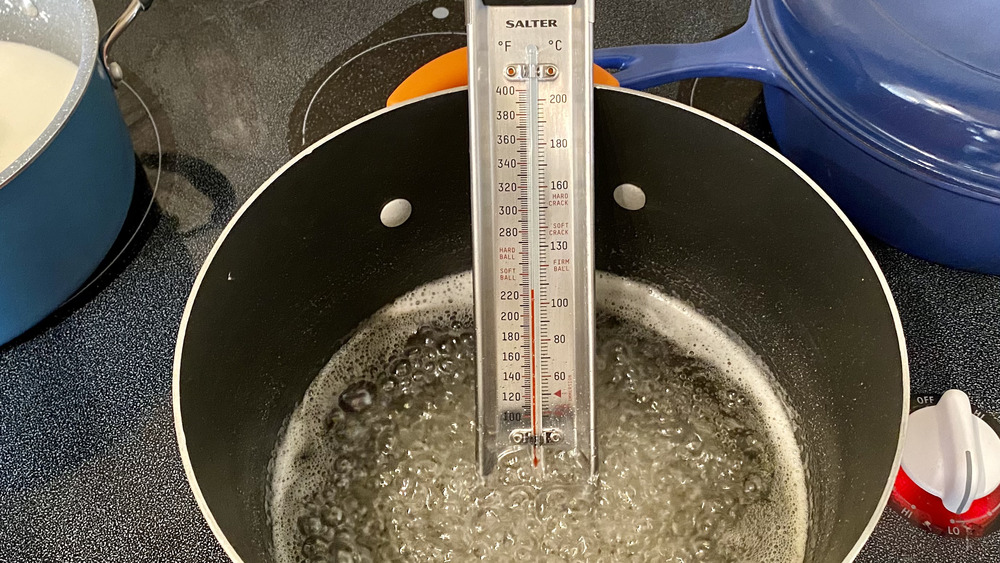 Maren Epstein/Mashed
Mix the sugar, the lemon juice, and 1 ½ cups of the water in a medium-sized saucepan, and whisk them together until all of the sugar has dissolved. Turn the heat up to medium-high, and bring the mixture to a boil, but don't stir it while it's heating. Use a candy thermometer to check the temperature –- this is one piece of equipment you really will need to invest in before you try making any candy more complicated than a simple 3-ingredient fudge. If you already own a deep-fry thermometer, though, you're good to go. Cooking Clarified explains that these two types of thermometers are basically one and the same.
Anyway, back to that candy thermometer. Once the temperature of your sugar syrup hits 215 degrees Fahrenheit, Epstein says it's time to start step two of the Turkish delight-making process. Don't take the syrup off the heat, though! It's not done cooking yet, and could actually take from 45 minutes to an hour to reach the final temperature of 240 degrees Fahrenheit.
Cook up a cornstarch paste for Turkish delight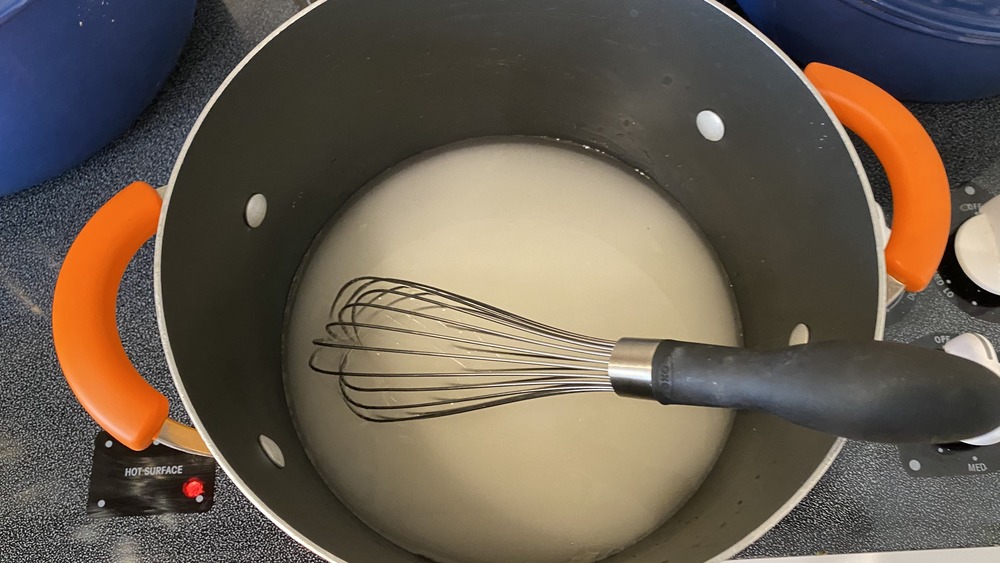 Maren Epstein/Mashed
In another medium saucepan with a handle (that's going to come in handy with all the whisking that's about the happen), combine the rest of the water with the cornstarch and the cream of tartar. To do that, start by mixing the dry ingredients, then stirring in just a little liquid at a time until a paste forms. Add a little more water, stir, then a little more, and stir again. Keep stirring and adding in small amounts of water until what you've got is sufficiently liquid, so that you can just add all of the remaining liquid without having to worry about the mixture clumping up. 
Turn the burner to medium-low, then continue to cook the starch mixture, whisking constantly so that it doesn't get lumpy as it warms. It will thicken up, which is a good thing, but you want it to stay smooth.
Add the syrup into the starch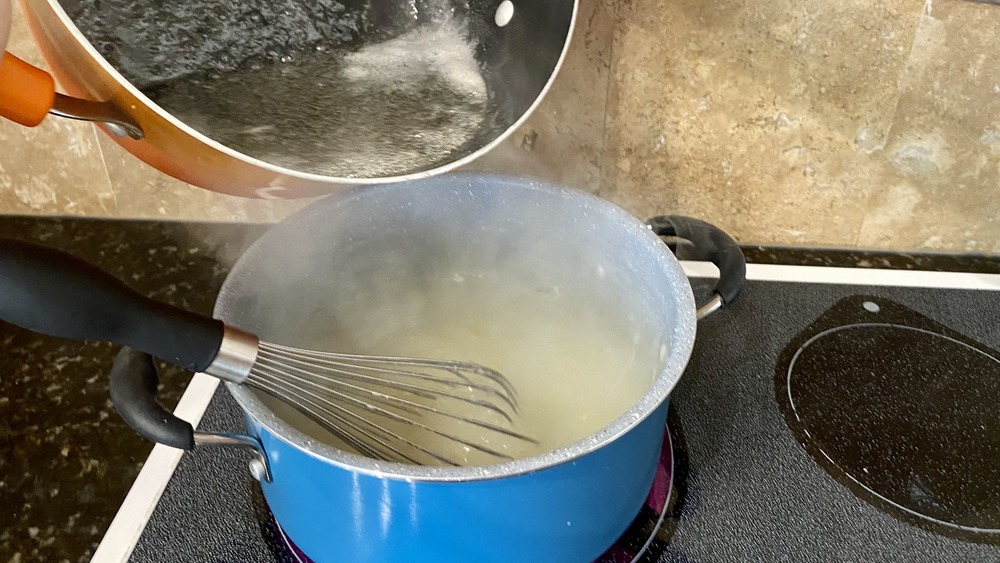 Maren Epstein/Mashed
While the starch is cooking, you'll have to perform some multitasking, as any good confectioner must do. Keep whisking and, at the same time, monitor the temperature of the syrup. As soon as the syrup reaches 240 degrees Fahrenheit, take that pan off the heat and pour the contents into the cornstarch mixture. Keep whisking! 
Once you've whisked every last bit of syrup into the mixture, turn up the heat and bring it to a boil. Simmer the mix, stirring every 5 minutes, and check the color as it cooks. Once the candy mixture is thick, gluey, and golden in color, it's done cooking. However, know that this is not a quick process and the candy could take up to an hour to reach this stage. Consider preparing a good playlist in advance to keep yourself entertained.
Finish up the Turkish delight with powdered sugar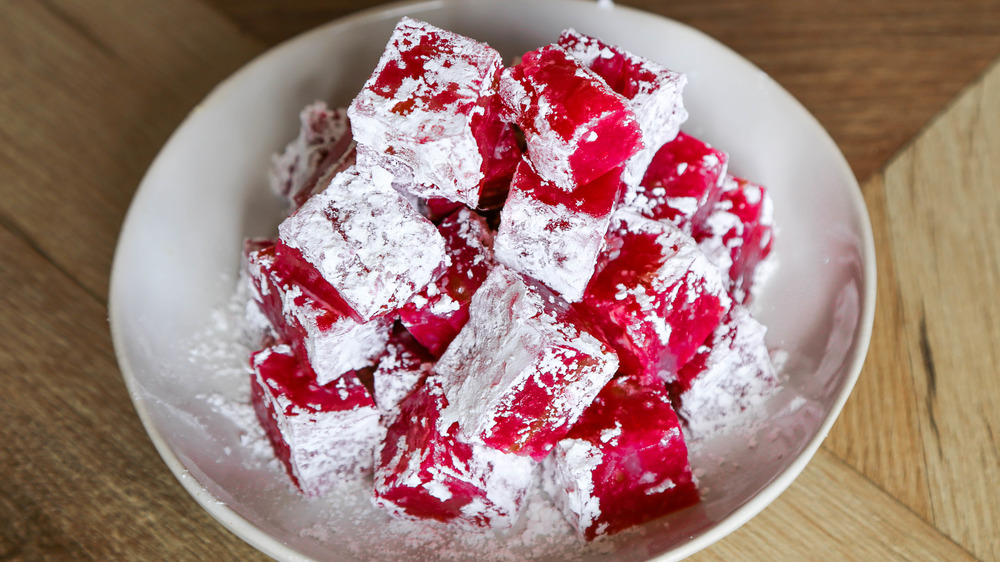 Maren Epstein/Mashed
After your sugar and corn starch mixture has reached the correct temperature and consistency, ake the pan off the heat and then stir in the food coloring, along with the rose water or other flavoring you plan to use. Pour the candy mixture into a greased 8-inch square pan and allow it to sit, uncovered, for 8 hours. 
Once the Turkish delight is all set up, turn it out of the pan and use a sharp, lightly-oiled knife to cut it into 1-inch squares. Dredge each piece of candy with powdered sugar. The candy is best when fresh, but can be stored in an airtight container (a Ziploc bag would work pretty well here) on the countertop for about 4 days. If you must, you can also store Turkish delight in the fridge for up to a week, although be warned that the cold, dry environment of a fridge won't do much for the texture of Turkish delight as the days go on.
You can dress up your Turkish delight in all manner of ways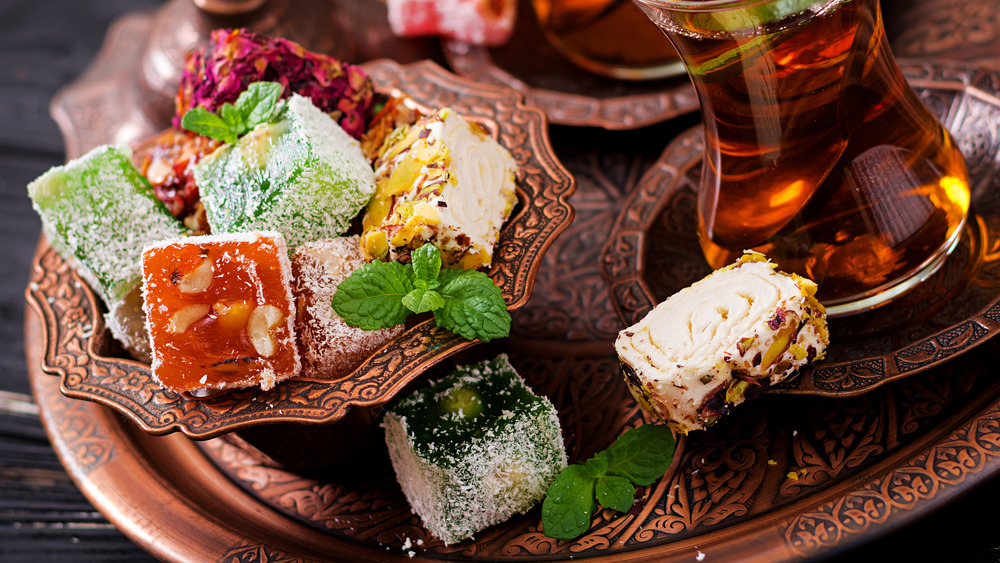 Shutterstock
The thing about Turkish delight is that it's such a simple, basic candy that it lends itself very well indeed to numerous variations. World cuisine website 196 Flavors says that not only is rose water a traditional Turkish flavoring, but so is lemon and orange blossom water. Those ingredients, by the way, are also easily purchased in most Middle Eastern groceries, although things like orange blossom water are perhaps not so easy to DIY unless you live in Florida. 
196 Flavors also says that nuts and chopped dates are frequently mixed into Turkish delight to add a little texture as well as flavor. In the two recipe variations that they supply, one is for Turkish delight flavored with orange water and incorporating chopped pistachios, while the other features rose water and roasted hazelnuts.
There's no reason to stop there if you're really feeling like getting creative with your confectionery. Online Turkish grocer Gourmeturca offers a wide range of Turkish delight in flavors including pomegranate, chocolate, mint, mango, and cinnamon as well as Turkish delight that has been dipped in chocolate. You can also find this confection rolled in powdered pistachios, dried rose petals, or pastry crumbs. Think of all the pleasures that await once you master your Turkish delight-making techniques! Just don't use your candy-making powers to lure anyone over to the dark side of Narnia, since that would be pretty evil, after all.
Turkish Delight Recipe
Some classic candies and treats can look pretty intimidating to make. Yet, Turkish delight, as it turns out, isn't as difficult to make as you might imagine.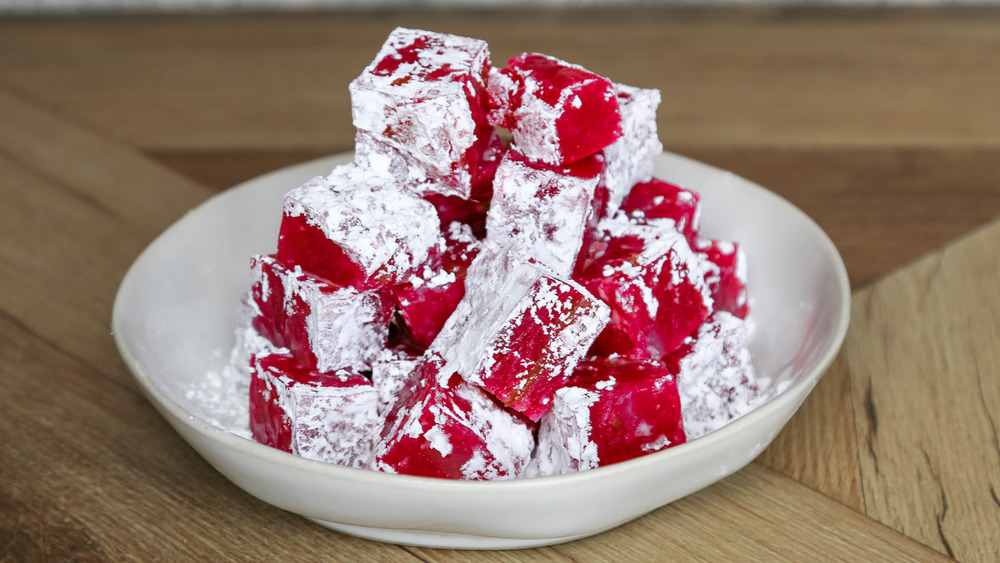 Ingredients
4 cups sugar
4 ½ cups water, divided
1 teaspoon lemon juice
1 ½ cups cornstarch
2 teaspoons cream of tartar
½ cup powdered sugar
Optional Ingredients
2 drops red food coloring
½ teaspoon rose water or other flavoring
Directions
In a saucepan combine sugar, lemon juice, and 1 ½ cups water. Whisk until the sugar dissolves, then bring to a boil without stirring. Once the temperature of the sugar reaches 215 degrees Fahrenheit, start preparing step 2.
In a medium saucepan with a handle, combine the rest of the water, corn starch, and cream of tartar. Over medium-low heat, whisk constantly to prevent clumps from forming. The mixture will turn into a paste.
Once the sugar syrup reaches 240 degrees Fahrenheit, add it to the cornstarch mixture, whisking constantly. Once all of the sugar is incorporated. bring the syrup to a boil. SImmer, stirring every five minutes, until it turns golden brown.
Remove from the heat and stir in the food coloring and flavoring, if desired. Turn out the mixture into a greased 8-inch square baking dish. Allow it to set uncovered for 8 hours.
Turn out the candy, slice into one-inch squares, and dredge with powdered sugar.