The Pickled Ingredient Bobby Flay Always Keeps In His Fridge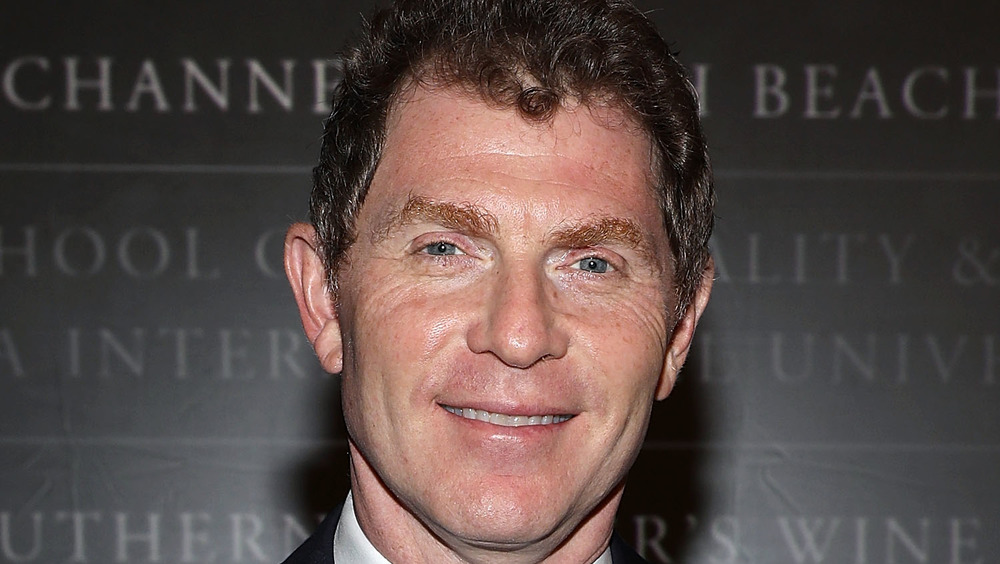 Aaron Davidson/Getty Images
You've probably started to lean on long-lasting pantry staples to punch up everyday dishes during lockdown. Maybe you've loved putting Trader Joe's Everything But the Bagel Seasoning on toast, anchovies in pasta sauces or stir-fries, or olives in salads and sandwiches. How does Bobby Flay zhuzh up a quarantine meal? He's an onion lover.
During an Instagram Q&A through Misfits Market, Flay was asked about his favorite type of onion, which he said was "a very difficult question to answer." He spoke lovingly about using Spanish onions (also known as yellow onions) in sauces, spring onions in salads or as a topping for meat or fish, and shallots for shallot oil. "Shallots are a little more sweet than an onion but they always bring that really great savory flavor," he said while casually flipping crepes. But there is another kind of onion Flay adores and constantly keeps stocked in his fridge.
The one type of onion Bobby Flay always has on hand
There's one type of onion that Flay enjoys so much, he pickles it so it will last for weeks on end: red onions. "I always have pickled red onions in my refrigerator," he said. "It's a really easy recipe. Basically, it's some sugar, some red wine vinegar, and the onions, and you have pickled red onions for months." Flay's basic pickled red onion recipe — in which you simmer the pickling ingredients and pour them over the onions — is featured on the Rachael Ray Show website. In another version for the Food Network, Flay adds honey, olive oil, and cilantro to the mix, and he simply combines the ingredients in a bowl without using heat.
Flay said he uses his pickled red onions "on everything" but specifically mentioned that they go well with Mexican food and other Latin cuisines — and on top of burgers. When he says "on everything," we believe him; a quick search online yields Flay's recipes for dishes like roasted-poblano guacamole and an everything-style hash brown cake, both topped with his favorite pickled ingredient. Now grab a jar, get to pickling, and flavor your at-home meals like a celebrity chef.