The Surprising Way Nyesha Arrington Used Shrimp Shells In Tournament Of Champions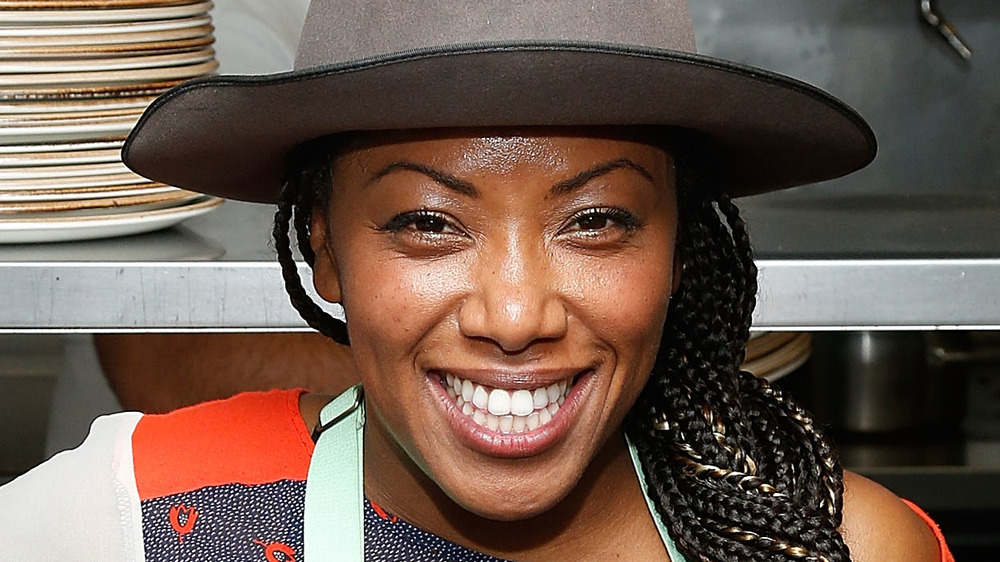 Lars Niki/Getty Images
Save your shrimp shells! Save your shrimp shells! Save your shrimp shells! And if you've successfully said that sentence three times out loud, here's how to use those leftover shrimp shells: You could make a stock, fry the heads and tails for a beer-time snack, or take a tip from Los Angeles-based chef Nyesha Arrington and turn them into a creamy, shellfish-scented hollandaise. That's what the professional cook did in the season two premiere of Tournament of Champions on Food Network, and it won her first place over four established West Coast chefs (via Food Network).
If you've never seen Tournament of Champions, it's one of 10 Food Network shows that has been hosted by Guy Fieri — really, it's true (via The Things) — in which 16 chefs compete in a bracket-style culinary tournament until one wins the coveted championship. A "randomizer" generates requirements for each cooking challenge; in Arrington's case, the criteria were shrimp, russet potatoes, a blender, and Sunday brunch — all put together in 30 minutes.
How to make and use shrimp-shell hollandaise at home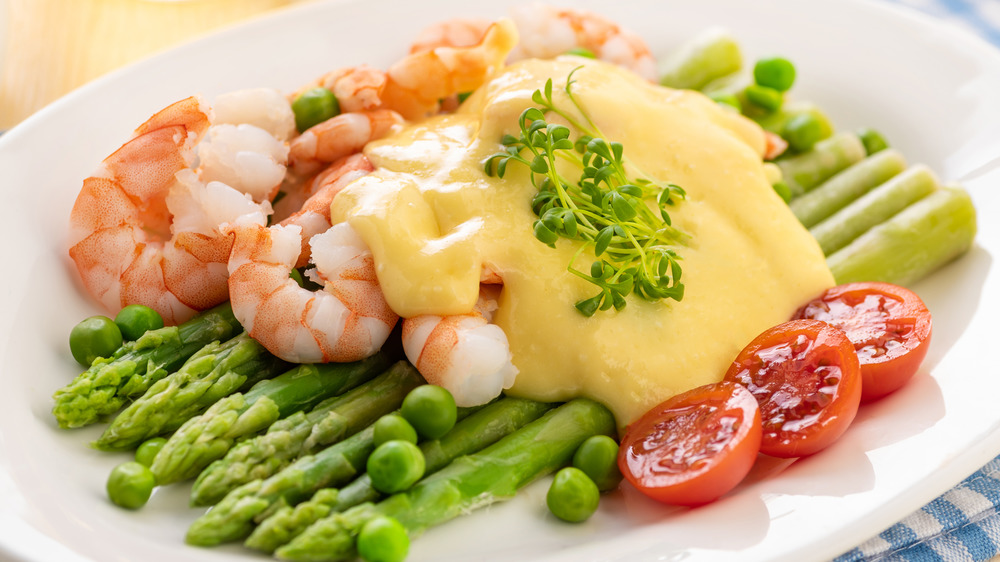 Shutterstock
Arrington's resourceful dish was a lesson in preventing food waste: "I'm saving my shrimp shells because, I mean, if the randomizer is going to tell me to use shrimp, I'm going to use shrimp as many ways as I can," she said in the episode. Landing on an eggs Benedict with roasted potatoes, crispy bacon, a poached egg, and hollandaise with poached shrimp, Arrington got to work on her shellfish hollandaise. She sizzled the cleaned shrimp shells with lots of butter and a couple of bay leaves in a medium saucepan, moving the butter around occasionally until it melted completely and foamed, and strained the mixture.
The melted butter, a key ingredient in classic hollandaise (via Food Network), would give the mother sauce a shrimpy twist. To complete the condiment, whisk egg yolks and lemon juice until thickened, then continue whisking the mixture over simmering water, slowly drizzling in the melted butter, until it doubles in volume. After you remove it from heat, you can season it with your favorite herbs or spices, and drizzle it over something brunchy. Arrington's Benedict couldn't possibly be bad, but something about using shellfish hollandaise over freshly griddled crab cakes sounds shrimply delectable.