Everything You Need To Know About Krispy Kreme's New St. Patrick's Day Donuts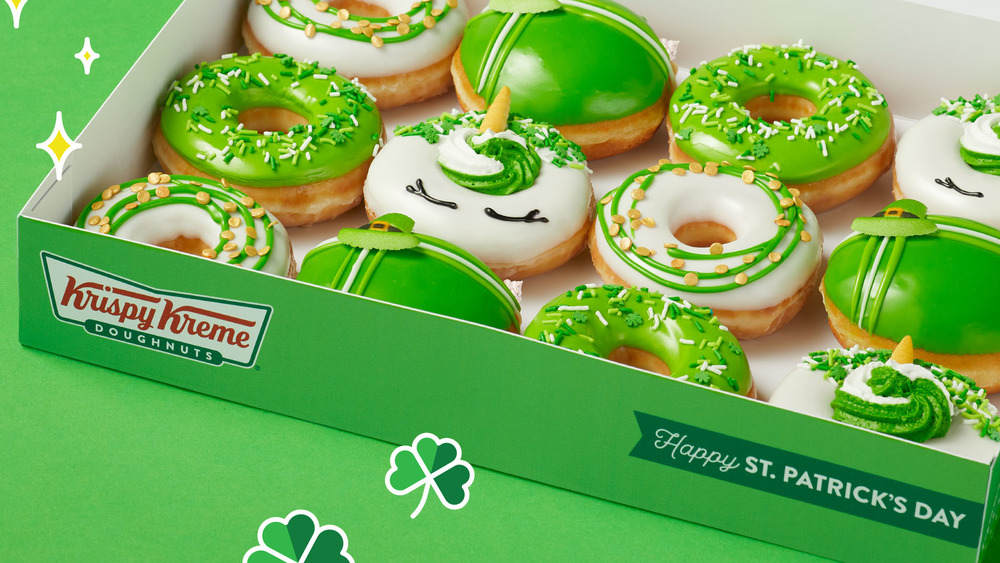 Krispy Kreme
St. Patrick's Day is looming on the horizon, and as a result, the color green is starting to dominate the foodscape in a very different way than usual. Old school Irish cuisine dominates the food map with classics like soda bread and Dublin coddle, and the more contemporary-minded can always look into themed food deal delicacies like the Starbucks St. Patrick's Day secret menu drinks. This time of year is always the best for eating your greens (as long as you're not counting calories), but this year, things might just be even more delicious than usual. 
After all, Krispy Kreme just announced that it's getting in the St. Patrick's Day game in a major way with a whole set of tasty, St. Patrick's Day-themed doughnuts, per Delish. Before your taste buds grab your wallet and run to the nearest Krispy Kreme location, though, it's worth taking a short primer course to learn what's what in this new seasonal set of tasty, fried dough. Here's everything you need to know about Krispy Kreme's new St. Patrick's Day doughnuts.
Krispy Kreme's Luck O' the Doughnuts collection brings you four different doughy delights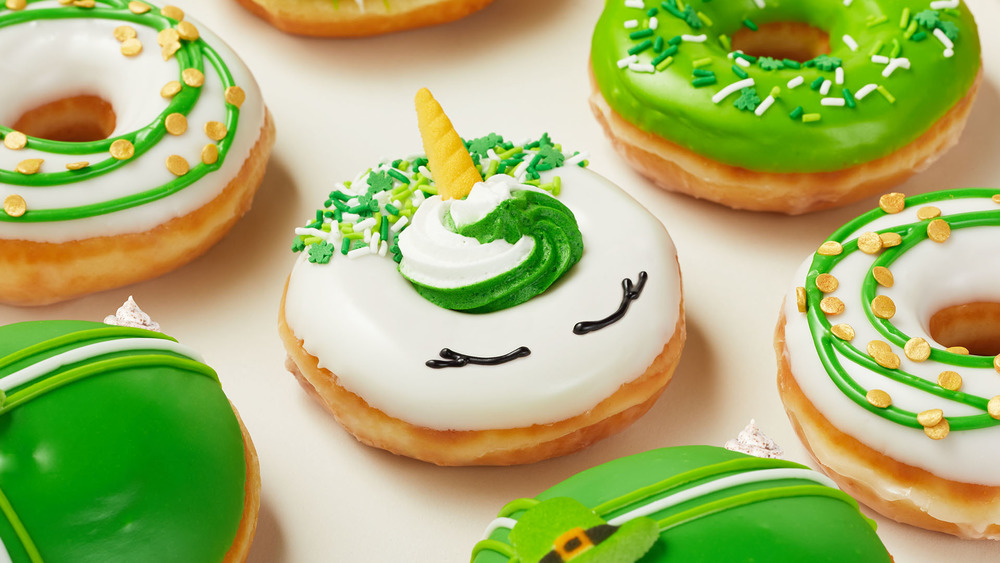 Krispy Kreme
Krispy Kreme is entering this year's St. Patrick's Day with no less than four different doughnuts that, let's face it, are probably all worth a taste. According to ChewBoom, the Luck O' the Doughnuts collection includes the Lucky Gold Coin Doughnut (an Original Glazed with white and green icing and "lucky gold coin" sprinkle), Lucky Sprinkles Doughnut (Original Glazed with green icing and a shamrock sprinkle blend), Lucky Unicorn Doughnut (a Kreme filled Original Glazed with white icing and unicorn decoration), and Lucky Leprechaun Doughnut (a cookies and Kreme filled doughnut with striped green icing and a sugary leprechaun hat).  
The collection's available in participating Krispy Kreme establishments starting on March 11. Oh, and if that wasn't enough, select locations are also bringing back a much-missed seasonal treat, with a couple of caveats. The fully green O'riginal Glazed Doughnuts are available only on March 16 and March 17, and only by the dozen — though, let's face it, that's how we're all buying them anyway.