A Chick-Fil-A App Glitch Helped One Fan Get 100 Free Chicken Biscuits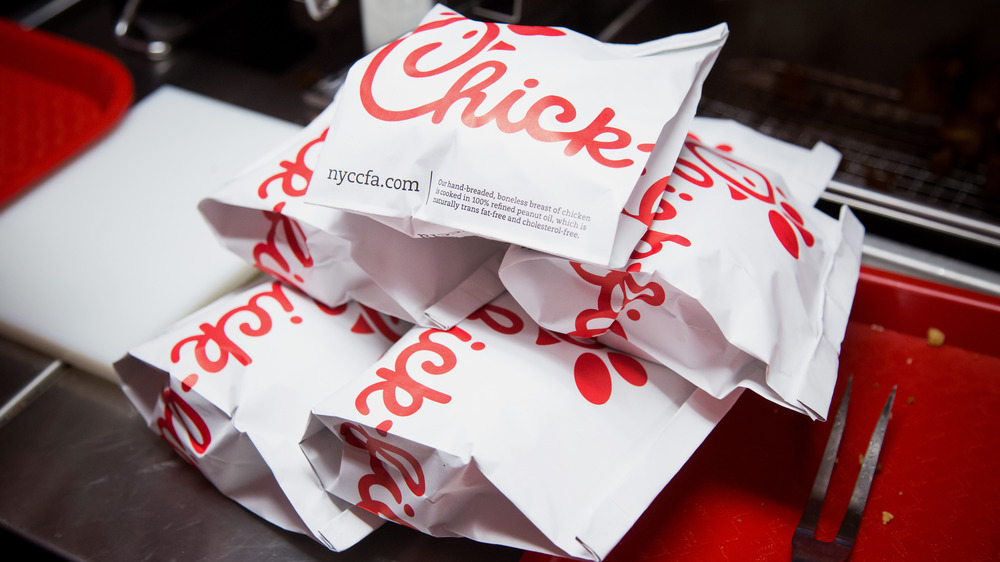 Bloomberg/Getty Images
People who use apps on mobile devices are usually relieved when the app's creator finally fixes that annoying bug. But what happens when, from the customer's point of view, at least, that bug is actually a feature? For one Chick-fil-A customer on Reddit, an update to the fast-food chicken chain's app meant the end of practically unlimited free food.
Every major fast-food chain has an app these days, and you can think of them as a win-win. Customers gain the convenience of ordering meals through their phones and paying in advance. They also get discounts available only through the apps. In return, the chains are able to gather information on their customers. If these chains know what each customer likes, they can tailor their advertising to each app user (via QSR).
To get customers to jump onto the apps, Chick-fil-A and the rest include loyalty programs: Buy stuff, accumulate points, and cash in those points for freebies (via Chick-fil-A's website). This is where at least one Chick-fil-A regular was able to get a lot more from the app than Chick-fil-A ever intended. The American Consumer Satisfaction Index says Chick-fil-A is the perennial number one on their list, but the story Reddit user "brbvfl" tells takes customer satisfaction to a ridiculous level.
Rewards wouldn't disappear from the Chick-fil-A app after they were redeemed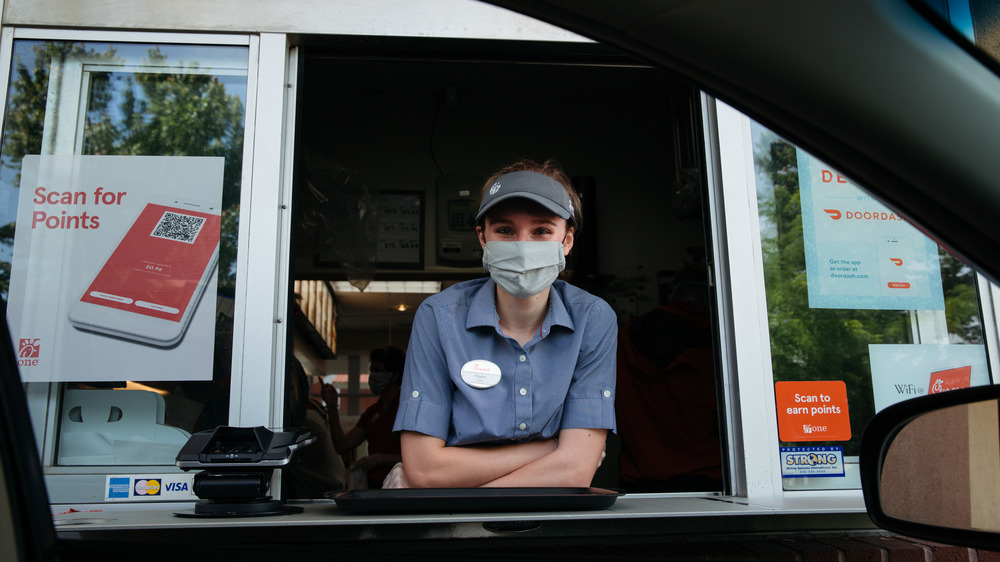 Bloomberg/Getty Images
Posting to the "ChickFilA" subreddit, user brbvfl let the chain's fans in on a secret: "App glitch allowed me to get over 100 free chicken biscuits." He elaborated on this stroke of good fortune in the comments: "When they scanned my app for the free chicken biscuit it would not disappear like it was supposed to," he explained.
This Reddit user learned the hard way that he couldn't get too greedy. If he tried to claim two rewards at the same time, then they would disappear from the app. He would then need to accumulate enough points to earn another free item. In fact, brbvfl said he could get any free item offered. He just happened to like Chick-fil-A's chicken biscuits. He was able to score a free biscuit every day for a while – until Chick-fil-A updated its app, that is. "Sad day for me," he wrote in the post from March 10. "I had a good run."
We weren't able to confirm this story exactly. But a post on a Yes We Coupon website makes it seem legit. In an un-dated page on glitchndealz.com, Yes We Coupon reported a Chick-fil-A app glitch: "You can redeem your reward over and over again, just don't exit the app. This glitch can end at any time, and please remember, your mileage may vary."
Sounds like nobody's getting any mileage anymore out of this particular Chick-fil-A app bug.