Drew Barrymore Just Released An Affordable Cookware Line. Here's What You Need To Know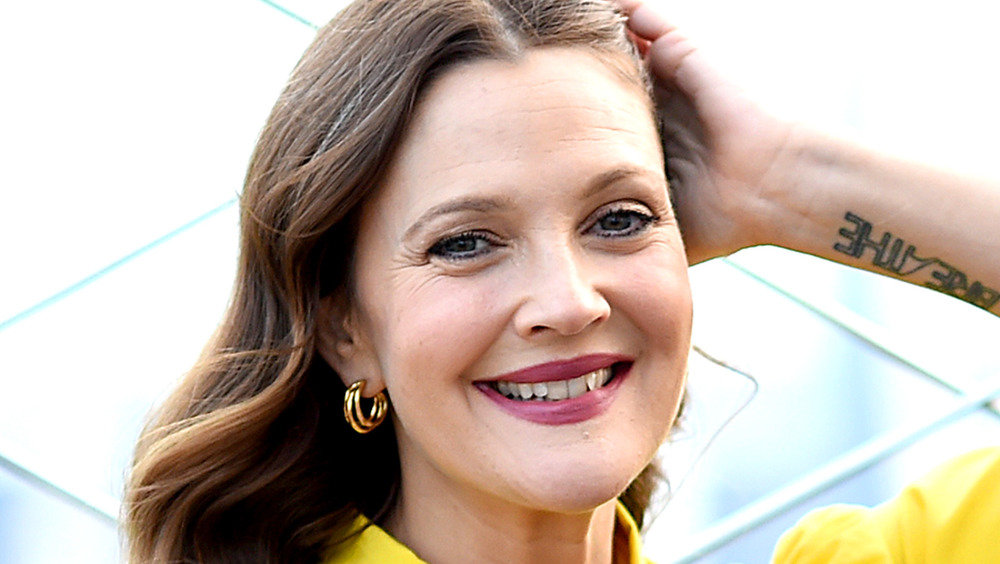 Dimitrios Kambouris/Getty Images
Drew Barrymore decided she had something to contribute to the crowded field of celebrity kitchenware. You can already get the sturdy, professional-looking Emeril Lagasse pressure cooker/air fryer combo, or aluminum pans by Chrissy Teigen. You can even pick up a set of knives with Selena Gomez's name on it (via ET). Maybe certain famous names are associated with quality, or maybe people appreciate a former child actor's aesthetic. That certainly seems to be the case with Barrymore. The actor who went from ET The Extra-Terrestrial to countless rom-coms to her own talk show is now launching an eye-catching line of cookware at Walmart (via Food Network).
Barrymore wants her air fryer, toaster oven, and the rest, to be seen as attractive kitchen accessories and to be useful cooking tools. She partnered with established kitchenware maker Shae Hong of Made by Gather to come up with the line, and they called it Beautiful. As Barrymore and Hong say on the Cook with Beautiful website, they always wondered why kitchen appliances needed to be either black or stainless steel. The first six items in the Beautiful collection, which Walmart started selling on March 17, are sage green with gold trim. In addition to the air fryer and toaster oven, Barrymore offers a two-slice toaster, an electric kettle, a coffee maker, and a blender. Everything sells for less than $100, except the $129 toaster oven that doubles as an air fryer.
Drew Barrymore's cookware looks good and promises high performance
The Food Network says sage green is Drew Barrymore's favorite color. However, for what it's worth, Super Stars Bio reports under "favorite color" that Barrymore likes all colors, so expect her to diversify her palette in future releases. Refinery 29 says to look for oyster white, shiny black, matte gray, and deep blue. Barrymore's new kitchenware line also does more than just look good, she promises it's high performance too. The controls are touchscreen, and everything is dishwasher safe for easy cleaning.
Shortly after the first six pieces in the Beautiful cookware line went up on Walmart's website, it was clear Barrymore's launch was a success. The @cookwithbeautiful Instagram account urged people on March 17 to start shopping if they wanted to pick up an appliance and now it's already sold out of the $89 air fryer. But don't worry, more products and color options hit Walmart's site on March 29, according to the Food Network.