What Sides You Need To Make The Next Time You Serve Lamb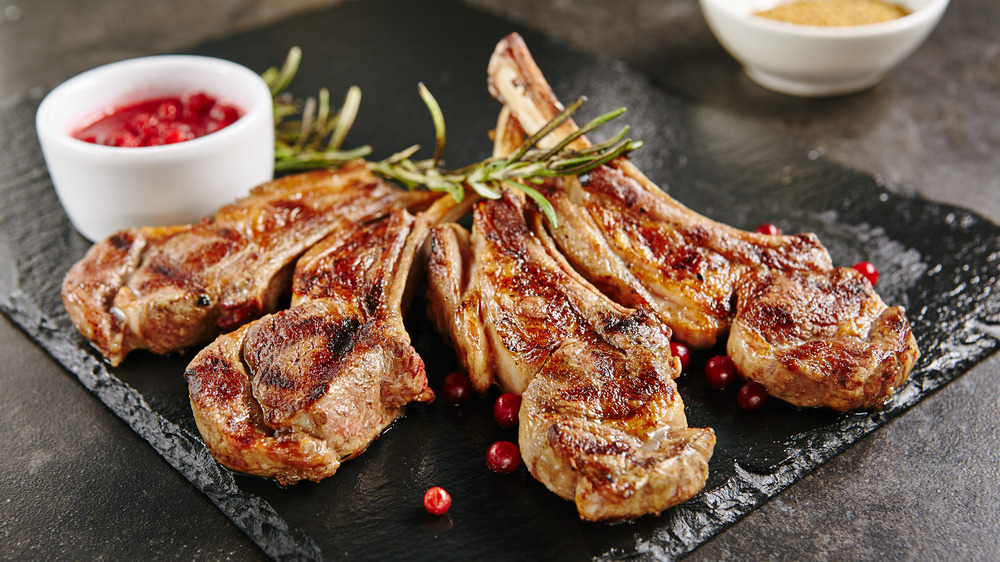 Shutterstock
Unless you're a vegetarian, you probably enjoy balanced meals featuring a prime cut of meat. While people may reserve lamb for special occasions (via The Kitchn), this flavorful meat deserves more focus. When consumed as part of a healthy diet, it is a great source of protein, vitamins, and minerals (via Healthline). Unlike most meat, lamb contains significant quantities of omega-3 fats which improve brain function, reduce inflammation, and protect against various diseases (via The Healing Gourmet). Equally impressive and uncommon among other meats is the presence of oleic acid, a monounsaturated fat that is associated with a large number of health benefits.
While Dr. Hu, the Chair of Harvard's Nutrition Department, recommends against regular consumption of red meat, moderate amounts of leaner cuts alongside other nutritious foods can have a place in your diet (via Harvard Health Publishing). Which brings us to the more important question — what should you serve with lamb? Whether you choose to roast a whole leg of lamb or serve portioned chops, a variety of sides are sure to pair nicely.
Get cooking!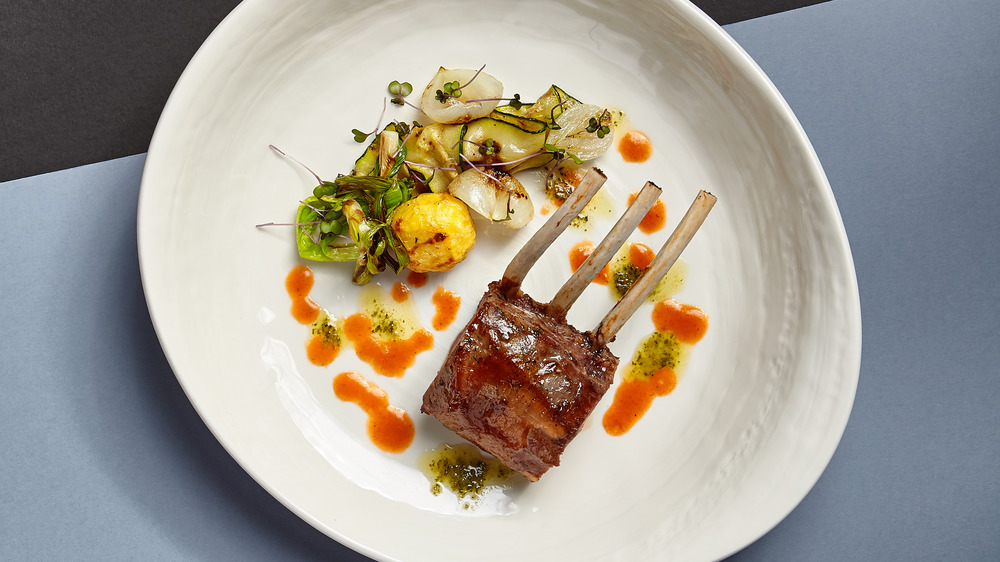 Shutterstock
Roasted potatoes are a classic match for lamb since they complement the intensity of the meat without taking over. If you're bored with simple spuds, try these roasted Greek lemon potatoes that Ivy Manning discovered at a dinner party (via The Kitchn). We love unique twists on regular dishes! The secret ingredient in this delicious recipe will definitely surprise you.
Another common accompaniment for lamb is mint sauce. Why not include mint in your side dish for a different take? Betsy Andrews shares a recipe for Portuguese-style mint rice inspired by a trip to Portugal (via The Kitchn). This side dish is a great idea because it includes an iconic pairing with a starchy side, perfect for soaking up the lamb juice. You could even take it a step further and make the rice with ground lamb.
Green bean casseroles are commonly served as a side with meat, but the preparation can often be rather weighty. Caroline Lange at The Kitchn shares a fresh and crunchy variation that will make you forget all about the creamier alternative. Her blistered green beans with pickled shallots and toasted breadcrumbs sound like the perfect side for lamb. Fresh green beans, tangy shallots, and a crispy topping make every bite a feast for the taste buds. They won't weigh you down so you'll be able to have seconds! What's wrong with having more vegetables?!
Whatever you choose to serve with your lamb, look for inspiration from classic pairings and add your own spin!