What You Won't Be Able To Order At Canadian Wendy's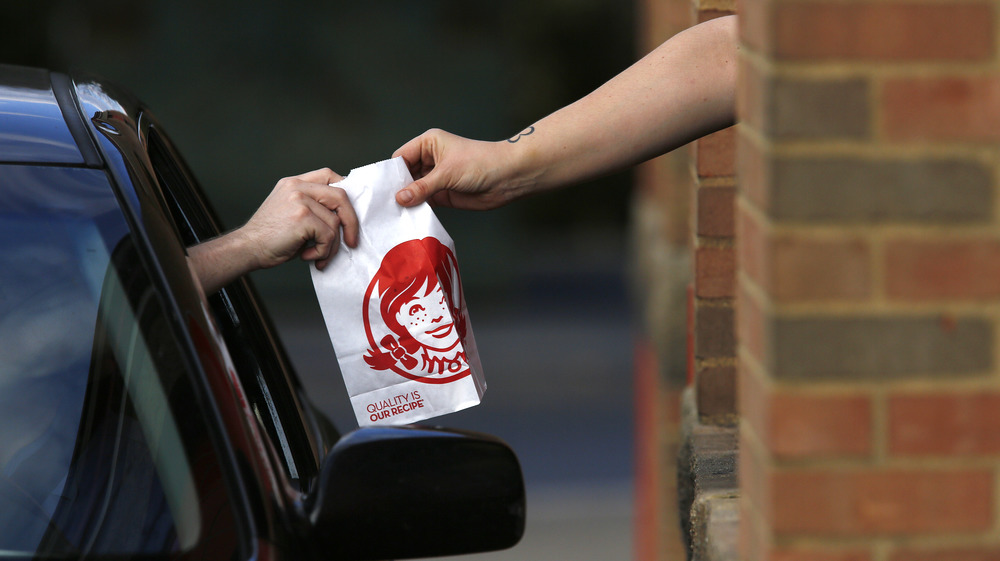 Bloomberg/Getty Images
Wendy's offers some mouthwatering burger options to its customers, ranging from the classic Dave's Single to the gargantuan Baconator, but not everybody goes through the drive-thru asking "where's the beef?" Cue the fast-food chain's silently popular baked potato, a "lighter" option that debuted in 1983, per the Wendy's website. Fast-forward to 2017, and it was selling at a rate of 1 million per week, or roughly 52 million a year (via Thrillist).
While the deliciousness of a potato in any form is uncontested, it doesn't hurt to dress them up a bit, and Wendy's offers a slew of options to give their baked potatoes some razzle-dazzle. The restaurant's current menu in the U.S. offers five different versions of the tater: plain, cheese, bacon cheese, chili & cheese, and sour cream and chive.
But the list doesn't stop there! Taste of Home revealed that any French fry or burger toppings – including beer cheese and crispy onions from its Pretzel Bacon Pub Burger - are also available to top your delicious spud. However, if you visit a Wendy's in delightfully polite Canada and expect the same, you're in for a not-at-all-rude awakening.
Canadian Wendy's restaurants offer less topping options for their baked potatoes
While Thrillist noted that Wendy's is the only fast-food chain to offer a baked potato at every location, the toppings for the dish differ depending on the location of the restaurant. According to Taste of Home, the chili & cheese, as well as the plain cheese options are not available for those heading to the drive-thru for a spud in Canada. However, this doesn't mean they don't have a potato dish exclusive to the country's own Wendy's restaurants.
As you probably could have guessed, Canadian Wendy's offers a couple of poutine items for its patrons to devour. According to Wendy's Canada, eateries up in the Great White North serve a classic poutine dish, which includes a bed of "sea-salt-seasoned, skin-on potatoes" smothered in gravy and cheese curds, as well as a version that adds bacon to the already delectable combination of toppings – because everything is better with bacon.