This Is The Most Unique Item In Eddie Jackson's Fridge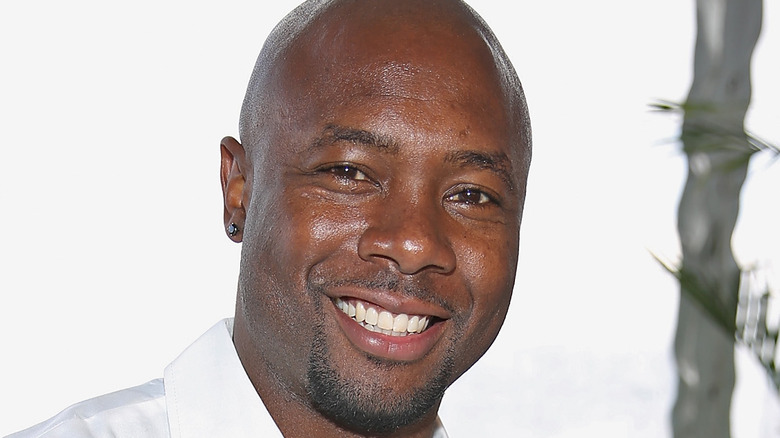 Robin Marchant/Getty Images
We may receive a commission on purchases made from links.
Eddie Jackson, a former NFL player turned chef and food truck owner (via Food Network), is passionate about healthy food that still tastes decadent and delicious. However, there's one indulgent ingredient he can't get enough of — kimchi mayo, according to Food Network. Jackson revealed his penchant for the flavor-packed condiment when he was asked about what the strangest thing in his fridge was.
Jackson didn't specify whether the kimchi mayo in his own fridge was homemade or store bought, but there are plenty of options for both. Shoppers can find the product in a squeeze bottle from KPOP Foods, with a recipe created by chef Chris Oh, who is a fellow Food Network personality who competed on "Cutthroat Kitchen" and the "Great Food Truck Race" (via Amazon).
But if you're looking to get adventurous in the kitchen and craft your own version, you have plenty of options. It can be whipped up with the typical ingredients you'd need for mayonnaise, including oil, egg yolks, and lemon juice (via East Coast Living), as well as a splash of Sriracha for a bit of a kick. The only difference is that once the mayo has emulsified, a half cup of kimchi is incorporated to add a burst of the unique flavor.
East Coast Living gives cooks two options for incorporating the kimchi, suggesting that it's either blended with the mayo in a food processor for a smooth product, or finely chopped and folded in for a product with tasty bites of kimchi throughout.
What does kimchi mayo pair best with?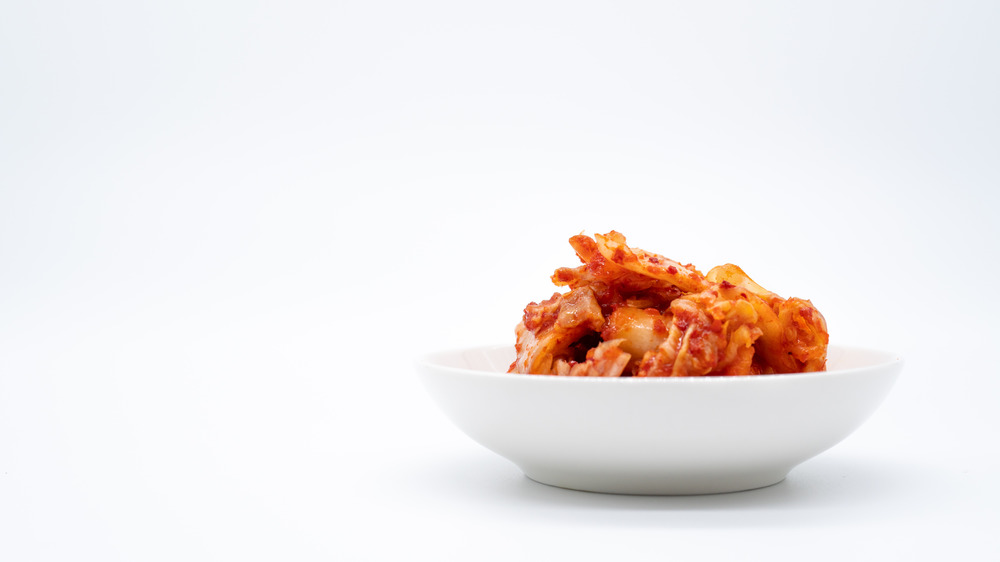 Shutterstock
Not sure exactly how you might use such a unique condiment if you decide to give it a place in your fridge as Eddie Jackson did? The possibilities are endless.
First of all, if you haven't had it before, familiarize yourself with the flavor profile of kimchi, as the mayo simply adds a slightly tangy, creamy element without a ton of flavor of its own. Kimchi is a Korean dish that is pickled and fermented, and the result is the sweet, spicy, and sour condiment that has become so popular.
The complex flavor profile makes it a versatile addition to any dish, and KPOP Foods suggests using it as a dip for dishes such as empanadas and french fries. You can take another hint from Molly Yeh, the star of Food Network's "Girl Meets Farm," who slathers the unique condiment over grilled corn for a simple side (via Food Network).
Or, pair it with dishes that already incorporate Korean flavors. Serious Eats has a mouthwatering recipe for grilled Korean bulgogi burgers with pickled daikon and kimchi mayo that you won't want to miss.