Starbucks Southwest Veggie Wrap Copycat Recipe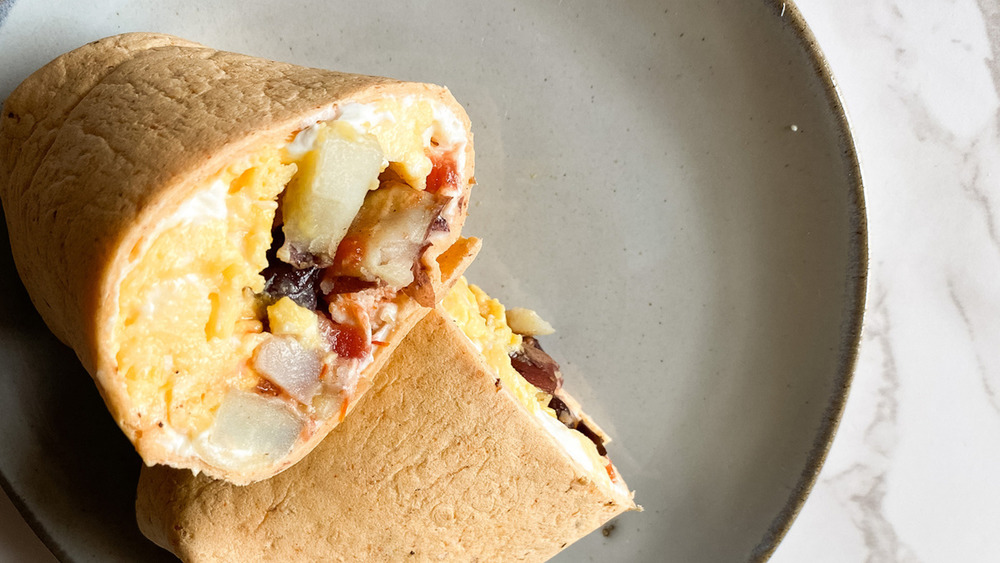 Kristen Carli/Mashed
Is there anything better than pulling into the Starbucks drive-thru and ordering your favorite coffee beverage, along with a delicious, hot breakfast sandwich? We love the new Southwest Veggie Wrap, but since it can get pricey to buy breakfast every morning, along with Mashed, registered dietician Kristen Carli has come up with a copycat recipe. Now, you can enjoy a Starbucks Southwest Veggie Wrap in the comfort of your own kitchen. And yes, as Carli assures us, "It is just like the real thing!" She adds, "These are delicious."
Best of all, as she told Mashed, "These are perfect for meal prep. I actually grabbed one this morning, and threw it in the microwave on my way out the door." All that's left to do is brew some piping hot coffee, and it is like you hit the Starbucks drive-thru, but with zero wait time, and for far less money.
Pull your Starbucks Southwest veggie wrap ingredients together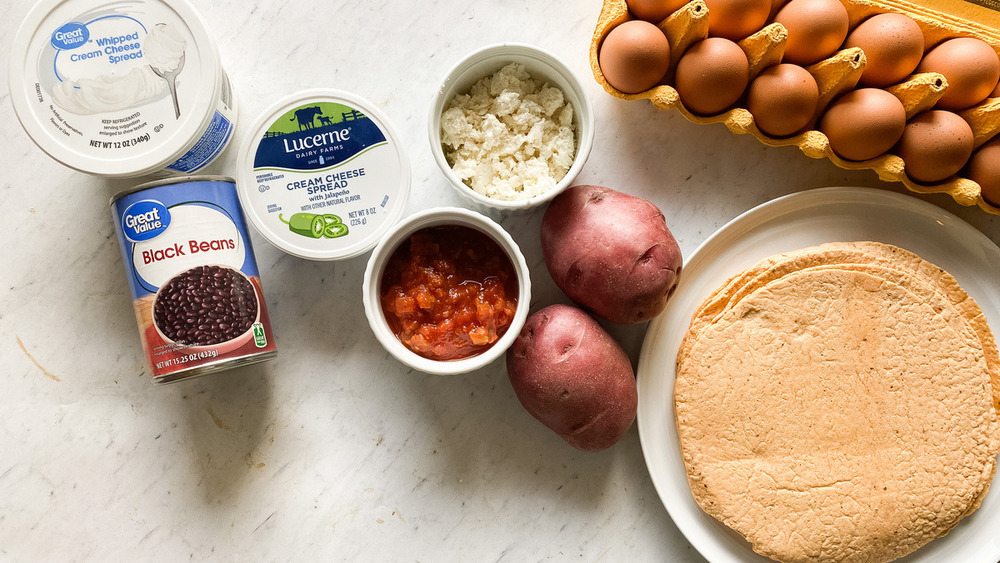 Kristen Carli/Mashed
To create your at-home versions of Starbucks' yummy, vegetarian breakfast wraps, you will need a few special ingredients, while others you are sure to have on hand. So, shop for or gather from your kitchen the following: red potatoes (which you will cube), olive oil, eggs, and salsa-flavored tortillas, with Carli telling Mashed, "I used Ole' Tomato Basil tortillas."
This recipe also calls for jalapeño cream cheese, as well as regular whipped cream cheese, a can of black beans, which you will first drain and rinse, red, chunky salsa, and cotija cheese.
We asked Carli why she used two different kinds of cream cheese to create these copycat wraps, and she said this is what Starbucks does as well. Meanwhile, she also explained, "Cotija cheese is a Mexican cheese similar in texture to feta." Can't find this ingredient? "You can substitute queso fresco," advises Carli, who also notes you shouldn't skip the salsa tortillas, as they "provide a little extra flavor and kick."
Cook your potatoes and eggs for the Starbucks Southwest veggie wrap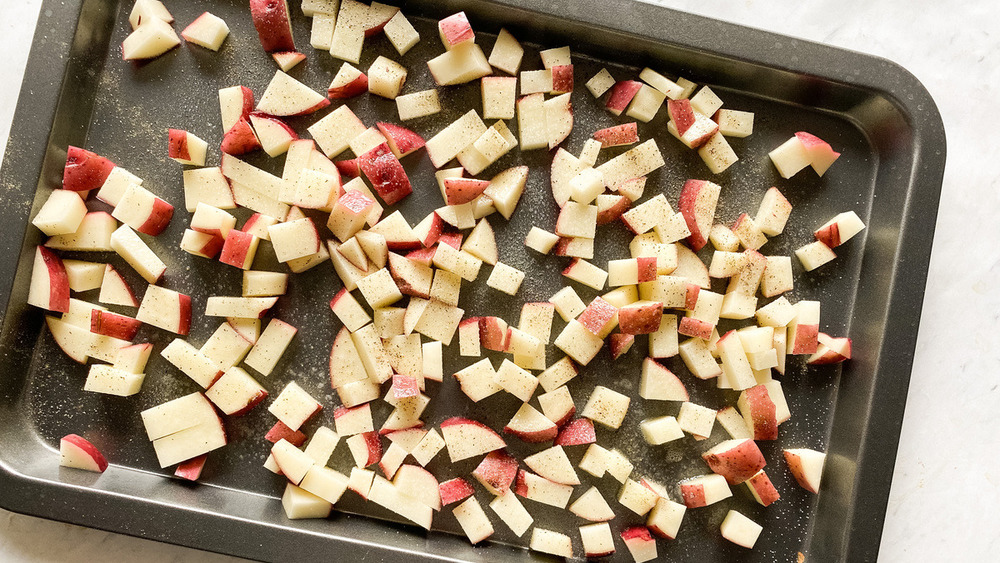 Kristen Carli/Mashed
Okay, so your ingredients are at the ready. Now, preheat the oven to 400 degrees so you can bake your red potatoes. The cubed potatoes go on a large baking sheet along with the olive oil. Can't put anything in the oven without hitting it first with salt and pepper? We feel you! Now, roast up those potatoes for about 20 minutes, or until they are nice and tender. And don't worry — this is the longest step in the process of putting together your Starbucks Southwest veggie wraps. 
As your potatoes roast, you will make your scrambled eggs in a large skillet, with Carli noting you should first whisk your eggs before adding them to the heat. She also advises home cooks to stir the eggs constantly until they are just cooked. Don't overdo it! Soft, creamy scrambled eggs will truly make this copycat breakfast recipe the superstar of your morning.
Assemble your Starbucks Southwest veggie wraps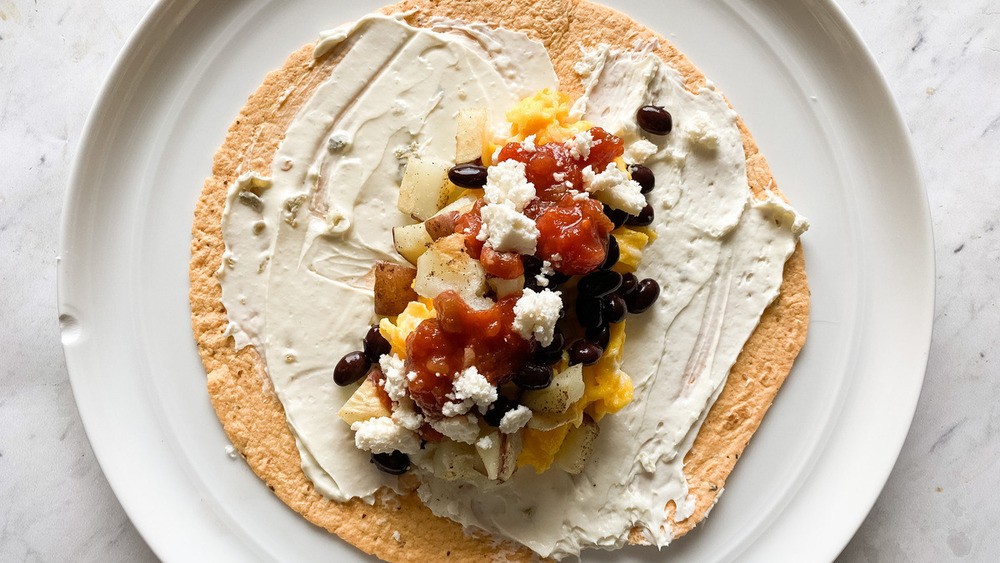 Kristen Carli/Mashed
To assemble each breakfast — or brunch, or lunch — wrap, start by laying one salsa tortilla flat on a plate or the counter, or a piece of foil or plastic wrap if you're taking this on-the-go. You will spread a tablespoon each of the whipped cream cheese and jalapeño cream cheese to each wrap, with Carli suggesting dividing the spreads between the tortilla halves.
Now, heap on about one egg, some potatoes, your black beans, some salsa, and a sprinkling of the cotija cheese. How colorful and drool-worthy does that look? Try and contain your appetite a moment longer while you wrap your tortilla up tightly. Carli folds in the sides of the tortilla first, and then and rolls it up completely to contain all of the delicious, flavorful ingredients. 
You will repeat the assembly steps with the other wraps. Now, serve or store your creations — as for us, we couldn't wait and would have to dig in ASAP!
Starbucks Southwest Veggie Wrap Copycat Recipe
Hitting the Starbucks drive-thru every morning can get pricey. The solution? Recreate their Southwest veggie wrap from the comfort of your own kitchen.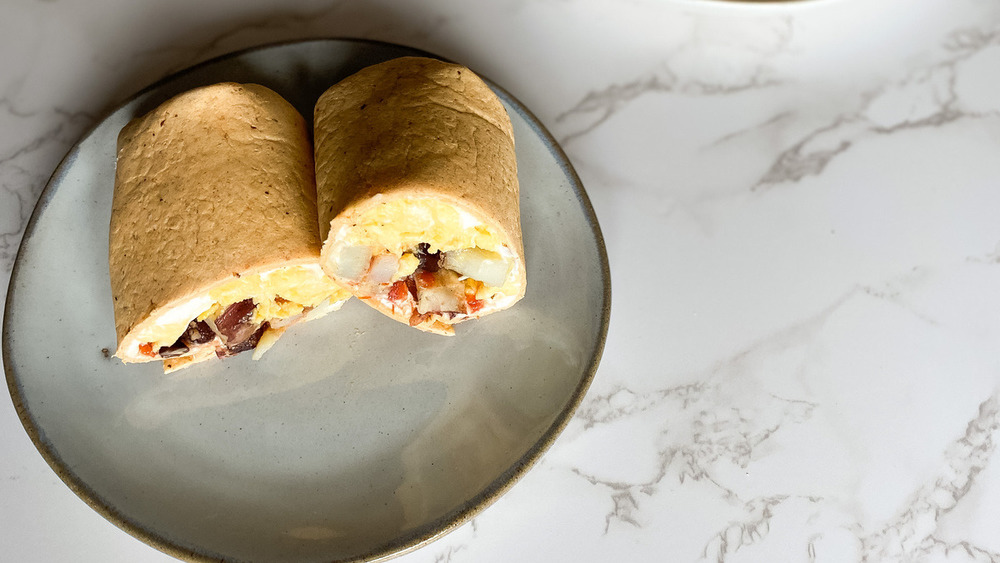 Ingredients
2 red potatoes, cubed
1 tablespoon olive oil
6 eggs
6 salsa tortillas
6 tablespoons jalapeño cream cheese
6 tablespoons whipped cream cheese
1 15-ounce can black beans, drained and rinsed
¼ cup red chunky salsa
¼ cup cotija cheese
Directions
Preheat oven to 400 degrees. On a large baking sheet, add potatoes and olive oil. Roast in the oven for 20 minutes, until tender.
Meanwhile, in a large skillet, add whisked eggs. Stir constantly until eggs are just cooked.
Assemble each wrap, by laying one salsa tortilla flat. Add 1 tablespoon of whipped cream cheese to one half of the tortilla and 1 tablespoon of jalapeño cream cheese to the other half.
Add about 1 egg, 1 tablespoon of potatoes, 1 tablespoon of black beans, less than 1 tablespoon of salsa, and 1 teaspoon of cotija. Wrap up tightly by folding in sides and rolling completely. Repeat assembling other wraps.