Albondigas Recipe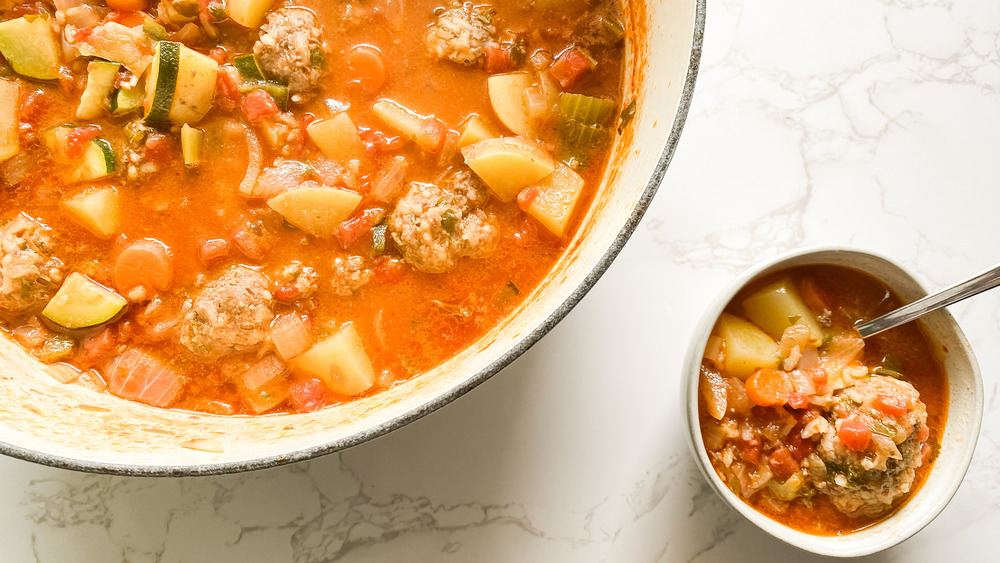 Kristen Carli/Mashed
If you don't know what albondigas means, then you are all but certainly not from the American Southwest, and you're definitely not from Mexico or elsewhere in Latin America. And that's fine; in fact, it's exciting, because you're just about to get to know a beloved staple dish cherished by generations of people who meet one (or more) of those descriptions. The word "albondigas" simply means "meatballs" in Spanish, but it almost always refers to not just the spheres of meat, rice, and spice, but to a specific soup dish.
"Albondigas is a Mexican meatball soup that is a staple at Mexican restaurants in Arizona," says chef, food writer, and registered dietician Kristen Carli of Camelback Nutrition & Wellness, who happens to reside in the Southwest. "I love serving this with Mexican rice or dipping tortillas in [them]."
With a large enough portion in your bowl, this soup is a full meal in and of itself, thanks to the generous servings protein, starch, and veggies, Carli noted. The dish also makes a great side to all your favorite Mexican or southwestern dishes, from fajitas to burritos to flautas, or even to a breakfast dish like huevos rancheros.
While this is not a challenging recipe, the prep is pretty involved, so without further adieu, let's cook. ¡Vamanos!
Gather your ingredients for albondigas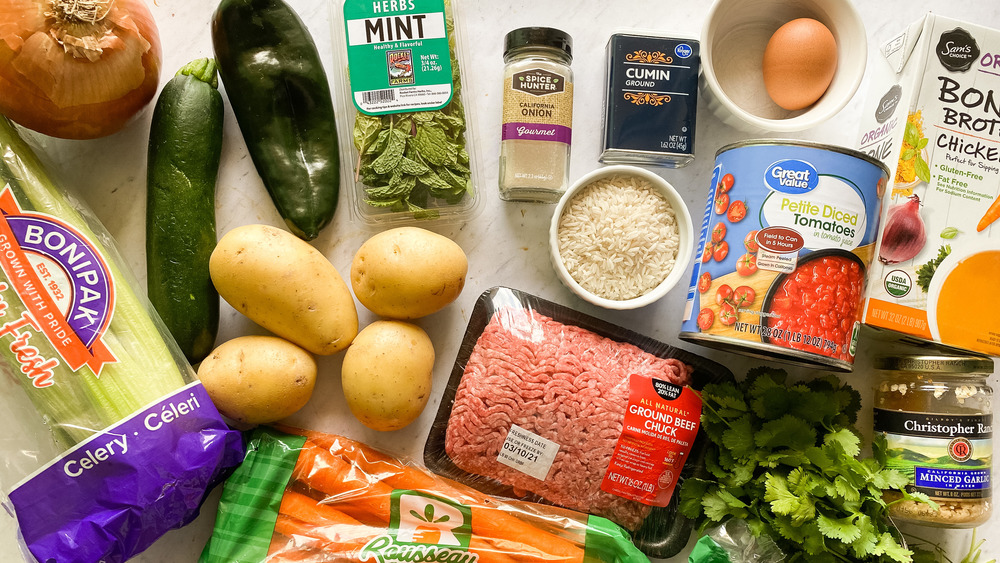 Kristen Carli/Mashed
This recipe seems a bit daunting given the lengthy ingredient list, but aside from a bit of chopping and forming the meatballs, most of the "work" is just stirring and simmering, so don't be scared off.
To make a pot of traditional albondigas soup, you'll need one pound of ground beef, one egg, half a cup of uncooked white rice, a quarter cup of chopped mint, a quarter cup of chopped cilantro, two teaspoons of minced garlic (divided), one teaspoon of ground cumin, one teaspoon of onion powder, one teaspoon of salt, half a teaspoon of pepper, one tablespoon of olive oil, one diced yellow onion, one diced poblano pepper, two diced carrots, two diced celery stalks, a 28-ounce can of diced tomatoes, four cups of chicken bone broth (or just chicken stock), 4 cubed yellow potatoes, and one diced zucchini.
Still with us? Excellent. Now, let's cook!
Soak the rice and then make the meatballs for your albondigas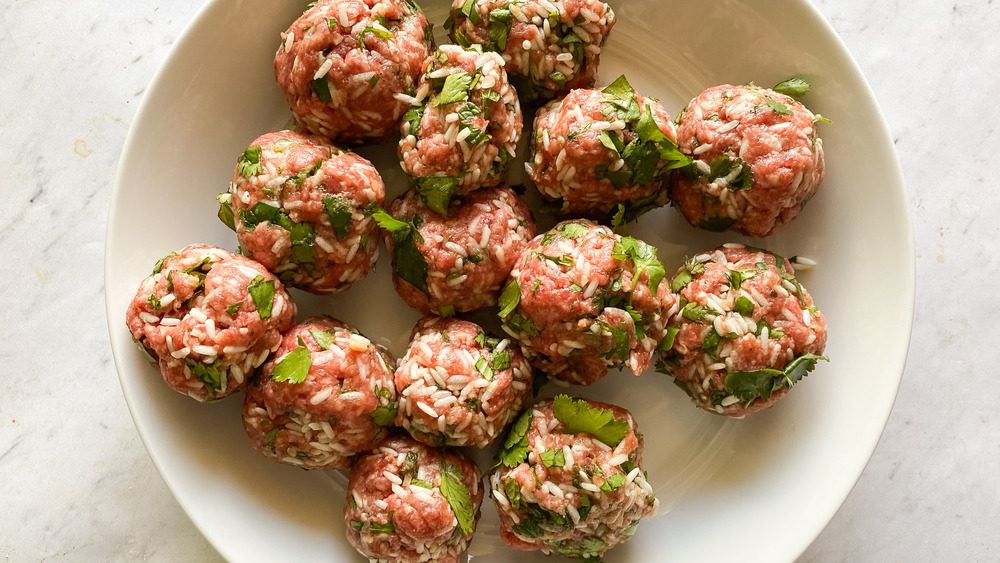 Kristen Carli/Mashed
Pour the uncooked white rice into a small bowl and cover it completely with room temperature water. Allow the rice to soak for 20 minutes, and then drain it and set it aside. It will still feel undercooked, and that's okay.
Next, in a separate medium bowl, add in the ground beef, egg, chopped mint and cilantro, teaspoon of the minced garlic, cumin, onion powder, salt, and pepper. Stir all these ingredients and roughly combine. Now, drain the rice that was set aside and add that rice to the bowl and mix well to combine. Scoop out portions of the meat, herb, spice, and rice mixture and roll up into meat balls. You should get between 12 and 15 or so, and once they're formed, set them aside.
Sauté the veggies for homemade albondigas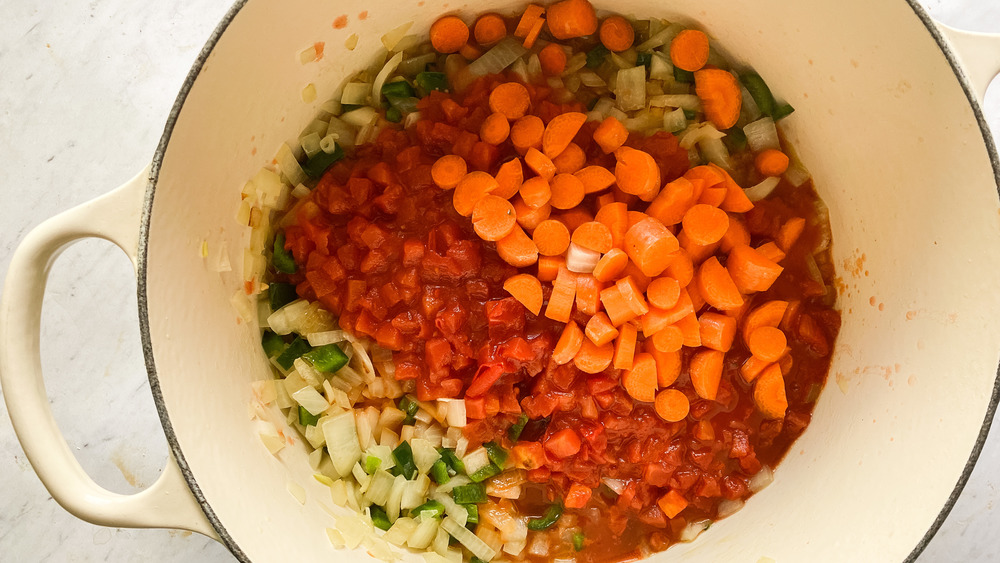 Kristen Carli/Mashed
In a large stock pot or a Dutch oven, add olive oil and set the heat to medium. Then add the chopped onion, the remaining teaspoon of minced garlic, and the diced poblano pepper. Sauté these vegetables until the onion is translucent and everything is getting fragrant, which will take about five minutes. Then, add the chopped carrots and celery and the can of tomatoes. 
Stir to combine everything until all of the veggies are well mixed, then, get ready to add the rest of your ingredients (save for the zucchini, which is the last to go into the pot).
Add broth, meatballs, potatoes, and zucchini for your homemade albondigas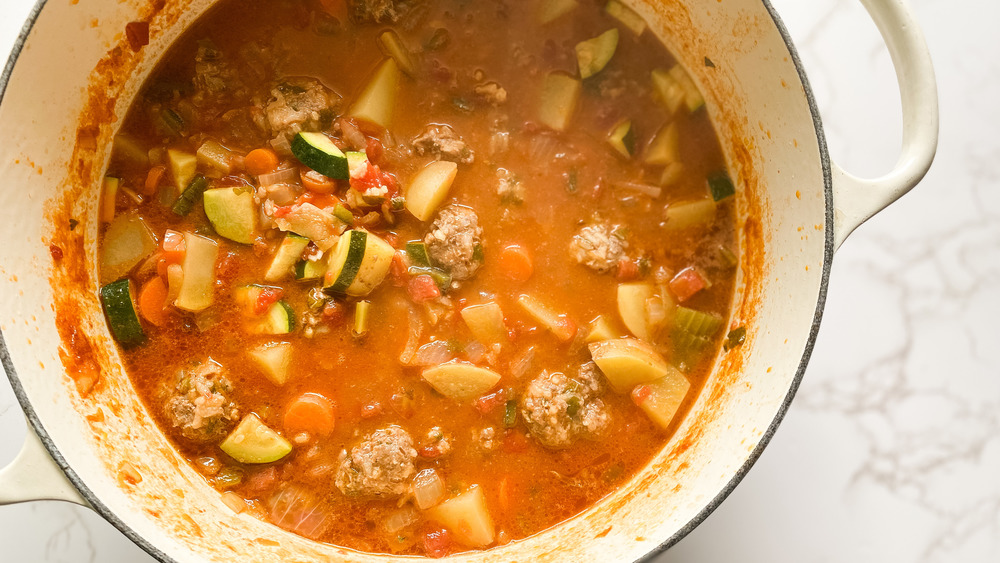 Kristen Carli/Mashed
Add the broth, potatoes, and meatballs, and bring the pot to a boil (keep the zucchini aside for now). Then, reduce the heat to a simmer and cook for 15 minutes. "The biggest mistake would be to not submerge the meatballs when simmering," says Carli. "This is how they cook thoroughly." So, it's not just a taste issue, but a food safety one. Keep an eye on the pot!
After 15 minutes of simmering, add the zucchini and stir to combine in, and then continue to simmer all of the soup's ingredients for another 15 minutes. After that, it's time to enjoy!
Albondigas Recipe
Albondigas is a traditional Mexican-style Southwest meatball soup that's perfect for dipping tortillas, a light lunch or a hearty dinner with Mexican rice.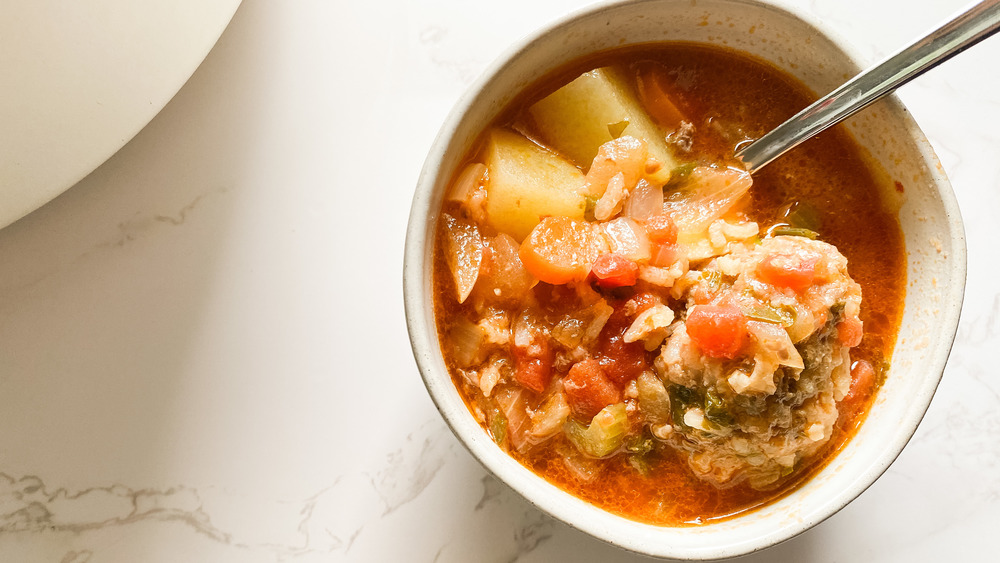 Ingredients
1 lb ground beef
1 egg
½ cup white rice
¼ cup mint, chopped
¼ cup cilantro, chopped
2 tsp minced garlic
1 tsp ground cumin
1 tsp onion powder
1 tsp salt
½ tsp pepper
1 tbs olive oil
1 yellow onion, diced
1 poblano pepper, diced
2 carrots, diced
2 celery stalks, diced
28 oz canned diced tomatoes
4 cups chicken bone broth
4 yellow potatoes, cubed
1 zucchini, diced
Directions
In a small bowl, add uncooked white rice and cover with water, and allow to soak for 20 minutes, then drain
In a medium bowl, add ground beef, egg, mint, cilantro, 1 tsp garlic, cumin, onion powder, salt, and ½ tsp pepper. Roughly combine.
Add drained rice to beef mixture, then mix to combine all ingredients.
Scoop out mixed ingredients and roll into 12 to15 meat balls. Set aside.
In a large stock pot on medium heat, add olive oil, onion, 1 tsp of minced garlic, and poblano pepper. Sauté until onion is translucent, about 5 minutes
Add carrots, celery, and tomatoes. Stir to combine.
Add broth, potatoes, and meatballs, making sure meatballs are submerged in liquid.
Bring to a boil and then reduce to a simmer for 15 minutes.
Add zucchini and continue to simmer for 15 minutes.
Serve and enjoy!
Nutrition
| | |
| --- | --- |
| Calories per Serving | 335 |
| Total Fat | 14.2 g |
| Saturated Fat | 4.8 g |
| Trans Fat | 0.7 g |
| Cholesterol | 60.3 mg |
| | |
| --- | --- |
| Total Carbohydrates | 37.4 g |
| Dietary Fiber | 5.8 g |
| Total Sugars | 5.9 g |
| Sodium | 497.8 mg |
| Protein | 15.2 g |